The Keys to Content Marketing Success
This is a guest post — Jen Thames is Off Site Specialist at WebMoves.net. She enjoys sharing tips on content marketing, as well as social media marketing and online business development. Connect with Jen on Twitter.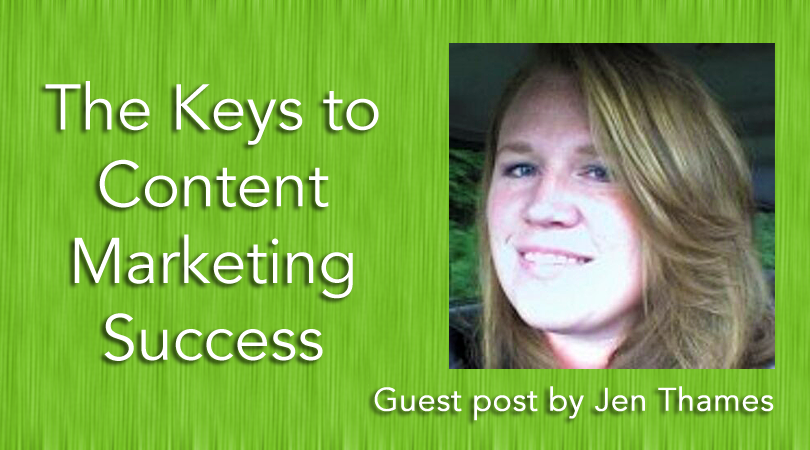 Welcome Jen…
The Keys to Content Marketing Success
Developing great content has always been an important pillar of marketing success. With each successive Google algorithm update and the fall of Google's Authorship program, content still stands strong above all else. Meta data helps, views, and social shares help, but strong and engaging content wins the day.
Establishing authority in content
Even without Google's Authorship program or the Author Rank factored into website ranking, authors that have established authority by providing excellent content end up ranking better than other types of content. Mark Traphagen, senior director at Stone Temple Consulting and a Google Plus expert explains, "Authoritative authors tend to do better in search because their content generates the kind of responses that lead to actual, present-day search signals." We can't count on Google's algorithm to stay the same; in fact, we can assume it will change continually as it always has.
What we can count on is quality content developed by credible writers. Lisa Buyer writes, "Your goal as a marketing or public relations professional is no longer to have SEO-heavy content on your brand's newsroom, website or blog." The new goal is to develop engaging content that will help tell visitors about your company, sell your products and services, and also appease the search engines at the same time. The way to achieve that goal is through developing authority and using best practices for content.
Different content platforms
Don't focus all of your content in one place. It's like putting all your eggs in one basket. Spread your content around and put it in appropriate places that will help you achieve your goals. Expand your content from just websites to include landing pages developed just for that content and for specific campaigns.
Add your content on social channels via video, blogs and guest blogs, podcasts, social media posts, and visual content. Think outside the box and also put your content into white papers, ebooks, webinars, and in live presentations.
Developing content goals
Once you decide to get serious about content for your business, it's time to start developing goals and putting a plan in place. When developing your goals and your strategy for content generation, think about the desired outcome. Then write with that objective in mind. The next step is to create a content marketing mission statement. Who are you developing content for?
Who is the audience you are writing to and what do they want to read? Focus on your strengths and your niche and be sure that your content enhances and highlights that. Own all of your content. Post your content on your own site and your own blog first. Then use those as landing pages for social posts and everything else that you use to share your content.
Conclusion
If you have not been focusing on content generation, it is time to start. Even if you write for your own company, it is important to realize that content development is not free. Paying for credible and authoritative content is something that you should add to your marketing budget and get used to the idea of. The trending importance of content will continue to rise in the future and is the backbone of digital marketing.
Jen Thames is Off Site Specialist at WebMoves.net. She enjoys sharing tips on content marketing, as well as social media marketing and online business development. Connect with Jen on Twitter @webmoves_net.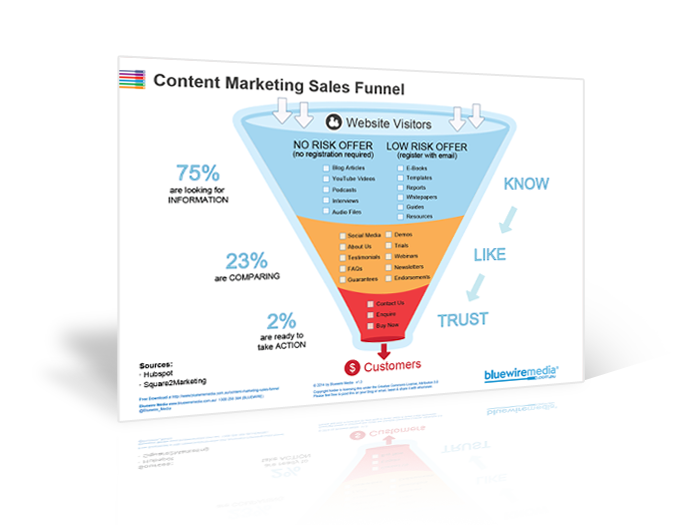 Content Marketing Sales Funnel
Your content marketing sales funnel is all about getting people to know, like and trust you by nurturing them with the right information at the right time.