How to Create Compelling Content that Drives Sales
We all operate within an increasingly competitive business climate. Our digital landscape has resulted in entrepreneurs gaining access to clientele from across the planet, and able to take advantage of readily available resources. This also means that your target customer base often has many options about which companies they wish to engage with.
As a result, it is vital that you utilize techniques and tools in marketing that highlight your expertise, and help to build and bolster your reputation. In business to business (B2B) spheres, your efforts must get the most out of online spaces. One recent study showed that online technical datasheets, websites, online articles, and videos were all integral avenues of research for buyers, and played key roles in their decision making. In short; content is king.
That doesn't mean all content is effective. You have to take a strategic, nuanced approach that compels your demographic to learn more about your company and consider building a relationship with you. It's not easy, but with some knowledge, investment, and effort it's certainly achievable. Let's explore a few integral aspects of this method that can help you on your way.
Knowledge is Power
To create the most effective content marketing, it helps to gain a deeper understanding of what it is and what it can do for you. In essence, it is about creating and distributing content to serve a specific demographic. In most cases, it differs from traditional marketing in that the content is produced to influence the earliest stages of the buying cycle — awareness and research. In effect, it capitalizes on the content's educational, informational, and even entertaining nature to attract the attention of potential buyers and direct them to engage further.
Knowing the intentions of content marketing actually helps you in creating effective content. We understand it can't just be on the subject of promotion or sales — because that doesn't necessarily serve our target demographic. People at that stage of the sales cycle aren't looking to be pitched to or prospected, that can come later. They are gathering data, seeking insights, and learning about what they need and why.
Vital too is understanding how well-strategized content drives sales through more than direct influence. What we're talking about here is the fact that online content marketing can be a more subtle and versatile tool than its print equivalent, particularly when executed with search engine optimization (SEO) protocols. The text of the content, the links to credible sources within the text, even the location of the post all contribute to your business being discovered by the right demographic.
This knowledge of how content marketing works should act as a launchpad for your strategy, and the framework upon which you start to build your compelling content.
Understand Your Audience
You can't create compelling content in a vacuum. Any effective marketing strategy is driven by goals, and dependent upon quality research and analysis for direction. Your content creation approach should be no different. We've established that content marketing is intended to serve a target demographic. This means you have to learn about who that demographic is before you can create the best content for them.
You need to find out:
Needs.
If you've developed a comprehensive B2B buyer persona or ideal customer profile (ICP), you should have a head start here. Discover what they need from the content they consume. Are they looking for academic research or statistics? Do they already have a lot of knowledge about the services you provide and need reassurance and trust signals? This can help to direct the type of content you have to create.
Behavior.
This is about how they prefer to consume content. Does your target audience have the kind of busy lifestyle that means they will abandon or skim large swathes of text? Are they — like around 51% of consumers — primarily consuming content via mobile devices? This allows you to plan not just the meat of the content, but how it's designed, too; using short paragraphs with snappy clearly defined subheads, hosting on sites that are responsive to multiple devices.
Interests.
For content marketing to be effective, it has to be relevant to the product or service that you're promoting. However, you also need to be cognizant of what your target demographic finds engaging about the content they consume. Study what topics, personalities, and resources they actually like to engage with. What is about those aspects that they find stimulating? You don't need to get granular about this, but it does help you to create content that makes a bigger emotional impact.
It's worth bearing in mind that this doesn't mean that you're seeking to tailor your content to a single person. Rather, these are insights that help you to establish how your content can provide value to those B2B customers it's intended to gain attention from. You're not looking to seal the deal by making a personal experience at this stage, you're piquing their interest, and laying some breadcrumbs to lead them to your website — you just need to know more about the tasty treats they'll follow.
Focus on Quality Content to Drive Sales
A key to creating content that drives sales is emphasizing the quality of the work. This can feel like an elusive concept — quality, after all, tends to be subjective. For content marketing purposes, you should be homing in on the following areas.
Readability.
This largely goes for text copy, but the principles still apply to video and podcast content. You want to make sure that the consumer doesn't have to work especially hard to grasp the ideas. Make sure that spelling and grammar are correct. Avoid confusing syntax. As far as possible break long text into short sections.
Longevity.
You always want to get the most out of any asset you invest in, the same applies to content. It does neither you nor your readers any good to produce content that becomes dated a month down the line. Good quality content is evergreen, in that it provides useful, actional information whether it's being consumed today, or three years down the line.
Relevance.
Firstly, you need to research relevant keywords that your audience is searching for, and build content that supports these. The content subject also needs to be relevant to the specialization of the host website. Next, if you're including backlinks (and you should be) these must be not only relevant to the section of the content they're in but support the purpose of the paragraph into which they're inserted. This approach not only avoids confusing your audience but also pertains to SEO best practices.
Credibility.
We all have opinions, and we all know the internet is filled with them. However, for your content to be of the quality that leads to conversions, it needs to be backed up by reliable sources. Where possible, include statistics or figures, and link to academic journals, industry resources, or news sites that published them. Use quotes from respected authorities in the field, and cite them. This can help to boost your readership and search engine ranking, it also helps to build trust with your target audience.
Embrace Diversity
Voice.
Having a brand voice is important. However, this may not always be the most effective attitude to capture your target demographic. Work with content creators from a variety of backgrounds to produce assets that meet your goals but also bring their own approaches, skills, and creativity to the process.
Host.
Don't get stuck on the idea that the content you produce should always be hosted on your own website. Part of the intention of content marketing is to lead your prospects toward your website landing page, and this can be just as effective when content lives somewhere else. Collaborate with influencers who your demographic trusts to make videos or blog posts that your audience actually likes to engage with. Have a key company figure guest on a podcast.
Type.
One of the advantages of our digital age is that, through a lot of trial and error, we've discovered multiple styles of content that can engage an audience, and most of them can help to drive sales. Make it part of your strategy to produce a diverse range of content. This will help to open you up to a wider potential audience. Interviews, reviews, deep dives, promos, behind the scenes peeks — they can all be useful as long as you maintain quality and work to understand your demographic.
Socials.
Expanding your social media presence can be vital to your content strategy. If you're not already active on a social channel that your target demographic uses, you need to diversify your socials to include it. Learn about what type of content works on those channels, and create posts that capitalize on what drives engagement there.
Diversity goes hand in hand with outside-of-the-box thinking. The more you look for opportunities to diversify your content, it's likely you'll find more creative solutions to the challenges you're facing in your campaign. Aside from the content itself, it pays to bring in diverse contributors at the planning stages of the project too, and be open to exploring their ideas.
Conclusion – Content that drives sales
Content is one of the most versatile tools that we have at our disposal in B2B marketing. However, for it to be effective in driving sales, there needs to be a strategic approach to its application. The target audience is always central to how you design and execute a content campaign, but that doesn't mean you can't be creative. Use what you know about your audience to draw them in, while also seeking to provide them with diverse ideas that will keep them engaged.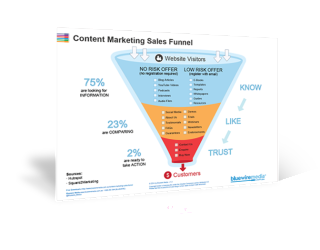 Content Marketing Sales Funnel
Your content marketing sales funnel is all about getting people to know, like and trust you by nurturing them with the right information at the right time.