How to Create an Infographic with Piktochart (A Step-by-Step Process)
Updated on May 18th, 2017
For months I would see some of my favourite blogs posting high quality infographics. It frustrated me. They were obviously more engaging than purely text based blogs, but I didn't have a graphic design bone in my body. Plus I was just starting out and couldn't afford to pay a designer to help me out.
On the flip side, I was creating lots of pretty cool blog posts. Each of these posts would involve a rigorous research process, tons of stats and some pretty helpful information for the readers. They were custom made to be re-purposed into infographics.
I had a gap. Loads of content ready to be re-purposed into an infographic, but no ability or funding to do it myself.
I'd heard of this website called Fiverr where you can buy the services of graphic designers, SEO's and other freelancers from all around the world at ridiculously low prices. So I decided to give it a go.
I grabbed a post I had written here on Bluewire called 'Why Blogging Is Critical to Your Business', found a designer on Fiverr and wrote a fairly lengthy brief on what I was looking for in an infographic.
This is what they came back with;
I went in with so much hope. My heart sank as I opened the file. Seriously, I was gutted. Here I was back at square one, no infographic and no way to make one.
Then I discovered Piktochart.
If you're not familiar with Piktochart, my best description would be that it is like Canva on steroids. It's a super easy way to create infographics even if you have never done anything creative in your life.
That brings me to the reason for writing this post. Adam Franklin the Marketing Manager here at Bluewire, was checking out the infographic I created using Piktochart. He couldn't believe how professional it looked. And to be totally honest, I couldn't believe how easy it was to make it. I can barely draw a square without making it look ridiculous!
The good thing is, I have documented the exact process I used to create it. And you are about to find out how to do it too.
Let's dive in.
Quick note before we start; if you have any questions about this process, drop them in the comments section. I'll answer them the best I can.
First – Write a killer blog post (Shake 'N' Bake Method)
You might be thinking, why do I need to write a killer blog post to make it easier to create an infographic?
Well, this is actually the most important part of the process. You want to do all the grunt work up front by researching and creating an epic blog post that you can later easily turn into an infographic.
This is where I'd like to introduce you to a blogging tactic I developed called the 'Shake 'N' Bake Method'.
A quick list of the benefits I have experienced from the Shake 'N' Bake method;
Significant increase the quality of blog content
Reduced time it takes to write long-form content (2000+ words every time)
Way more social shares for every blog post
More authoritative inbound links for blog posts
Boost in organic search traffic for more keywords
So you want to know how this method works?
Disclaimer: Just a quick hat tip to Brian Dean from Backlinko, the Shake 'N' Bake Method was inspired by some of the tactics he explains in his Skyscraper technique. The key difference is that this is about writing consistently better, longer blog posts in less time. The emphasis being on the time saving and quality components.
Shake
Identify a keyword you want to target in your blog post
Research 2 or 3 long-tail phrases that accompany that keyword
Tip: KWFinder.com or Google suggested search are helpful tools for this step
Find out what other content has already been written on this topic.

Document links to the top 10 articles in a spreadsheet.
Rank articles based on social shares and inbound links. (You'll come back to this later)
Tip: Search BuzzSumo and Google web search using combinations of the keywords you are targeting.
Jot down a simple structure for your blog post based on what you have learnt from the other popular articles and your own experience. I use Word to capture this structure, but you may like to use Google Docs or even put it straight into your blogging system.
Tip: When coming up with the structure for your blog post try and make it evergreen. Evergreen content is just as relevant today, as it will be in 6 or even 12 months. This way, if someone stumbles across your blog or infographic and shares it in 6 months' time, it will still be valuable.
Go back to those popular articles and copy and paste the most relevant information into your blog structure. Make sure you put this content in a different coloured font. (Just like you are shaking the content out of the articles!)
Use your keywords to research for cool stats, images, case studies and examples. Copy and paste any of this information that makes sense into your blog structure under the relevant headings. Make sure you record the sources for these ones.
Tip: To find a certain type of content, try and search your keyword followed by the type of content. For example if content marketing was your keyword search for these; 'content marketing + case studies' or 'content marketing + stats'.
'N'
Bake
Write your blog post. Write everything in your own words and from your own experience. Make sure you have an opinion. The objective of having the content from other authors in the structure isn't to plagiarise. Quite the opposite. It is their as inspiration, for you to write better, longer, more engaging content. It's there for you to form your own opinion on a topic and take thought leader status.
Publish, promote and measure. (I won't go into depth about this part, because all we need is a quality blog post for the purpose of creating an infographic)
Second – Break down your blog post into a skeleton
Now you have a blog post, well-researched and better than anything else out there it's time to strip it back to the bare bones. The idea of this step is to take a 2000+ word beast and refine it back into something that works as an infographic.
A good start would be to strip back the blog content into the following groups;
Headline
Key dot points and sub-headings
Key stats and quotes
"But I already created a blog structure back in the 'Shake' section, why do I need to go to the effort of writing the whole post first?"
What I find is that the original blog structure never stays the same. The writing process improves the quality of your blog structure by tweaking it where necessary. That's why it is important to write the blog post before diving into the infographic. Plus you will end up with two great pieces of content instead of one.
Third – Pick your comparisons
This step is where you bridge the gap between creative genius and regular old marketer.
You might be an excellent networker, whilst your colleague might by an excellent copywriter. You don't have to be good at everything. Some people just aren't made to design graphics.
One tactic I use to get my creative juices working is to seek inspiration from other people.
Pick 3 or 4 infographics you love from thought leaders in your industry, another industry or even one of your competitors. Document exactly what it is about these infographics you like;
Colours
Amount and type of information
Structure of the content – Is it a list or a process? Or something else altogether?
Graphics; such as icons, images and text
For example, I used a couple of infographics from Neil Patel's site Quick Sprout as a benchmark when creating my first infographic.
Fourth – Create your infographic
Now we get to the fun part; creating an infographic with Piktochart.
Familiarise yourself with Piktochart
Piktochart splits up an infographic into content blocks. You can include as many, or as few, as you like and edit their size as you go. Before you start adding information into your content blocks it is important to first understand how Piktochart works and where you can access everything you need.
When familiarising yourself with Piktochart be on the lookout for the following things (I have highlighted some of them in the screenshot below);
Where you can save your infographic
Where to create charts, maps and videos
Where to insert text
Where to find icons, shapes, lines and pre-set photos
Where to choose pre-set backgrounds for each content block
Where to upload your own images to use in your infographic
Where to download the infographic once it is complete
Map out your Infographic
This step isn't for everyone, but for me it is perhaps the most important. I'm a very tactile person and love writing things down on paper first.
The idea is to sit down with a blank piece of paper, a pen and all of your inputs; the infographic bare bones structure, stats and comments, as well as your selection of favourite infographics from other thought leaders. Map out a very high-level idea of what your infographic will look like. Keep in mind at this stage that Piktochart breaks things up into content blocks, so try and separate your information in this way. You will see the rough scribble I did before creating an infographic in the image below.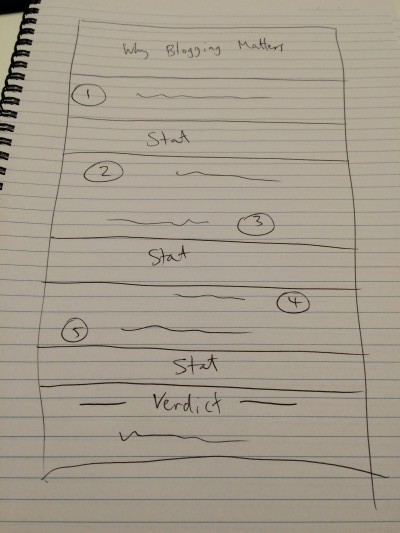 Pick your template
Once you have familiarised yourself with the Piktochart website and mapped out your infographic, it's time to pick one of their templates to build your content. They offer a small range of free templates, but if you want access to them all you will need to upgrade to pro. The screenshot below shows the collection of free templates.
Start creating your infographic
Your first attempt at creating an infographic using Piktochart may take you a while, and a whole bunch of trial and error. But you will get better with practice and patience.
I'd like to share with you some of the design secrets I used when creating the 'Why Blogging Matters to Your Business' infographic. (I learnt these along the way but hopefully this will shortcut the process for you)
Jazz up your header image
When I was creating the header of my infographic, the photograph I used didn't seem to fit with the rest of the style. I fixed this by adding a light blue box shape over the top of it with 50% opacity. The screenshot below shows you what I'm talking about.
Create a thread from start to finish
Another tactic I used after seeing it across a number of cool infographics was to create a thread from top to bottom. This 'thread' may take the form of any number of things, but I chose to use a dotted line. As you will see I have used a dotted line to separate the header from the content, and then linked each section using a similar dotted line.
Blending sections
One of the challenges when creating an infographic using Piktochart is that it clearly separates the graphic up into section. Whilst this is helpful for grouping information, you want to make sure that the infographic flows and blends from start to finish.
A tactic I used to minimise this challenge was to blend shapes and colours between sections, so they looked like they were one of the same. For example, below you will see the white circle surrounding the '2.7x' blending into the sections above and below it.
Conclusion
When it comes to creating infographics, people can often over-complicate things. The simpler the better.
If you dedicate your time to writing epic, well-researched blog content every time and back that up with the power of Piktochart you will be creating infographics in no time.
Have you ever created an infographic without a graphic designer? If so I'd love to hear your experience in the comments.
Bonus 33 Free Templates
Download the 33 free templates from Toby and Adam's book.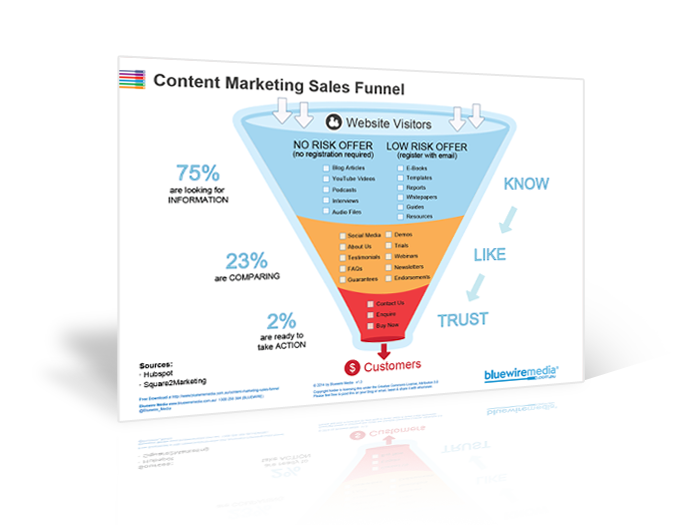 Content Marketing Sales Funnel
Your content marketing sales funnel is all about getting people to know, like and trust you by nurturing them with the right information at the right time.