5 Passive Ways Marketers Can Reduce Their Customer Acquisition Cost (CAC)
If you take the total amount of money you spend acquiring customers in a time period, then divide it by the amount of new customers you acquired within the same period – you'll get your Customer Acquisition Cost (CAC).
This is one of the most important digital marketing metrics, as it allows you to determine the profitability of your business.
Overspending on acquiring customers will kill your profits (and your business). Fortunately, there are numerous steps you can take to reduce your CAC and thus, generate more profits.
While these tactics will take some significant work upfront, the rewards are passive and long-term if you do things correctly.
1 – Refine Your Buyer Persona
Good marketing involves communicating a message that resonates with an individual on an emotional level. It's hard to achieve this if you don't know your core buyer intimately.
I recommend creating a documented buyer persona. This should include demographic attributes such as age, gender, marital status, and income, as well as psychographic attributes such as values, desires and pain points.
Check out this highly specific buyer persona created by HubSpot:
When your documented buyer persona is highly representative of your actual buyers, this will drive down Customer Acquisition Costs because all of your marketing becomes much more individualized (and therefore resonant).
At first, you'll be making assumptions about your buyer persona, but when the sales start coming in, it's important to make refinements for greater accuracy.
You can get some excellent buyer persona insights by surveying existing customers and looking for trends. SurveyMonkey is a great tool for this.
If you run Facebook ad campaigns, I recommend looking up your customers on the platform and perusing their profiles. In addition to finding relevant interests that you can use for your ad targeting, you'll get a more complete view of the types of people you're dealing with.
While running a campaign for a client in the vegan health food niche, I learned that a number of customers also have an interest in cycling, atheism and LGBT rights. This kind of information is incredibly useful when it comes to content creation because you can be much more personal with your communications – which ultimately drives down your CAC.
2 – Deploy Brand Advocates
In a study by Nielsen, it was found that 92% of consumers trust recommendations from friends and family more than other forms of advertising.
Optimizing your landing pages, putting out high-quality content and running PPC campaigns will help you to acquire customers, but oftentimes, you can achieve better results by getting your best customers to do your marketing for you.
To identify brand advocates, simply determine which of your customers have purchased from you multiple times. Their purchasing activity indicates they have a positive opinion of your brand already, so when you reach out to them, they're likely to be receptive.
By segmenting these repeat buyers in your email list, you only have to send a single batch message for a great ROI. I suggest directly asking if they know anyone else who might be interested in your products or service.
For ecommerce businesses, I highly recommend setting up a referral program using Referral Candy. With a double-sided reward system, your existing customer and the referred friend will both get a discount – which is great for building brand loyalty and encouraging customer retention (AirBnB grew a multimillion-dollar business this way).
Additionally, asking your existing customers to provide video reviews of your products is useful. Video reviews are a highly credible form of social proof and they look great on product pages.
Social proof boosts conversion rates, which in turn lowers your CAC.
This tactic isn't entirely passive, but for a minimal amount of work, you can reap significant rewards in the long-term.
3 – Utilize Autoresponder Sequences
Lifecycle marketing refers to the practice of sending people appropriate messages depending on the stage of relationship they're in with your brand.
Just as you (hopefully) wouldn't ask someone to marry you before going on a first date, it's important that you don't bombard people with high octane sales emails as soon as they've signed up to your list.
When people receive personalized emails based on the actions they've taken with your brand, this creates a much better impression than generic email marketing and it leads to greater conversions.
Your autoresponder email funnel should contain a warm welcome email, multiple value delivery emails (such as case studies and free webinars), sales emails and optionally, an advocacy email.
After you've built out a successful funnel, you'll continue to reap the rewards passively – so it's worth taking the time to get it right.
Market Hero is a great tool for building out an autoresponder sequence since it features a simple drag-and-drop interface that allows you to create multiple paths based on a user's behavior.
For instance, if a person doesn't open your email inviting them to a webinar, your next email should be a reminder. Conversely, if a person opens the email and attends the webinar, you can automatically follow up with a stronger sales email.
When you get it right, email marketing automation will slash your Customer Acquisition Costs while you sit back and enjoy the fruits of your labor.
4 – Retargeting
In a study of landing pages in multiple industries, the average conversion rate is 2.35%.
Let's say you have an average landing page and 97.65% of your visitors leave without converting.
In order to improve this rate, your first instinct as a marketer might be to split test product page elements, create a more compelling offer and perhaps revise your Facebook ad targeting to ensure more qualified prospects land on our page.
Here is another way of looking at things.
Out of these 97.65% visitors who didn't convert, it's easy to assume that they simply weren't interested in the offer. Perhaps that's true for some of them, but it's unlikely to be true for everyone.
As a marketer, there are a vast array of factors outside of your control that can affect conversions.
Perhaps a person arrived at your landing page in the morning before work, and then rushed off before converting because they were short on time. Likewise, I've noticed that people are rarely in a buying mood during the night (11 pm to 7 am are often dead zones).
I also believe that unpleasant or depressing world news negatively impacts conversions.
Conversely, evidence suggests that when a person is hungry, they may be more likely to purchase material objects.
Put simply, a person may be a perfect match for your product, but for whatever reason, they weren't in a buying mood when they visited your site. If you failed to acquire their contact details, these potential customers will leave your site and probably never return – unless you do retargeting.
I highly recommend setting up a Facebook retargeting pixel and re-engaging with people who have visited key pages on your site without converting.
Visiting a sales page, quote request page or ecommerce checkout is a good indicator of purchasing intent. You can target these specific visitors in your retargeting campaigns.
If you have a video on your landing page, you can send a more aggressive retargeting ad to people who have viewed the entire video compared to people who have viewed the first few seconds.
In ecommerce, marketers can achieve great results by targeting people who have added a product to their basket, while not including people who have purchased. Since this audience has already demonstrated a strong interest in making a purchase, it's much easier to get them to convert compared to cold traffic.
I've found that when marketing to younger demographics with less disposable income, it's best to run your retargeting campaigns at the beginning of the month when people have just got paid.
If you've already got significant traffic coming to your landing pages, retargeting requires a minimal amount of time to set up and can significantly cut your Customer Acquisition Cost.
5 – Reduce Churn
You know what's cheaper than acquiring a new customer? Not losing an existing customer.
It's an unfortunate reality that many businesses pour all their effort into customer acquisition, while completely neglecting customer retention.
This doesn't make much sense, especially when you consider that disgruntled ex-customers are often very vocal. With negative social proof floating around the web, marketing becomes much harder and your CAC will certainly increase.
The best way to reduce churn is to make people dependant on your product or service. I don't mean this in a Machiavellian sense – I mean going above and beyond the call of duty in terms of delivering value so that people wouldn't even think about leaving you.
One of my favorite brands, Shopify, is a great example of this.
In addition to offering a simplistic interface for building your own e-commerce store, Shopify has an abundant range of features, including full inventory tracking and product management, order notification tracking, inbuilt email marketing, social media integration and an amazing app store full of plugins to enhance your store.
While Shopify's membership costs increase when your store generates more and more revenue, by that point you can afford the extra cost and it would be a huge pain to switch services for a little extra profit.
Ultimately, Shopify's customers become locked into the service, and they're perfectly fine with that because of the value they receive.
I've personally used these tactics to drive down the CAC for multiple businesses and you can too. Best of luck!
About Aaron
Aaron Agius is an experienced search, content and social marketer. He has worked with some of the world's largest and most recognised brands, including Salesforce, Coca-Cola, Target and others, to build their online presence. See more from Aaron at Louder Online, his blog, Facebook, Twitter, Google+and LinkedIn.
Bonus 33 Free Templates
Download the 33 free templates from Toby and Adam's book.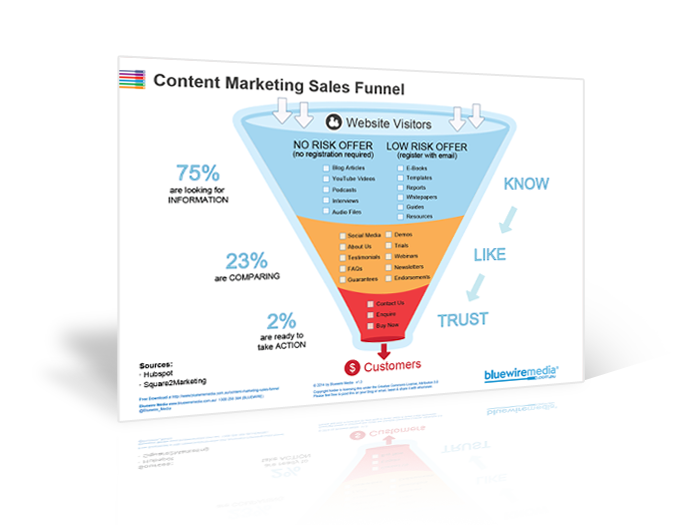 Content Marketing Sales Funnel
Your content marketing sales funnel is all about getting people to know, like and trust you by nurturing them with the right information at the right time.