Customer Engagement Strategy: How to influence clients digitally
Updated on April 1st, 2020
Customer Engagement Strategy
Small and medium scale enterprises are usually one of two things.
1. a new and growing business or
2. a modest but well-established company that is ticking over nicely.
Whichever business model is yours, you can use digital technologies to ensure that your business remains strong.  So that you are readily able to cope with whatever changes and transformations that the world may wreak on the business world next.
Use technology to approach and engage with customers
Using digital features to engage and influence customers sounds formal and a little bit scary. But it is both common sense and intuitive for today's technology heavy world. Digital media is with us almost all of the time. It's in the form of our mobile phones, smart televisions and other internet-enabled appliances. It's even in our cars which are now connected to live traffic flows to alert us to and guide us around traffic jams and blockages.
Every business, no matter how big or small should use technology as a daily tool. It can both help to grow the business and make day-to-day tasks so much easier. Utilise them your business is efficient and as streamlined as possible.
Having a good website ensures that your business gains a wider reach, finding customers who are looking for your precise products or services. With the assurance of having a good courier behind your business, you can dramatically widen your target market.  Simply put up a couple of adverts that use keywords designed to attract potential customers.
Social media is another big plus of digital media.
Set up accounts with those social media networks that your customers will subscribe to: having a Snapchat or Kik account for selling to seniors is unlikely to boost your turnover in any significant way, while Twitter or Facebook accounts are much more likely to hit a broad target.
Both of the latter (and, in fact, probably all social media networks) offer paid ads to business users.  A relatively modest payment will ensure that your post is seen by a much larger number of people that those who already follow you or 'like' your page.
Often, these ads can be targeted to specific age groups, needs such as disability aids, childcare products or those looking for a holiday destination.  This means that your paid-for ad will be seen by people with a specific interest in products like yours. This, obviously boosts your chances of a click-through and the opportunity for a successful sale.
A social media manager to execute your customer engagement strategy
As well as ads, use your social media accounts to engage with your customers. Employing a social media manager may seem like too much, but someone who is well versed with the networks, who understands how often you should post, how many of your products should be mentioned, and who can word posts that make your followers feel engaged and valued by your business will more than earn their salary in profits gained by their posts.
Good example of customer engagement strategy
Hard sell posts should be avoided wherever possible, with any mention of products being done with a light touch, and framed in the form of a question or human interest post – or even as part of a joke. One excellent social media account to browse through as an example of this is the UK's Innocent account. The company sells fruit juice and smoothies, but their Twitter account is humorous, heart-warming and always tremendously entertaining. So effective is the social media account that university tutors cite it as an excellent example of 'hands-off' marketing.
Customer engagement best practices
Also don't be afraid to make moral stands every now and then.  Be careful to avoid picking political sides as this may alienate half of your customer base.  In the event of a natural disaster, allow your social media to show your concern for those affected.  Put your money where your mouth is by making a donation to the cause.  Providing financial relief for those affected by an earthquake, for example, is a wonderful way to prove to your customers that you care.
You could even host a fund-raiser on your social media, with a promise to double the funds raised by a certain date.  This ensures that your customers feel as though they are helping the affected people.
Customer engagement strategy
People these days are cynical and overloaded with information. Use your digital products judiciously and welcome your customers to a safe and friendly part of the internet.
Soft-sell your products in such a way that the customers feel as though their lives will be improved by making the purchase and that putting their trust in you is fully justified – enough that they will keep coming back to you for more!
About Conor O'Flynn
Conor O'Flynn is Operations Manager of O'Flynn Medical.
Conor is passionate about engaging with customers online. And he has recently carried out a website redevelopment to make the user experience more friendly.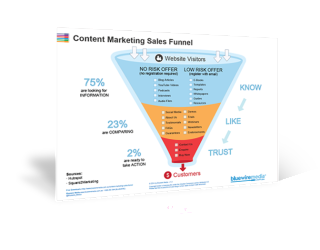 Content Marketing Sales Funnel
Your content marketing sales funnel is all about getting people to know, like and trust you by nurturing them with the right information at the right time.