Customer Online Reviews: Your Company's Demise or Triumph
Updated on December 27th, 2019
Customer Online Reviews:
How They Can Make or Break Your Company's Reputation
According to research published by Fan & Fuel, 92% of consumers hesitate to make a purchase if there are no customer reviews, while 97% say customer reviews factor into their buying decisions. This data illustrates the importance of customer reviews. Say you're interested in registering your company on a business directory. It goes without being said that it's nearly impossible to control every aspect of a customer's experience, so you may get the occasional negative review. Given that all your reviews might not be glowing 5-star reviews, does that necessarily eliminate the benefits of customer reviews entirely? Well, maybe not. Below is a list of the pros and cons of customer reviews so you can make up your own mind:
Pros of Customer Online Reviews:
Increased Visibility
The more that people discuss your brand online, the easier it will be to find your brand. This means that amassing reviews increases your visibility, which in turn increases the number of prospects interested in your products and/or services.
Credibility
You can promote your business as much as you possibly can, but a review from a customer often weighs more in the eyes of a prospect. A past customer is not trying to sell to them. They are merely elaborating on their experience. Also, you appear transparent to customers when you open yourself up to reviews. It shows that you are trustworthy and have nothing to hide.
Direct Impact on Sales
The impact of reviews on sales is undeniable. If more reviews equal more prospects, it's only natural that this would lead to higher sales. We have the data to back it up: according to a study conducted by Bazaarvoice network, a single product review can result in a 10% increase in sales, while 200 reviews have the potential to increase your sales by a whopping 44%.
Feedback
Your customers' opinions about you are very important. Granted, you can't necessarily please everyone and change your entire structure or product based on the opinions of your customers. However, feedback is important in that it provides you the opportunity to have direct access to what your customers feel is working and what they think can be improved.
Connection with Customers
A two-way path of communications between you and your customers is vitally important to the success of your business. It allows your customers to share their positive experience to other would-be customers. However, in the case of a bad review, you can rectify the situation which may lead to repeat business.
Word-of-mouth Marketing
Word-of-mouth is the cheapest form of advertising, so why not take advantage of it? Reviews are essentially an online form of word-of-mouth. Not only can it inform potential customers about your company and products, but it expands the conversation about your brand.
Cons of Customer Online Reviews:
Skewed Impression of a Product
As previously mentioned, it is impossible to please everyone in every way. If one customer has a bad experience with your product and/or service, it can skew the opinions of other potential customers. This can lead to an inaccurate impression of your offerings.
Allows EVERYBODY to Post a Review
We would all like to believe that everyone has good intentions, but being on the internet can expose you to vindictive and malicious people. Reviews written by people like this may include inaccurate and damaging information that will cause prospects to be wary of approaching your business.
Requires Constant Monitoring
Registering on an online business directory where customers have the ability to write reviews about you 24/7 is not without its responsibilities. It means that you have to stay vigilant and up-to-date with reviews so that you can respond to your customers. The more proactive you are about a negative review and the more hastily you respond to it, the more it can work in your favor.
Amount of Reviews
Having to keep track of a large number of reviews can be challenging, but it's a much better position to be in than lacking reviews. If your company has an inadequate number of reviews on a business directory, especially in comparison to competing companies, it may have the effect of making your brand seem less relevant.
Hesitant Buyer
Not all buyers are certain about how they feel about your brand immediately. Hesitant buyers need to be convinced. That's when reviews can play a very crucial role in the purchasing decision. However, if they read reviews that are somewhat discouraging, they may be reluctant to take the plunge.
About the author
Emily Williams is one of the members of Content and Marketing team at the BOM. She is a marketing expert with a knack for digital marketing strategy, crafting and implementation. You can find really professional insights in her writings as well as her
expert advice on everything small business related.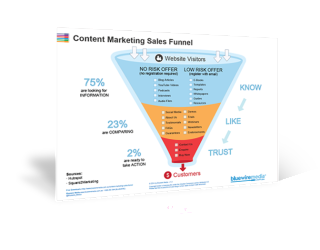 Content Marketing Sales Funnel
Your content marketing sales funnel is all about getting people to know, like and trust you by nurturing them with the right information at the right time.