Your Customer Satisfaction Isn't Satisfying? Here's tips to fix it
Updated on September 22nd, 2021
This is a guest post — Damian Wolf is a writer at Assign Yourwriter and marketing strategist at Cubic Promote. He specializes in marketing strategy which include traditional and tactics for growing businesses and growing online company presence with creation new content on the business blog. Damian is also a big tennis fan and wannabe world traveler. You can reach Damian via Twitter at @damianlwolf
"Change in business is not a threat, it's an opportunity
Survival is not the goal, transformative success is."
– Seth Godin
As business owners, we are all prone to thinking we do everything best. We love the moves we make and tend to pride on everything we've accomplished so far, especially if we are running a small business with a potential.  But, to keep on building potential we need to never stop working on it. Advancing our business is only common sense if we want to progress – and let's face it – a business with no progress is a business not worth running.
To succeed, you need to try. To accomplish, you need to take risks. Yet, what happens when you've done both yet somehow you feel like you've hit a dead-end point? Well, you start again – and transform what you've got in a way that'll lead you to a triumph.
One of the things that should be at the top of your list (in case it already isn't) is enviable customer service. To have your customers satisfied with both your product and the way you are handling your products' sales, you need to dedicate some time and effort to improving your customer service from good to excellent. Make it your business philosophy as well as your day-to-day operation.
So, where and how do you start?
Like in everyday life and love, listening and learning from what you've heard is the key to building a quality, in the case of business, relationship with your clientele. When a customer knows they are being appreciated and listened to, they will remain your clients for as long as your company lives. This will further lead to your profitability boost enormously.
How do you convince your clientele you are actually listening to them?
While communicating with your customers, apart from body language* that shows interest in the topic, it is advisable you take notes and repeat back what your customers have said – don't do it parrot style, though. Do it in such a way that they know you are just making sure you'd heard, written down and remembered everything right. The communication should be precise, respectful and concise. If there were certain points you didn't understand or you'd like to ask a question for the purpose of clarification, then do so. If you are unable to give an immediate answer, give your customer a timeline for response. Never miss the timeline given (it helps to always note it in your calendar).
To have effective customer service, you must always be on top of what your customers need, want and would like to have and then find ways to provide it for and to them. Also, it wouldn't harm if you went a step further; to always know how you are performing, ask your customers to give you feedback. It will serve as a great direction for all your future engagements with them and new clients.
What is the proper way for a customer to be treated like?
The key to success is to treat your customers the way you'd like to be treated. Look at them as people, not numbers. Naturally, it is hard to connect with each and every customer on a personal level (nor you should cross that line between professional and personal) but it doesn't harm to be polite at all times. There is a good reason why your clients have stayed with you for as long as they did – in turn, make sure you give them your best and treat them with the utmost respect and dedication they deserve.
Easier said than done, you say? I couldn't agree more. Especially because you are not alone in the firm, but you've got people working under you who need to grasp the essence of this idea themselves. The best way to instill this attitude among your employees is to do some simple role play; they'd have to deal with both difficult and easy-going customers. Be their coach and teach them how to handle different situations.
What are the best online tools to increase your customer satisfaction?
Luckily for us, the market has some pretty amazing online tools to offer. Usually, you'd do a research and see which one fits your business best, but there are some tools that are just perfect for everyone. We'll single out our four (3) favourite ones:
This online survey tool is pretty much the leading online tool in the industry and is used across the world. SurveyMonkey isn't only limited to creating customer satisfaction surveys, but is good for any sort of survey. It is an incredibly flexible customer satisfaction software tool. However, when it comes to getting actionable feedback and measuring satisfaction it lacks some features.
Even though basic, SurveyMonkey surveys do the trick. We would recommend getting a paid account because the free version doesn't give you much flexibility. The essential components to creating an awesome customer survey are colors, brand and company name and to create these you need a SurveyMonkey paid account. With this particular online tool, you can expect survey response rates between 5-15%.
Another professional, powerful and amazing survey tool that will help you get proper customer feedback. SurveyGizmo is great because it not only has customer satisfaction surveys that are completely customizable, but it also has templates that will make it easier for you to start. The tool is pretty similar to SurveyMonkey and is tailored for gathering data for once off analysis. What the tool lacks are features that can help analyze data over a period of time or on an individual level.
Great thing about SurveyGizmo is that you can ask all the basic questions and even advanced questions, which gives it value over other more traditional online survey tools. Plus, the paid plan includes options to customize the colors and branding. What may strike as a bit disappointing is the fact that total brand control is available on the professional and enterprise plans.
This online tool is particularly proud of its simplicity. The questions are displayed in an understanding and easy, and at the same time rather fun and exciting way. A customer is offered to click smiley faces (neutral, happy, sad) to express their satisfaction. It comes with survey templates available to help you get started and it prides on being the easiest software app on the market.
An absolutely great thing about PopSurvey is that it has a 'patent pending' survey player design. This pretty much separates the surveys into slides and progresses them automatically. The respondents are given the opportunity to complete surveys quickly and it's a pretty slick experience for them. Then again, if you want to cross reference individual scores against each other or compare scores from past surveys you'll have to find another customer satisfaction software tool or do it manually.
What should be the touch points of your customer service?
Easy – all of them! In today's society, social media is more than an important factor in all aspects of one's business, including customer service. If you have a presence on sites like Twitter, Facebook, and so on make it your priority to observe, listen, engage and respond to your customers online. This is a great way to learn from your clientele and find ways to meet their needs. Further, to measure customer satisfaction, you can turn to customer satisfaction software tools. This blog is pretty suggestive and may give some helpful insight http://blog.clientheartbeat.com/customer-satisfaction-software/
*Body language Dos and Don'ts:
Dos:
– Keep a smile on and nod your head lightly
– Lean a bit towards the person you are talking to as this shows interest
–  Mimic your customer's gestures: this sends a positive subliminal message to the person you are talking to; it means you like him/her
Don'ts:
– Don't cross your hands – this shows anger and lack of will to listen to someone or generally communicate with this person
– Don't roll your eyes at someone
– Don't interrupt them
– Don't use too big hand gestures – they tend to be perceived as aggressive
About Damian Wolf
Damian Wolf is a writer at Assign Yourwriter and marketing strategist at Cubic Promote. He specializes in marketing strategy which include traditional and tactics for growing businesses and growing online company presence with creation new content on the business blog. Damian is also a big tennis fan and wannabe world traveler. You can reach Damian via Twitter at @damianlwolf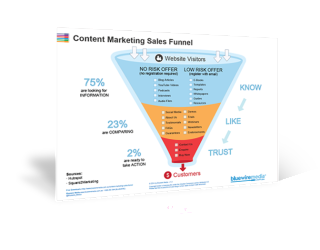 Content Marketing Sales Funnel
Your content marketing sales funnel is all about getting people to know, like and trust you by nurturing them with the right information at the right time.