Cyber Security in Digital Marketing: 6 Ways to Be Secure
Updated on March 11th, 2020
Cyber security & privacy issues for digital marketing
All online businesses have to deal with the likelihood of a security breach anywhere down the line, and this consists of the companies that focus on digital marketing.
People working in the marketing industry are frequently holding privy to confidential information that businesses do not desire to share with the general community. That's why they must maintain some security provisions as a portion of their daily work.
When we talk about marketing in general, most of us are neglecting the significance of cyber security for digital marketing. Given we work on websites, over email, and social media, safeguarding our data is important.  Using various firewall hardware should be one of our main objectives.
Needless to say, hacks and viruses pose harmful effects. Both the intangible and tangible expenses of an effective cyber-attack can devastate a business.
Ethical issues & data privacy
How Dangerous are the Hacks and Viruses?
Typically, there will be many individuals who acquire admin credentials for your site or have entry to your social media accounts. The danger your company is facing here is twofold.
There is a threat your customers' information can be stolen or compromised
And in one go, you can also lose access to the most valuable of your digital networks.
Both these factors can be devastating for the status of your company.  It also poses ethical issues with data privacy too.
What you can do to be safe?
There is a lot that you can make to prevent and eventually get rid of all data infringements within your personal and company life. Whether it is shifting up your passwords every other time or guaranteeing that all your systems are new, the choices to care for your data are boundless.
In this article, let's take a peek at a few hacks you can execute to reduce your odds of experiencing a data breach:
Tip # 1. Safeguard your CRM platform
If you're operating a fully-fledged enterprise, one of the most crucial facets of tasks would be to manage and store consumer data, particularly for marketing reasons. It is where CRM programs go into playing a part. The risk here is that this kind of software also manages stores of classified consumer data – a gem container for nasty hackers.
In line with this, robust passwords alone will not be adequate to shield customer data. You will also have to reduce admin entry to only a limited number of personnel, carry out staff coaching on overseeing these programs, and perhaps even utilize some monitoring and tracking software when the CRM platform is being read.
Tip #2. Be Knowledgeable About the Rules of Digital Hygiene
The mass of data breaches come about due to negligence and human error, not because of defects in software. In other words, you come up with further explanations to be scared of primitive and passwords phishing than of someone immediately breaking your safety software.
The only avenue to deal with it is avoidance. Educate your staff to utilize complex passwords and be vigilant when reacting to questionable emails. Set up an anti-phishing tactic and transmit it to your customers.
For instance, frequently state that your personnel will not ever ask them clearly for their private and economic information.
Tip #3. Maintain Your Security Systems Up to Date
Guarantee that your safety systems are restructured and appropriately working. There may have been errors or bugs in a previous edition that were taken into consideration in the update. Postponing creating the update will only turn out to be a blunder.
The importance of data privacy in digital marketing should never be underestimated.
Tip #4. Consistently Alter Your Passwords
Be sure to modify your passwords every few moments or so to make sure that your account info does not get out. Emails can be hacked every time, and many apply similar passwords all over the place.
Alter your passwords to guarantee that, even if your email becomes hacked, other passwords are protected.
Tips #5. Safeguarding your IT Systems
Your core IT systems are also a goal for invaders. By gaining contact with PCs, servers, or local network, cyber-criminals can't only take your essential data, but can also inflict chaos and badly influence your business operations.
For instance, the regular interruption from a ransomware assault is over 30 business hours. Attention and concern must consequently be provided to carrying out strong cybersecurity within your business.
This could consist of financing in safety software and hardware, guaranteeing that your systems are frequently repaired and getting sure that they are tightly aligned. The right initial action on your cybersecurity voyage might be the administration-funded Cyber Essentials system.
Tip #5. Practice Regular Back Ups
In a nastiest-case situation, you can fail all of your data and content in a data breach or hack. Backing up some and all vital information is your safest step – whether it is for your personal use or your company use.
Frequently back up your information to ensure your data can be recovered and reinstated promptly. There are a billion backup answers these days, and it's advisable to have a duplicate of your backup. Back up using an external hard drive or a cloud reserve solution, or both!
Tip #6. Ensure your Social Media Accounts
It's no surprise that social media signifies one of the most vulnerable parts of protection for all digital marketers. You just have to imagine the possible harm a hacker might cause to your social media accounts.
The reality compounds the demand for efficient cybersecurity programs that several of us have our expense data on Instagram and Facebook for the intent of social media marketing. In doing this, make sure that you're after the appropriate safety measures to safeguard your platform and restrict access merely to those who require it.
Key Takeaways – Cyber security with digital marketing
Cybersecurity has become part of the most important technologies of our moments. Our lives are progressively becoming more reliant on digital services. Given that reality, the need to defend our data from mishandling and malevolent interruption are of vital value.
With so many aspects to the field of cybersecurity, individual firms that create solutions in this field must deal with their digital advertising strategy in a way that's explicitly concentrated on their personal, distinctive market.
About Kathie Myers
Kathie Myers is a Content Writer at FirewallGuide.com, She writes about Tech especially on internet security, firewalls and more where you can learn how to protect home computers & networks from Internet outlaws.
In her spare time, she actively looks for new places to visit and plans all the activities she can do there.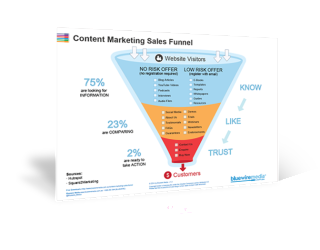 Content Marketing Sales Funnel
Your content marketing sales funnel is all about getting people to know, like and trust you by nurturing them with the right information at the right time.