The Ultimate 5-Minute Daily Social Media Plan [With Templates]
Updated on October 23rd, 2019
Daily social media plans
It's estimated that 31% of the world's population is on social media.  That's why we put together this ultimate guide to the daily social media plans.
From Facebook to LinkedIn, we're able to connect with a wide variety of people from across the globe – and most of us have an average of seven social media accounts that we're logging into to talk and share with those people.
If you're a digital marketer or small business, you are likely managing multiple social accounts across multiple platforms, and are looking for ways to manage your time so that you have space for other activities (like sleeping or eating).
This is a recurring challenge we see here at Bluewire Media with clients all over the world, and one we battled for many years ourselves.
A little while ago we decided to set ourselves a challenge; if we were to only interact on every social network for 5 minutes a day… what would we do?
The end result of this experiment was the five daily social media templates I'd like to walk you through today. These templates will help you improve your social media productivity, increase your overall effectiveness and attract more social media followers.
They have been downloaded tens of thousands of times as a part of our 33 Web Marketing Templates – if you don't have a copy you can download them all below.
Table of Contents – Daily social media plans
Facebook: 5 Minute Daily Social Media Plan
LinkedIn: 5 Minute Daily Social Media Plan
Twitter: 5 Minute Daily Social Media Plan
Instagram: 5 Minute Daily Social Media Plan
Google+: 5 Minute Daily Social Media Plan
Pinterest: 5 Minute Daily Social Media Plan
Facebook: 5 Minute Daily Social Media Plan
We'll start with Facebook – it is, after all, the most popular of the social media platforms.
And its users are logging in daily: 80% of Facebook users, in fact, log in to their account at least once a day. Which means there is a wealth of opportunity for companies to share valuable content and connect with potential leads and customers.
We've broken down this guide for Facebook into Beginner, Intermediate, and Expert-level instructions. If you're just getting started with marketing your company on Facebook, start with the Beginner-level marketing steps, then move up to the more advanced steps when you're comfortable.
Beginner
Start by taking 2 minutes to respond to any messages that you might have, and address your notifications. If someone has left a comment on one of your posts, be sure to engage with them and answer any questions they have asked.
Use your remaining 3 minutes to share content (a helpful graphic or interesting article) with your audience. The content should be relevant to your industry – but also think about the kinds of topics and content that your audience will actually want to share with their friends or colleagues.
This post, for instance, from WeWork (a global organisation that transforms buildings and spaces into co-working communities), is both helpful for its followers and relevant to the startup and freelancing industries.
So after you've spent some time getting comfortable with checking in and posting on Facebook, you can step things up a bit.
Intermediate
In addition to responding to notifications and posting helpful content, spend 2 minutes sharing links back to your website – specifically to any premium content on your site that will direct them to landing pages.
Sharing your content, whether it's an infographic, white paper or awesome template, both engages your followers and provides them with information that they can actually use. That content, if it's valuable enough, can also help to convert those Facebook followers into leads.
Interesting statistic: 77% of B2C companies with a presence on Facebook acquired customers from the social media platform.
Take another 3 minutes to interact with the people who have commented on your posts, and be sure to share content from anyone (a customer, potential partner, etc.) that you'd like to nurture a relationship with.
Once you've got the hang of sharing your content and responding to people, you'll want to monitor your Page's activity. That brings us to the Advanced section of this template.
Advanced
When you're logged into your business Facebook Page, you'll have access to Facebook Insights.
There's a wealth of information here, and knowing what to look for will help you monitor how your posts are doing and what your audience wants to see from your Page.
The Insights tab will show you not only what posts get the most engagement, but also what your audience looks like and when they're engaging with you.
Using this information about your audience will help to guide you when posting on Facebook, the kinds of content they're most interested in seeing, and just how many people you're reaching.
So in just 15 minutes a day, you can establish the kind of Facebook presence that will excite and intrigue your followers, because you're giving them the kind of content they actually want to see.
LinkedIn: 5 Minute Daily Social Media Plan
Next up is LinkedIn.
Almost 40% of Internet users are on LinkedIn, and in 2013, 43% of marketers reported that they were able to find a customer through the networking site.
If you're like most LinkedIn users, you've used the website (mostly) for career purposes. People consider the site to have a more professional feel to it, and will typically connect with their colleagues or potential employers through the network.
Many of us check LinkedIn far less frequently than our Facebook or Instagram accounts, so start with these Beginner level steps for LinkedIn marketing and gradually ramp up your activity on the platform.
Daily social media plan – Beginner
Use your first minute to address any pending connection requests. Remember, just because you don't know a potential connection in real life, doesn't mean you shouldn't accept their request. Customers, new hires, and business partners can all be found through the social network, so it doesn't hurt to accept a request from someone you've never shaken hands with.
In the next 3 minutes, be sure to reach out and thank the person who sent you the request. Take some time to find content from your site that might be helpful to them, and find out what they're up to.
Use the last minute to find someone to connect with on LinkedIn – this should be a relatively easy process, as LinkedIn provides recommendations for the people in your network who you haven't connected with yet.
Daily social media plans – Intermediate
Now that you've responded to any requests, take some time to look at who has viewed your profile recently. They might not be leads or current employees, but they could be in the future.
Click on their account and type up a customised message, letting them know that you saw that they viewed your profile. Explain a bit more about what you do and how the two of you might be able to connect further.
Take the next 2 minutes to post a link to any recent articles or blogs you've written – be sure to share the post in any relevant LinkedIn Groups that you belong to as well.
This can generate some great conversation and engagement, and setting aside just a few minutes for this kind of activity can go a long way!
Daily social media plans – Advanced
If you've been sharing your content with your LinkedIn connections, and have a LinkedIn sharing button on your site, you might consider submitting your content to the LinkedIn publishing network Pulse. It's a great way to get in front of a larger audience.
Take another minute to comment on some content someone has shared in your network – whether it's a new job or a link to their blog, engaging with your network keeps your connections fresh and relevant.
Then, take the final minute to catch up with someone – invite them to coffee and find out what they've been up to, and if there are any potential ways you can help each other out.
If you're traveling, find someone in your network that lives in your destination city. This is great way of establishing a better connection with someone who you might otherwise not get the opportunity to meet.
For the visual learners, we turned the LinkedIn daily social media plan into an infographic;
Twitter: 5 Minute Daily Social Media Plan
Each month, over 40% of online adults visit Twitter in some way – even if they don't have an account, they're able to view all public accounts and find out what their favorite businesses and brands are sharing.
Twitter has around 310 million active monthly users, and by taking just a few minutes a day to interact and tweet with your followers, you'll be able to get in front of more of those users.
Beginner
Start by sharing interesting tweets from people that you follow on Twitter, and be sure to include their Twitter handle when you share it. This notifies them that you've shared something of theirs, and their audience will see your tweet as well.
Take another couple of minutes to address any of the notifications that you've received, and respond to direct messages in your inbox.
Intermediate
Twitter lists are insanely helpful, and can help you to manage leads or potential partners – create a list of people that you want to follow more closely on the social network, so that you can focus your engagement when you're logging in.
Take 3 minutes to publish one of your own tweets. Share a link to a helpful blog or some of your premium website content. Be sure to include relevant hashtags, especially trending hashtags in your specific industry. Don't go overboard, though – 1 or 2 hashtags will go further than 3 or more.
Advanced
Now that you're comfortable with interacting on Twitter and sharing tweets, it's time to reach out to some of the people that you want to establish closer connections with.
Take a couple of minutes to share some of their content (be sure to mention them and use their Twitter handle), or respond to one of their tweets directly.
Use the final 3 minutes to do an advanced search on Twitter (you'll have to be logged in to access it here: https://twitter.com/search-advanced), and find a few conversations to jump into.
These can be discussions about something local to you, pertaining to your career, or a trending hashtag. Respond to other users' tweets, retweet and share comments and insights that are helpful, and follow anyone who might make a good connection.
Instagram: 5 Minute Daily Social Media Plan
With over 400 million active users and an average of 70 million photos shared *everyday*, the popularity of Instagram as a platform is undeniable.
But it's not just for foodies and hipsters. Instagram has quickly become a source of high user engagement for brands, boasting a per-follower engagement rate that is 58 times higher than on Facebook and 120 times higher than on Twitter.
And maybe you're not a professional photographer, but that's not any reason you can't jump in on the Insta-fun.
All it takes is 5 minutes.
You'll need to first figure out what hashtags people are using in your niche, and Instagram makes this easy to nail down – when you start typing out hashtags in an Instagram post, you'll see that the app will automatically start to populate the most popular (and most used) hashtags.
Once you find those tags, start following the users who are posting with those tags and engage with them, by liking and commenting on their posts.
It's your turn to post next – choose an appropriate photo and post with a tag that your audience might be searching for.
Finally, take another minute to respond to any comments that have come in from the day before.
For the visual learners, we turned the Instagram daily social media plan into an infographic;
Google+: 5 Minute Daily Social Media Plan
While it's been a debate for a couple of years now whether or not Google+ is still relevant, the platform boasts 300 million monthly active users.
Take a few minutes everyday on Google+, and maybe you'll find that you're getting in front of more of those users.
Start by sharing valuable content – whether it's yours or someone else's – and be sure to mention anyone who wrote the article or might be featured in it.
Take another couple of minutes to add a few more people to your circles.
After you get used to sharing content and adding other users to your network, take some time to go through your feed and read and comment on the posts that your friends are sharing.
Take the time to leave a comment and +1 the posts that you find interesting.
Pinterest: 5 Minute Daily Social Media Plan
With 100 million monthly active users, the "visual marketing and discovery platform" is a great marketing tool for brands and businesses.
Pinterest is largely known for their "boards", where users can curate and manage groups of "pinned" images based on their interests and hobbies.
Pinterest users are also serious consumers.
"Pinners aren't merely window shoppers," reported Jeff Bullas, "They actually like to buy stuff based on the pins they see. What's more, several social media surveys show that Pinterest users not only buy more, they also spend more. Shopify users referred by Pinterest, for example, spend an average of $80 compared to Facebook referral of $40."
So take some time to get pinning, by following these steps.
Beginner
Set up a Pinterest page for your business. You'll need to verify your website, as well. Go to http://business.pinterest.com to get started (PInterest walks you through all of the steps while you set up the account).
Take a few more minutes to set up your Pinterest boards that are relevant to your company. From there, just start pinning. Upload a pin, add one from your website or re-pin from other users. Be sure to share any images or infographics that you've created yourself – Pinterest is an awesome and easy way to drive traffic back to your website.
Intermediate
Take a couple of minutes to like other people's pins and re-pin any that you find useful or interesting.
With the next few minutes follow other users that you'd like to connect with or nurture a relationship with.
Advanced
In just five minutes you can take your pinning game up a notch.
Monitor any pins that have come from your website. Just head to http://pinterest.com/source/(yourwebsitehere.com) and check out what people have been sharing.
Initiate conversations with anyone who has shared content from your site – thank them for sharing and comment on their pins.
Staying Connected
While it does take time – especially if you're on multiple social media platforms – your business or career will only stand to benefit from strategic, measured activity on those channels.
The world is changing, and so is marketing – consumers now have the opportunity to interact directly with the brands they follow. And if you're a brand that's doing it right, you'll keep consumers interested, even delighted, by what you share and how you interact with them online. And those consumers – your followers and fans – are where your focus needs to be. They are, after all, your most valuable asset.
Social media will help you build up the loyalty of your current customers to the point that they will willingly, and for free, tell others about you.
Bonnie Sainsbury
Did you like this ultimate guide on daily social media plans?
How much time do you set aside for social media marketing? Which channels have you found to be the most effective?
Bonus 33 Free Templates
Download all five daily social media plan templates as part of the 33 marketing templates from Toby and Adam's book.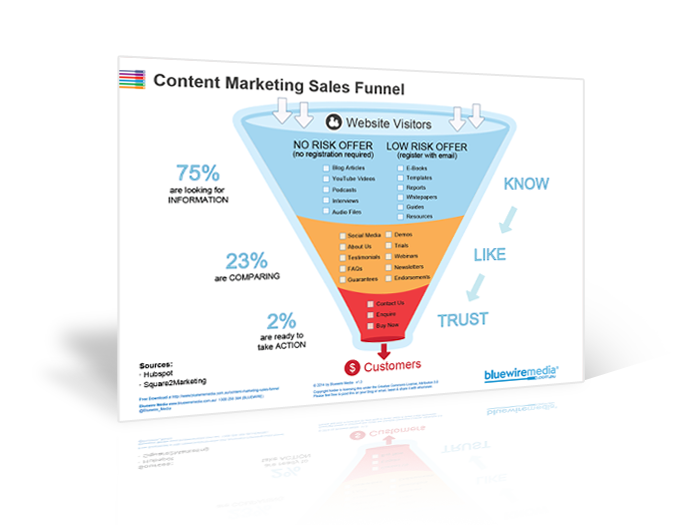 Content Marketing Sales Funnel
Your content marketing sales funnel is all about getting people to know, like and trust you by nurturing them with the right information at the right time.