WMTW 097: Darren Rowse from ProBlogger [podcast]
Podcast: Play in new window | Download
Subscribe: RSS
Updated on January 4th, 2017
"A blog is a tool that enables you to build likability and trust." Darren Rowse (Tweet this)
In this episode I chat to Darren Rowse about blogging, creating quality content and establishing a presence online.
Show-notes:
Key points
Darren is known as "ProBlogger" and is one of the pioneers of blogging.
He is an author of several books including "ProBlogger: Secrets for Blogging Your Way to a Six-Figure Income."
He is also the host of the podcast "ProBlogger Podcast: Blog Tips to Help You Make Money Blogging."
Leveraging a network can help when growing a blog.
Discover where your potential readers are and establish a presence there.
Small interactions contribute to bigger things in the long run.
Maximize the use of your time in creating content. Create and then schedule it for release.
Frequently Asked Questions (FAQs) are instant content.
Email marketing is a great way to generate traffic and sales.
Guest blogging is a two way process, they help you, you help them.
People mentioned
Links mentioned
Get in touch with Darren
Did you like this podcast?
If you liked this podcast, please click to tweet this show >>
Subscribe
We would love you to subscribe to Web Marketing That Works and please leave your honest reviews via:
Stitcher radio
iTunes
SoundCloud
Bonus 33 Free Templates 
Download the 33 free templates from our new book.
Or order the book online: Web Marketing That Works: Confessions from the Marketing Trenches (Wiley 2014).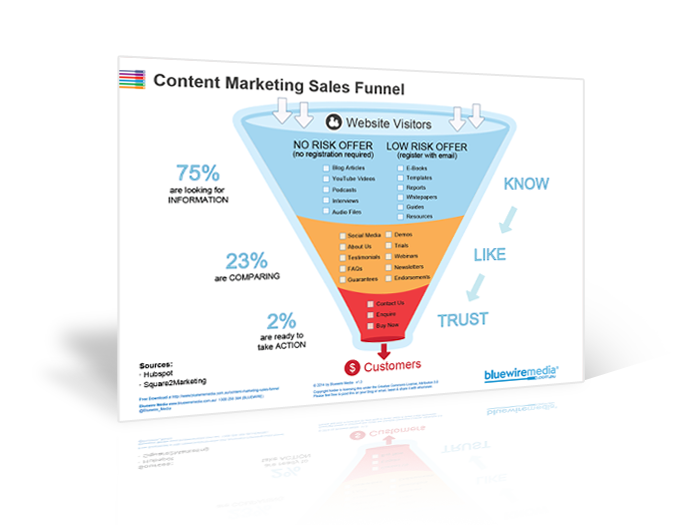 Content Marketing Sales Funnel
Your content marketing sales funnel is all about getting people to know, like and trust you by nurturing them with the right information at the right time.