David Meerman Scott explains the Web Strategy Planning Template
Updated on December 3rd, 2019
David Meerman Scott

David Meerman Scott co-created the Web Strategy Planning Template with Bluewire Media in 2010.  It was designed as a free tool to help organisations develop their web marketing strategy.
When David was in Australia earlier this year, we asked him to explain how to use the template and why it is so useful.
Here's here interview with David
David Meerman Scott:
"Hey how's it going? So, I just flew 14 hours from Los Angeles to do a little bit of surfing, and here we are, had a good lunch today with the guys.
You know we've been working on this template – this Marketing Strategy Planning Template, and it's really important because when I talk to people about the ideas in my books they understand it.  They totally get the ideas from "The New Rules of Marketing & PR" and "Real-Time Marketing & PR" but what it's really hard for people to do sometimes is to do the implementation.
The marketing template
So this template allows you to be able to see the steps involved in implementing and also to predict the outcomes. In other words that you are going to drive search engine results, you're going to drive sign-ups, you're going to drive more people as part of your infrastructure, and more people as facebook fans,  twitter followers and so on.
It's just a great tool. I use it myself. We worked on it together with Bluewire Media.  And it's a good tool to get going!"
Download it for free
Download the Web Strategy Planning Template (with Bluewire's design)
Download the Marketing Strategy Planning Template (with David's design)
They are free to download. No registration is required. And feel free to share with your friends!
PS. Congrats David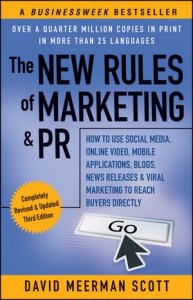 The 3rd edition of David's book "The New Rules of Marketing & PR" has just been released. Congratulations David, we look forward to reading it!
And thanks for collaborating with us on the Web Strategy Planning Template.
You can follow @dmscott on twitter or visit www.DavidMeermanScott.com
2019 update:
Here is a podcast of David Meerman Scott with Toby Robbins talking about Cracking The Code Of Company Culture.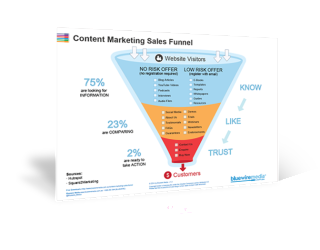 Content Marketing Sales Funnel
Your content marketing sales funnel is all about getting people to know, like and trust you by nurturing them with the right information at the right time.