Deadlines, Frustration & Fury (and how to hit reset)
Updated on March 18th, 2015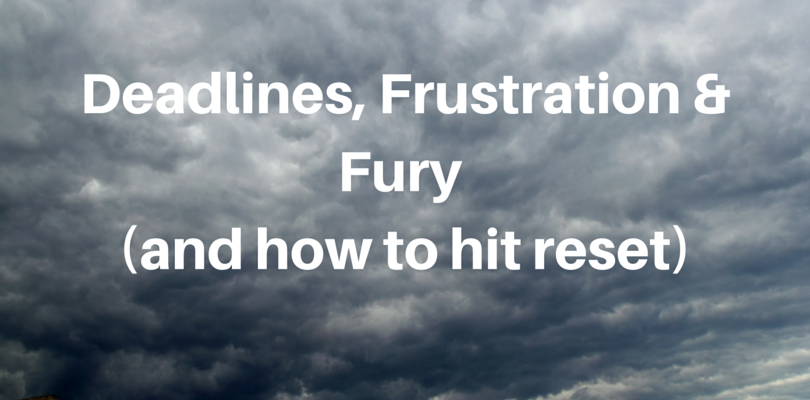 On Saturday morning I thought that we'd have to postpone the relaunch of our Social Media That Works Online Course for about a month. We were aiming to have a webinar to launch it before the end of this week, the 21st of March. Not going to happen.
And it was killing me. Seriously f$%king killing me. Just made me furious.
Too much thinking
Where had we gone wrong? Where had I gone wrong?
Sean D'Souza has a great quote:
Planning is useless but planning is priceless.
Did we not spend enough time planning and then not enough time reviewing and resetting the plan?
Another brilliant read is Ray Dalio's Principles (instant PDF download). In it he talks about the importance of designing your machine (go straight to page 23 of the PDF) to turn your goals into outcomes.
Did we not spend enough time designing our machine? Was I not focussed enough?
Not only was thinking about it not helping, it was making it worse. Just do something. Anything. I felt desperate.
Hitting reset
My 15 min exercise routine was the only thing I could think to do right now. So I did. It helped just enough – taking the edge off my frustration.
As I made breakfast I started to think through what actually has happened this quarter. Was there something that got in the way of us delivering on the promise to ourselves?
I sat down and started to write out some of the things that happened both personal and business:
Luce and I found and settled back into Sydney with Bea after 4 months on the Gold Coast, so Luce could start work again for the first time post bub.
My mum had major surgery to remove a tumour from her right lung (along with 2 thirds of the lung), has survived it and is well and truly back on the road to health thank goodness. I was able to travel up to Brisbane numerous times to help out in her recovery.
We implemented Infusionsoft.
We converted 45 landing pages from our old website to Lead Pages (there will be a post about this process in due course), and have added 3 new templates and landing pages since.
We were named Australia's #1 Business Blog.
We grew our email list by about 1,000 per month (net of unsubscribes)
Ads and I both ripped into our fitness:
I stuck to my daily routine at about 85/90%.
We won a plane ticket and entry to Danny Iny's mastermind in Chicago on the 28th of March.
We bought and have begun to implement Ramit Sethi's Zero To Launch course for developing online training products.
Ads has spoken at the 5 national Better Business Summit events and received great reviews.
We've published 15 new podcasts and 18 blog posts.
We had a Guest Blogging Strategy post approved on Problogger.
As soon as I thought about number 2 in this list, the frustration vanished. There is no product launch missed or complete in the world that would compare to my mum being well again.
And there's so much other work that's been done too. So much positive.
On top of all of that there have been so many unknowns with the implementation of the new systems. Any kind of deadline was always going to be guess work at best.
Looking forward
So I calmed down. An hour of intense frustration felt a whole lot longer and it was a relief to let it go.
Then Ads and I spoke in the afternoon. He'd been through the same process in his head and had taken it one step further to look ahead. In 20 mins on the phone, we hashed out a new, simplified launch process that means we can start this week.
Hindsight
It seems so simple in hindsight, but 3 things happened:
The exercise broke my thought cycle.
Reflecting on the reality of the situation and writing down the things that had been accomplished completely resolved my frustration.
Then a short discussion as to what needed to happen next and I realised that we're well and truly on track.
So now I just need to remember this path out when I'm feeling right in the deep end.
How do you handle frustration? What's your path out? Let me know in the comments below.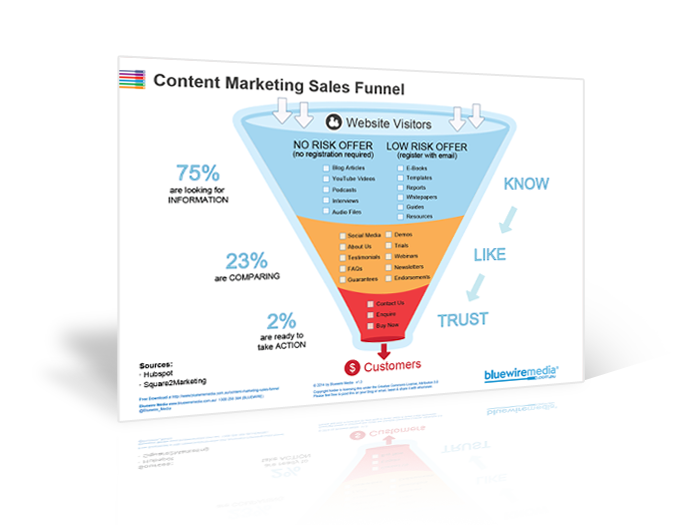 Content Marketing Sales Funnel
Your content marketing sales funnel is all about getting people to know, like and trust you by nurturing them with the right information at the right time.