How to become a (highly paid) digital marketing consultant
Updated on October 20th, 2019
Do you want to become (a highly paid) digital marketing consultant or social media adviser…?
Here's 6 simple steps…
As marketing consultants ourselves, we really focus on helping other social media advisers and digital marketing consultants, so I wanted to share this advice that I recently shared with a student who's graduated from our online program.
Here's what he asked;
Knowing what you know now, what would be the most effective first step you would take to start building your business and generating revenue in the SME web marketing and social media space?
Here's what the advice I gave for how to become a digital marketing consultant;
1. Ensure you charge for your digital marketing strategy & consulting
When you submit tenders or proposals, make sure the client pays at least a nominal fee for your smarts. This is so important because that puts money in your pocket from Day 1 and it means you only work with clients who value you highly which makes for an enjoyable long term relationship.
2. Build an attraction (inbound) business by publishing good content
Start publishing and sharing useful stuff so clients come to you. It's much easier to sell to people who are knocking on your door. Eventually price becomes a mere triviality because the client wants you and not some other company.
To give you an idea, here is our Social Media Planning Template that we offer as flagship content. (Also commonly know as a lead magnet.)  You can download it and use it with your own clients.  It's free and released under Creative Commons which means you can edit and use it commercially!
Side 1:  Social Media Strategic Planning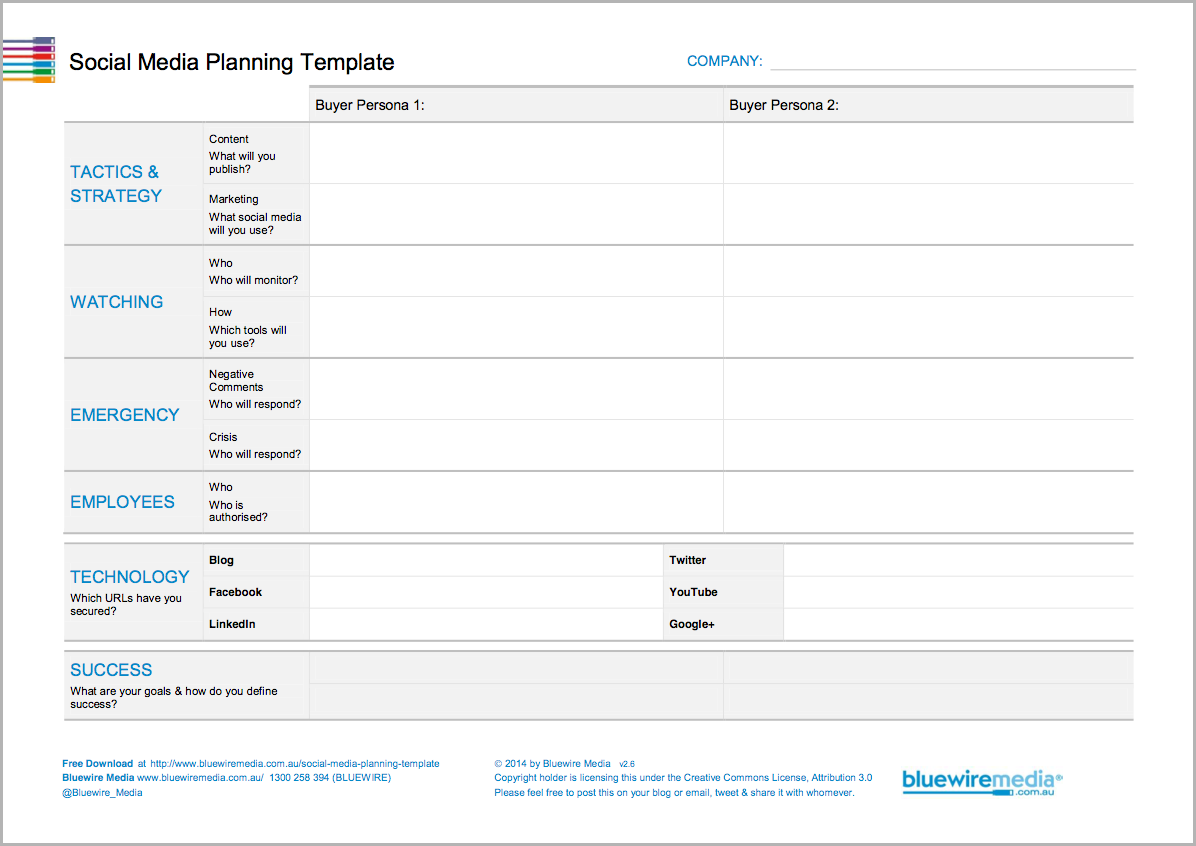 Side 2:  Social Media Tactics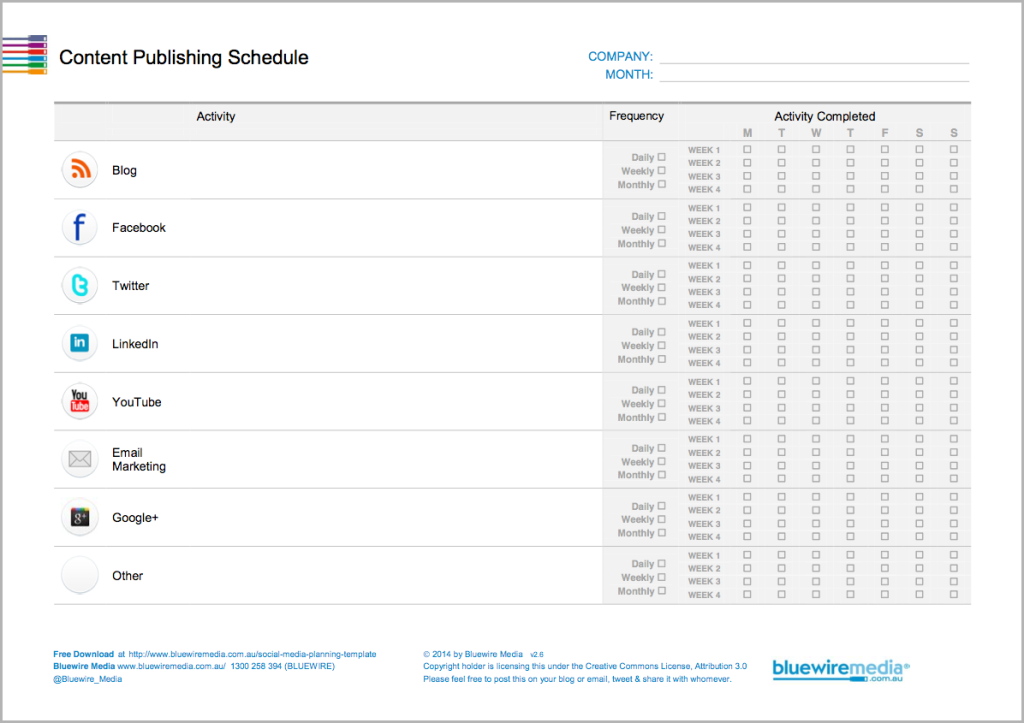 Here's the guide on how to use the template too:
How to Create a Social Media Plan [Step-by-Step]
3. Make sure everyone knows that you're a digital marketing consultant!
Tell friends on Facebook and LinkedIn. Email all of your contacts and ideally start an email newsletter that delivers value each week.
For maximum results, be sure to explain to people exactly who you get the best results for.
For example, I make it very clear on my lead nurturing email sequence who my ideal clients are and what I can help them achieve.
Are you my next coaching client?
If want to use LinkedIn to grow a lucrative pipeline of high-value B2B clients, I'm looking for my next intake of 5 consultants or advisors who:

Are already working with

high-value clients ($10k annual spend)

, and getting them results.

Are making at least

$15k

a month.

Have capacity to

work with 2-3 new clients

, starting next month.

Have at least

500 connections

on LinkedIn.

Are

friendly and coachable.

And can find 30 minutes a day to allocate to the work…

Either email "LinkedIn Program" to me at [email protected] or book a LinkedIn Growth Session with me via: www.bluewiremedia.com.au/growth
4. Always be building relationships online via social media and in person.
I keep a spreadsheet of 100s of 'influencers' that I would like to get to know and systematically chip away at adding value where I can (the easiest way to start is by thanking them for something and leave them a review on Amazon or iTunes).
In fact here is my entire process of how I reach to aspirational contacts and build relationships with them.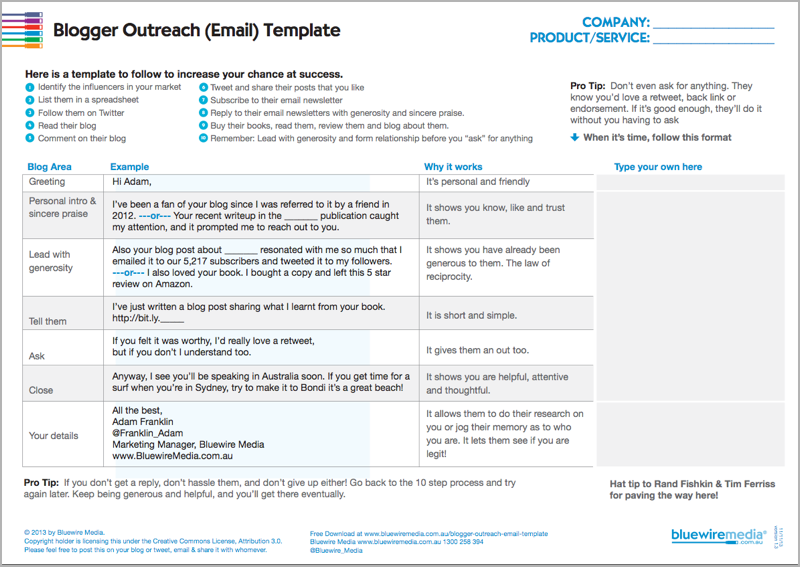 Download my free Influencer Outreach Email Template (PDF)
5. Don't reinvent the wheel as a social media consultant.
Marketing is simple, but it's not easy. At a high level, marketing is just helping people solve their problems. However the tactical implementation is difficult because it requires some skill, persistence and consistency over time. Just like getting fit and losing weight is simple — exercise and eat well — doing it consistently week after week can be hard for most people.
When it comes to marketing, pick a methodology that resonates with you and use it. Certainly tweak it, put your flavour on it and make it your own, but you don't need to reinvent the wheel.
Here's the digital marketing methodology we use with clients:
Feel free to download our Digital Marketing Methodology Template and make it your own.
(It's available as .JPG .PDF .AI  .EPS, so you can customise it to suit you)
6. Write a Book and become a Social Media Speaker to raise your profile (and fees).
One of the best ways to win more high quality clients, raise your fees and attract many more leads, is to write a book and become a social media speaker.  When you can educate people via your book and be seen on stage, more people will have an opportunity to learn from you and they'll consider you more of an authority too.
Over to you
As a marketing consultant, what else would you like to know? We're happy to share everything warts'n'all from our 10+ years in the marketing trenches.
PS. When you're ready, here are 6 ways we help
consultants & advisors

grow:

1. Web Strategy Planning Template (PDF). Our flagship 1-page tool we co-created with David Meerman Scott. It's been downloaded over 1 million times and featured on Forbes.

2. Read a free chapter from our book. Web Marketing That Works --- an Amazon #1 best seller.

3. Join the private group on Facebook. Access free training resources, and hang out with 2,300+ peers.

4. Discover your marketing score. Take the 40 point Marketing Scorecard (in < 6mins) and get a customised report.

5. DIY for $7. Get the Complete 50+ Script Library for connecting with people to winning clients.

6. Let's brainstorm how to fill your marketing funnel.

DM the word "INTERESTED"

via Messenger

 or 

book a 20 min slot to talk

 on Zoom.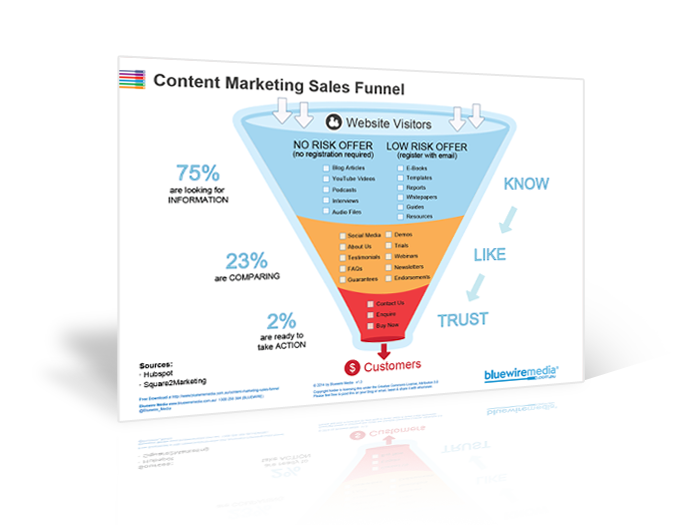 Content Marketing Sales Funnel
Your content marketing sales funnel is all about getting people to know, like and trust you by nurturing them with the right information at the right time.