How to become a digital marketing consultant
As we really focus on helping digital marketing consultants, I wanted to share this advice that I recently shared with a student who's graduated from our online program.
Here's what he asked;
Knowing what you know now, what would be the most effective first step you would take to start building your business and generating revenue in the SME web marketing and social media space?
Here's what the advice I gave for how to become a digital marketing consultant;
1. Ensure you charge for your initial strategy / consulting
When you submit tenders or proposals, make sure the client pays at least a nominal fee for your smarts. This is so important because that puts money in your pocket from Day 1 and it means you only work with clients who value you highly which makes for an enjoyable long term relationship.
2. Build an attraction/inbound business
Start publishing and sharing useful stuff so clients come to you. It's much easier to sell to people who are knocking on your door. Eventually price becomes a mere triviality because the client wants you and not some other company.
3. Make sure everyone you know, knows what you do!
Tell friends on Facebook and LinkedIn. Email all of your contacts and ideally start an email newsletter that delivers value each week.
4. Always be building relationships online and in person.
I keep a spreadsheet of 100s of 'influencers' that I would like to get to know and systematically chip away at adding value where I can (the easiest way to start is by thanking them for something and leave them a review on Amazon or iTunes).
5. Don't reinvent the wheel
Marketing is simple, but it's not easy. At a high level, marketing is just helping people solve their problems. However the tactical implementation is difficult because it requires some skill, persistence and consistency over time. Just like getting fit and losing weight is simple — exercise and eat well — doing it consistently week after week can be hard for most people.
When it comes to marketing, pick a methodology that resonates with you and use it. Certainly tweak it, put your flavour on it and make it your own, but you don't need to reinvent the wheel.
Over to you
As a marketing consultant, what else would you like to know? We're happy to share everything warts'n'all from our 10 years in the marketing trenches.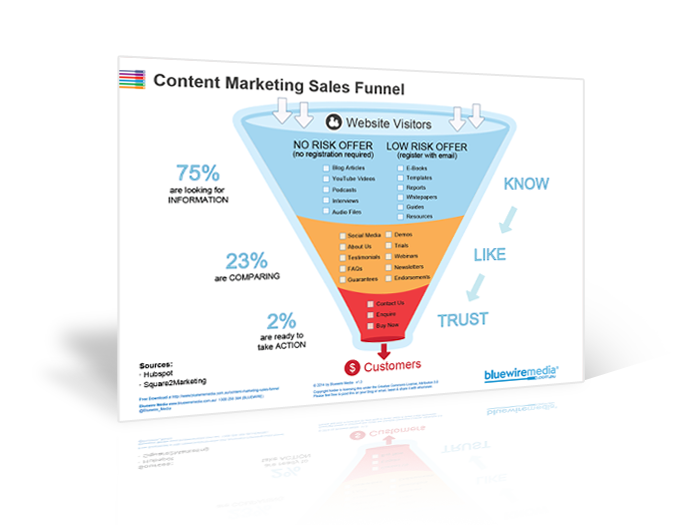 Content Marketing Sales Funnel
Your content marketing sales funnel is all about getting people to know, like and trust you by nurturing them with the right information at the right time.