Digital marketing: Finish with a bang
Updated on October 20th, 2019
Digital marketing: Finish with a bang
[Double Bay, Sydney, NSW, Australia]
VIDEO – Finish with a bang
TRANSCRIPT – Finish with a bang
Hey folks, it's Adam Franklin here,  and today's video is from the leafy Double Bay Park. And today I want to talk to you about finishing your 2017 marketing efforts with a bang so that you can win new clients before the year is out. Plus, there's some really useful information about these government grants for $10,000 towards digital marketing. It's mainly for Queensland-based businesses, but I think there are some other state governments that are doing something similar, but the window of opportunity may be different.
So let's kick off with finishing 2017 with a bang. We're getting quite close to silly season with Christmas celebrations and Melbourne Cup and everything else, but we're not there yet. And this is a great opportunity to be using social media to be connecting with people in your network, to find out how they're going, to reconnect with them and see how you can help them either finish the year off with maybe a project as their quite getting quieter or working with them to plan out their 2018.
#1. LinkedIn Outreach
I found that simple things like reaching out to people on LinkedIn, reaching out to prospects that you may not have been able to work with in the past or maybe their clients that you have worked with but maybe not for six to 12 months, these are perfect opportunities to be contacting them, helping them out and seeing how you may be able to work together in future. Can just be a simple one-line LinkedIn message. It could be a simple email to these people, but what you'll find is that very often a simple step like that will actually open the lines of communication and you'll start to have these conversations where they'll share with you what their plans are and how you may be able to help.
So great time of year to be doing this, reach out to contacts, find out how you can help, and also maybe even planting the seed if you are planning to do new things in 2018 with your own digital marketing. Say for example you are looking to start a newsletter or you are looking to start or ramp up the valuable content that you share. Start to tell people about it because that helps keep you accountable and if you've promised that you're going to be sharing some useful information with them before the years out or to kick off 2018. Then you've got that level of accountability to yourself as well.
#2. Government Grants
Now, there is a big opportunity for Queensland-based business owners to make the most of a $10,000 grant. What the goal is, is that they are prepared to match you dollar-for-dollar for an investment that you make in digital marketing, consulting, implementation, content creation, customisation, selling online, and strategy creation.
If you're based in Queensland, which I know isn't everybody but Queensland viewers, if this is of interest or it might be of interest to your friends, either tag the friend or share this with them. But I'm going to post a link in the comments with information about the application process and what you can use it for because if you do want to have a big 2018 and you've been looking for an opportunity to sit down with a consultant, it doesn't have to be me, can be anybody, and work out a plan of attack for 2018, then this is a really, really good opportunity.
Free marketing resources
Now, I've got plenty of free training resources like my planning templates and everything else, so that could be a really great starting point. If you downloaded this stuff in the past, or if you've seen one of my presentations, or read my book you may want to take that next steps.
Please let me know via direct message or email and we can actually plan out a bit of a strategy for you.  The good thing about this government grant is that it's designed so that you actually get this work done pretty much by December. When you get approved or hopefully get approved and then we can actually start working on these projects sooner rather than later.
When we've gone through this process with clients in the past, the government has actually been really quick to pay, so you're not out of pocket. They do match you dollar-for-dollar, but it's a really good initiative. If I can help or maybe you've got your own digital marketing consultants or agency that you work with, but it's a great opportunity to invest in your efforts. Finish the year with a bang, kick off 2018, and get some of this stuff done that you'd know you should have probably done in the past but life gets in the way.  Business gets busy, I get that, but it's a really nice time at the moment to plan it out, get stuff happening.
Hands-on workshops
Like the folks did in our doing workshop, which I ran in Brisbane last week, everybody came and we rolled the sleeves up.  We wrote out email marketing nurturing sequences, uncovered lead magnets or flagship content, and we wrote landing pages and thank you pages so that people that came to that event could actually walk away with stuff done.
They just need to get that developed and programmed by their technical team or their agency and they are up and running.There was lots of templates that I had where they could just take best practise stuff and then put their own spin on it.
And I'm looking at running these again in 2018. This time, I ran it in Brisbane, but if there's the interest, I'm probably going to look at running it in Sydney and Brisbane and possibly Melbourne. If you're interested, comment below or contact me, express your interest.
If you're in a regional area, then there's plenty of opportunity there too, maybe we can partner up with the local chamber of commerce or business community and work something out. I'm  looking to run these in February or March 2018, so if you're interested, let us know and we'll see what we can do.
Finish with a bang
But let's recap. Finish 2017 with a bang.
#1. Reach out to people on LinkedIn.
Reach out to some of your prospects and clients who you may not have contacted in a while. Just see how they're going, ask them what their plans are for the end of the year or ask them what they're thinking about for 2018. I believe that if you do that, you'll find a whole lot of opportunity. And potentially new clients before the year's out and definitely a good pipeline of clients for 2018!
#2. Secondly, the government grant for Queensland-based businesses. 
Finally, if you're interested in my digital marketing doing workshops, I'll be running them in February and March 2018. Let me know if you're interested and I will save you a spot and tell you more about it when dates and everything are confirmed. All right, folks, that's me over and out. We'll catch you later.
MY MARKETING METHODOLOGY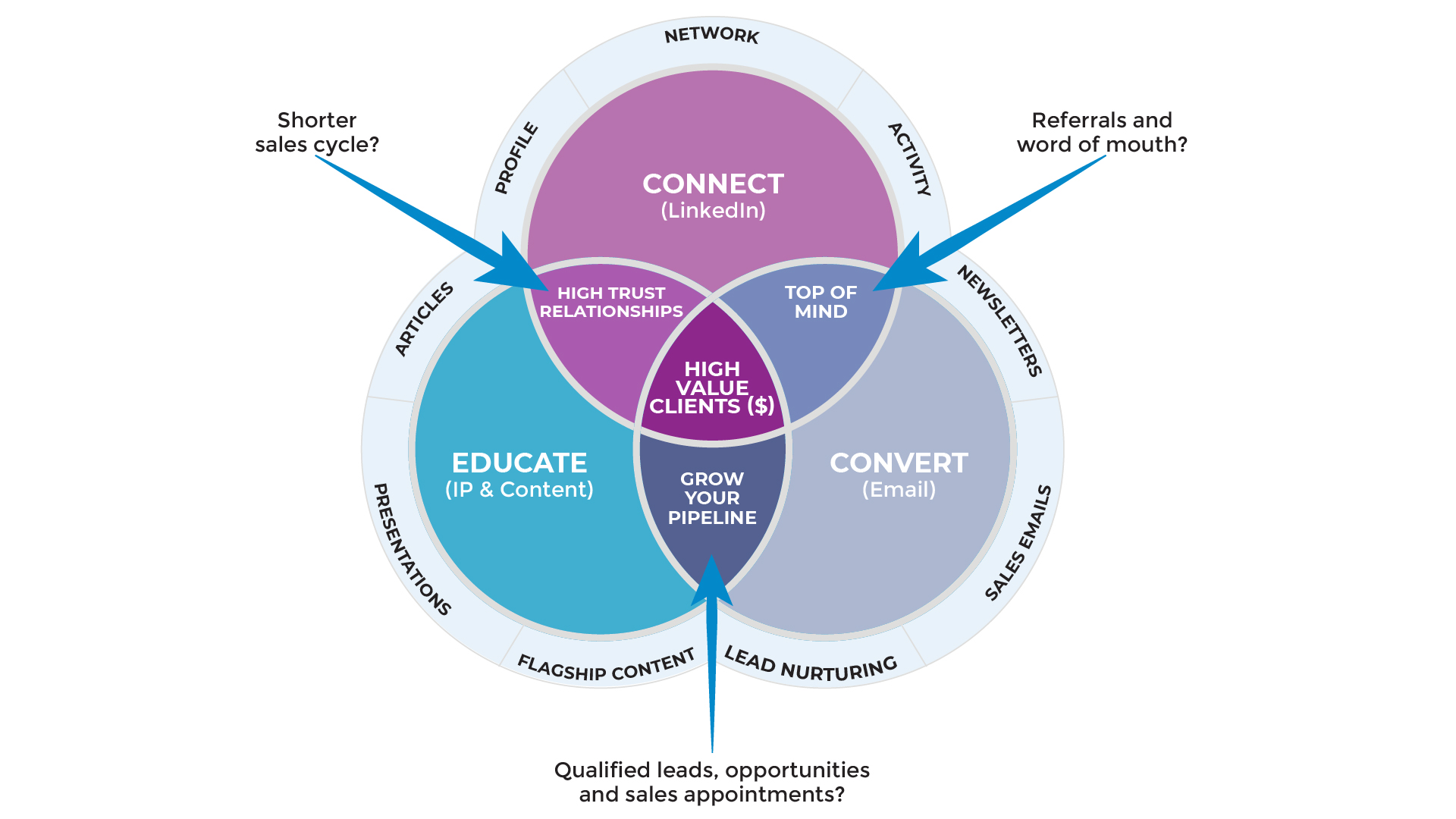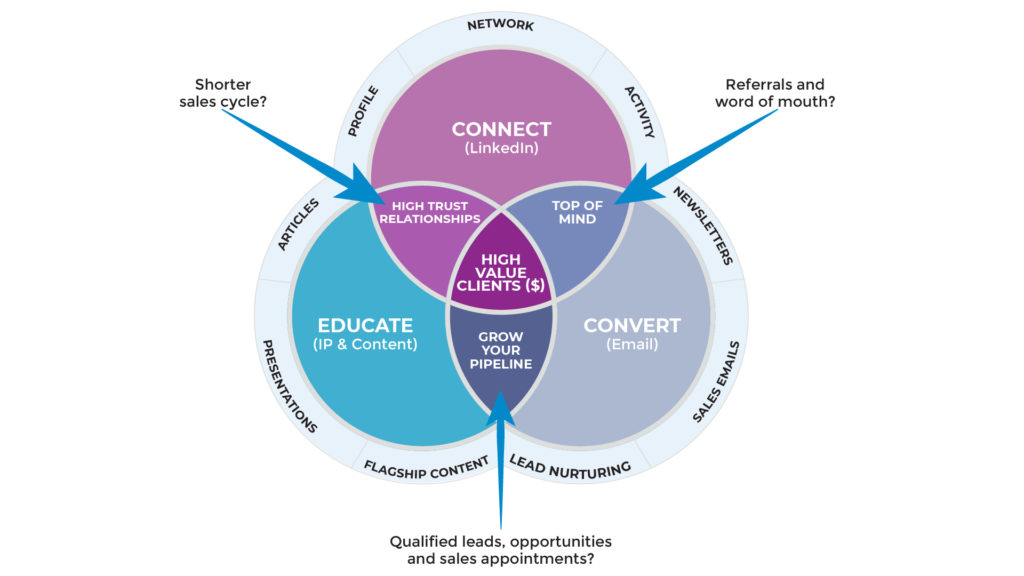 PS. When you're ready, here are 6 ways we help
consultants & advisors

grow:

1. Web Strategy Planning Template (PDF). Our flagship 1-page tool we co-created with David Meerman Scott. It's been downloaded over 1 million times and featured on Forbes.

2. Read a free chapter from our book. Web Marketing That Works --- an Amazon #1 best seller.

3. Join the private group on Facebook. Access free training resources, and hang out with 2,300+ peers.

4. Discover your marketing score. Take the 40 point Marketing Scorecard (in < 6mins) and get a customised report.

5. DIY for $7. Get the Complete 50+ Script Library for connecting with people to winning clients.

6. Let's brainstorm how to fill your marketing funnel.

DM the word "INTERESTED"

via Messenger

 or 

book a 20 min slot to talk

 on Zoom.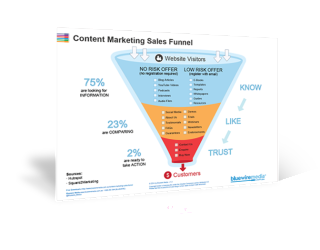 Content Marketing Sales Funnel
Your content marketing sales funnel is all about getting people to know, like and trust you by nurturing them with the right information at the right time.