Take people on a journey with digital marketing [#35]
Updated on May 4th, 2019
[Bunker Bay, Margaret River, Western Australia]
Taking your prospects and future clients on a journey with your digital marketing is very important.
VIDEO
TRANSCRIPT
G'day, Adam Franklin with you again, still in the Margaret River, this time at a place called Bunker Bay. Now it's totally spectacular. I love this time of the evening. What I wanted to talk to you about in this video is the concept of taking people on a journey with your digital marketing. So just like I've kind of done with you over the last few videos, I've taken you to different places around WA, Western Australia, specifically around the Margaret River area. Each time I've shared a story or shared some insights. The equivalent, I mean this is obviously digital marketing, but the equivalent with your own marketing is to actually have a journey that you take people on. Or not even take them on, but give them the opportunity to go on at their own pace.
So really, what we want to be able to do is allow your prospects, and allow anybody, really to get to know, like and trust you. And then raise their hand to do business, and then transition to those sales conversations. And it doesn't matter whether that takes them one day or one year, or more, or less. But to actually map out a path and have a journey that they can go on, is really, really important for your digital marketing.
It doesn't have to be complicated. It can literally just be a series of three to five steps, basically starting with something that you might publish or give away for free that can be found, and then give them value and educate them along the way, so that by the end of that journey, they can get to the end and have a fairly good understanding of whether they are a good fit, and whether they feel like you're the right person to go on the journey with.
So if you've enjoyed that, I'd love to hear your thoughts in the comment. If you'd like to consider working together, hit me up in a private message or an email, and I'd love to have a chat with you. See you later.
100 videos in 100 days. Want more?
This is part of my 100 videos in 100 days challenge.
For all my videos, join my Facebook page
For more videos and tip, let's connect on LinkedIn:
Or subscribe via my website and download my popular Web Strategy Planning Template.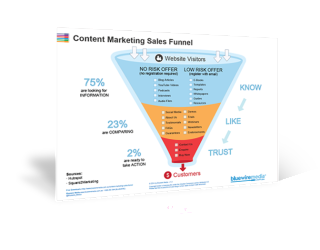 Content Marketing Sales Funnel
Your content marketing sales funnel is all about getting people to know, like and trust you by nurturing them with the right information at the right time.