Digital marketing the right way (with a coach)
Updated on November 10th, 2019
Digital marketing with a coach
Today I want to share an example of the right way to approach digital marketing vs the wrong way, but first a story.
Yesterday I completed my first running race in over a year — it was the "Sydney Harbour 10km" event. It was a beautiful winter's morning and superb conditions for a run. I finished up in 401st place and ran a personal best time of 42:47mins. A group from our running squad did it together, and we all had a blast.
Follow @adam_franklin on Instagram
The next goal I've set is running a PB in the City2Surf in August and the Sydney Half Marathon in September.
So why do I share this with you?
Well firstly I want to be accountable to you.
Secondly I want to write in a more friendly style, and friends share stories about what they're up to right..?
But thirdly, I wanted to share what I've learnt from having a running coach, a peer group and a specific program to follow.
In short, I've learnt the right way to train vs doing it the wrong way. There was so much I didn't know about running training; simple things like understanding that interval training will dramatically improve your racing. Once I discovered these sort of things, everything became easier! (Here's a free training guide from my coach Sean, if you're a runner too.)
With a coach I've been able to learn from someone with a decade of experience and results, and get the benefit of all that expertise in just the right doses. I don't need to read dozens of running blogs, or read books on different types of training nor devote years to working it out. I can simply follow the coach's advice and have confidence in achieving my goals. With a peer group to train with and to compare notes with, I get a community, accountability and friendships!
Finally, with a specific progam to follow, I can just do what I'm told to do. It frees up so much time and headspace to know that I'm doing the right thing, and I avoid overthinking it. I can focus on taking action rather than worrying if I am taking the correct course of action.
So what does that have to do with digital marketing with a coach…?
Everything. It's identical in that having a coach, a program and a peer group for digital marketing will help you achieve your goals much faster than going it alone. Plus I think marketing is more confusing than running. After all, to go running you put on your shoes, get out the door and run. Not that complicated.
But with marketing, everything seems to change so quickly. There are dozens of different tactics "that are working right now" and there is often conflicting advice. So having a coach, a program to follow and a peer group is very important and valuable.
Luckily if you are reading this email, you know I am here to help and provide those things in our online program.
Let's look at a common (but misguided) approach to digital marketing…
Businesses often spend $10k-20k on a website that may take 3-6 months to deliver, and then the site is neglected and it produces no leads. This is discouraging for the business owner and they become convinced digital marketing doesn't work. Plus they miss out on valuable leads which are the lifeblood of many businesses. Unfortunately this is very common and sad to see because it can be a much different story. We need to remember that people seldom buy or make an enquiry on their first visit to your website.
There is a much easier, faster and more effective approach that I teach and it involves creating a journey of baby steps instead of hoping people buy on their first visit.
A better approach to digital marketing looks more like this:
1. Start by creating a lead magnet (a concise piece of content that is truly valuable to your prospects) and give it away for free online. eg. a PDF checklist, market report or template. This will attract the right types of buyers.
2. Set up a single landing page — a page where people can enter their email address in order to download your lead magnet. This is like a business card swap in the offline world. You'll be building a list of prospects who you can help. Use tools like LeadPages or OptimisePress for your landing page.
3. Then start regular email marketing. Communicate with these new leads via email so you nurture and educate them on the path towards doing business with you.
This simple approach works because you allow people to get to know, like and trust you over a period of time and it doesn't require a complex and expensive website. In fact it can be implemented reasonably quickly and at a relatively low cost. By the way, don't worry if you have already got your fancy website (that's ok), but if you haven't got your lead magnet, landing page and email marketing set up, then get onto them as your next steps.
MY MARKETING METHODOLOGY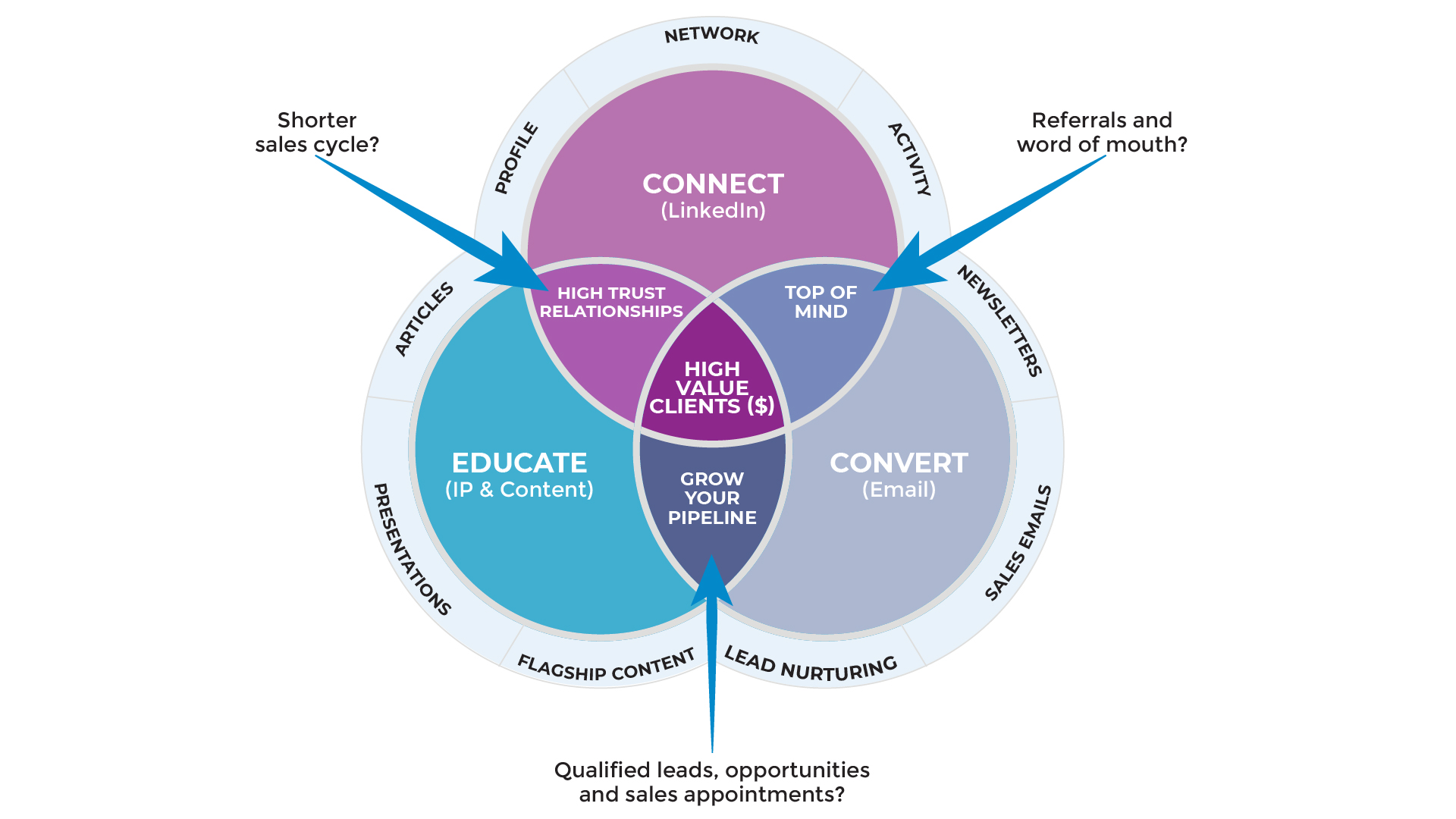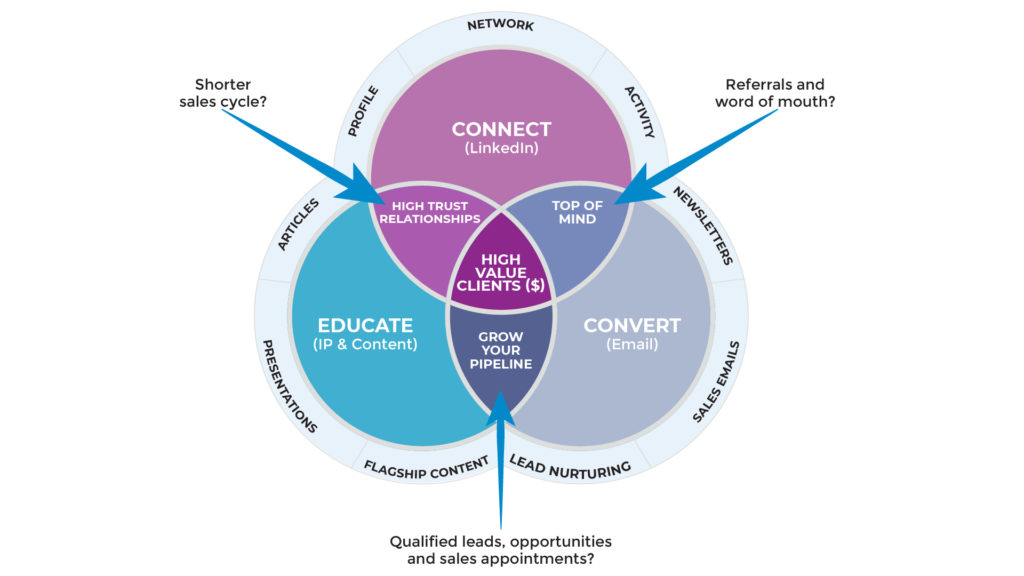 PS. When you're ready, here are 6 ways we help
consultants & advisors

grow:

1. Web Strategy Planning Template (PDF). Our flagship 1-page tool we co-created with David Meerman Scott. It's been downloaded over 1 million times and featured on Forbes.

2. Read a free chapter from our book. Web Marketing That Works --- an Amazon #1 best seller.

3. Join the private group on Facebook. Access free training resources, and hang out with 2,300+ peers.

4. Discover your marketing score. Take the 40 point Marketing Scorecard (in < 6mins) and get a customised report.

5. DIY for $7. Get the Complete 50+ Script Library for connecting with people to winning clients.

6. Let's brainstorm how to fill your marketing funnel.

DM the word "INTERESTED"

via Messenger

 or 

book a 20 min slot to talk

 on Zoom.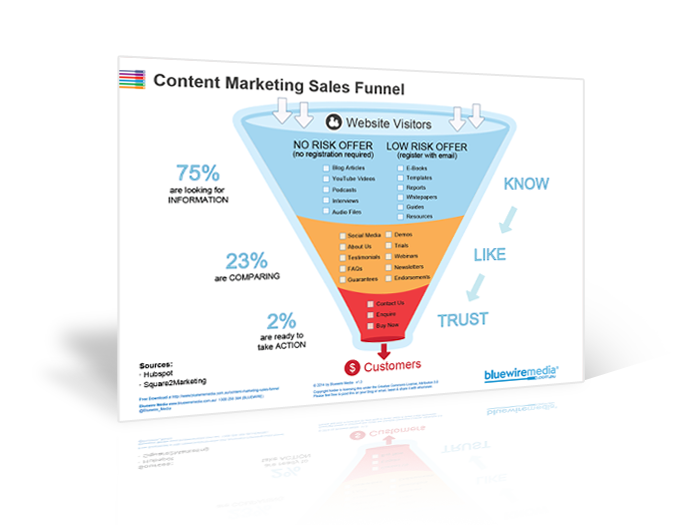 Content Marketing Sales Funnel
Your content marketing sales funnel is all about getting people to know, like and trust you by nurturing them with the right information at the right time.