The secret to effective webinars [video #23]
Updated on May 4th, 2019
Webinars are a powerful but often misunderstood part of your marketing strategy.
The secret? 
Your best clients are often too busy to attend a webinar so make sure you offer them a 'fast track' to book an appointment!
VIDEO
TRANSCRIPT
Hey, it's Adam Franklin here, and today I just want to talk about webinars because there's a lot of confusion if you like about whether they're worthwhile or not.
Now, yes, the short answer is they are worthwhile but not necessarily for the reason you may think. A lot of the time people are too busy to attend webinars. If you host one, you'll find that you might get 15% attendance rate, 20% if you're lucky, but certainly not big numbers.
But that's okay because your ideal clients are typically too busy to attend live, but they are prepared to register and that's the important part. They're raising their hand and expressing interest in the topic, but they're actually most likely not going to turn up.
So this is a huge opportunity because you can follow up with them via email after the webinar, even before the webinar, even on the actual thank you page once they've registered.
So what I like to do is allow registrants to fast track their progress. So rather than having to attend the webinar, they can actually book in a time to speak with me if they want to fast track the conversation and jump on the phone.
So that is a pro tip. The content of your webinar, yes, it's important. It's really useful to have a good webinar, because a lot of people will watch it and you can then share the replay of that content to people as well.
So it creates part of your digital assets, but bear in mind that typically your best clients are likely to be too busy to attend live. The power lies in letting them fast track and jump on the phone with you.
Hope that helps. See you later.
100 videos in 100 days. Want more?
This is part of my 100 videos in 100 days challenge.
For all my videos, join my Facebook page
For more videos and tip, let's connect on LinkedIn:
Or subscribe via my website and download my popular Web Strategy Planning Template.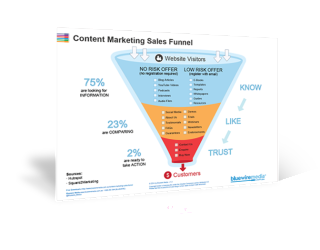 Content Marketing Sales Funnel
Your content marketing sales funnel is all about getting people to know, like and trust you by nurturing them with the right information at the right time.