Best Email Marketing Benchmarks for 2020
Email Marketing Benchmarks 2020
Email campaigns get more sophisticated by the minute, with strategies getting more creative all the time.
It's no wonder that performance differs depending on the industry, region and business sizes.
Let's take a look at some of the email industry benchmarks for 2020:
The average open rate stands at 17.8%
average CTO stands at 14.3%
The Average CTR stands at 2.6%
Average unsubscribe rate stands at 0.1%
The average bounce rate stands at 0.7%
Open Rates
The highest open rates in 2019 were recorded by government, nonprofit and education email campaigns. Government open rates rose from 19.79% last year to 30.5% this year, nonprofit open rates – from 20.39% last year to 25.2% this year and education open rates – from 18.9% last year to 23.4% this year.
Consumer packaged goods remain steady at 14.5% open rates (as compared to last year's 14.53%), while the Automotive and Aerospace industry witness the lowest open rates at ca. 12.6% (as compared to 17% last year). Food and Beverage and Retail remain at the bottom, with 13.0% (15.48% in 2019) and 13.9% (14.98% in 2019), respectively.
However, Retail click-to-open rate (CTO) has risen to 15.2% (compared to 14.3% in 2019), with 38% of consumers having been inspired to take action due to email.
CTRs
Click-through-rates (CTR) have been so far the highest for Government, Real Estate, Design and Construction, Agriculture, Forestry, Fishing and Hunting.
Government CTRs have risen from 3.04% last year to 4.1% this year, Real Estate, Design and Construction CTRs – from 18.88% last year to 19.9% this year and Agriculture, Forestry, Fishing and Hunting CTRs have decreased from 3.66% last year to 3.5% this year.
Overall, Government, Real Estate, Design and Construction, Agriculture, Forestry, Fishing and Hunting send the best performing emails.
The majority of benchmarks have remained consistent from 2018 to 2020, but unsubscriptions have risen by 0.08% and bounce rates have improved by 0.36%.
Factors Contributing to the Success of an Email Campaign
Based on the Email Marketing Benchmarks 2020, we know all too well that the success of email campaigns depends on so many factors that it's impossible to keep everything in line. It also depends on the target audience and the manner of interaction.
Still, some things remain universal (provided your email campaigns are serious, not just some random messages sent to random people). The most important of those are listed below.
Timing of the emails is of extreme importance, especially for brands targeting international audiences. That being said, mind the time zones. More often than not, the recipient will open the newest message no matter the quality of the 10th one in their inbox. Why? Their inbox is likely to be full of promotional messages, and no one has that kind of time to read them all, even if they wanted to.
According to GetResponse, the majority of email opens happen within an hour of their arrival. That is to say – time your messages to arrive when the customers are most likely to be checking incoming messages.
The same study shows that the highest open rates happen at 10 a.m. and at 1 p.m. Most likely, these apply to people with a 9-to-5 job, so if your audience comprises students or freelancers, your campaigns might need an adjustment.
Quality of Clarity of Subject Lines
We need not underline that subject lines are the single most important factor determining whether your email will get a chance at all. That, and a proper follow-up immediately below, are all that it takes for an email to perform just fine.
Think in terms of avid readers. They read a title first, then the synopsis. If they like it, chances are, they'll give the book a go.
Emails may be considerably shorter, but they follow the very same logic. In a sense, they're even stricter. Keep in mind that people are usually overwhelmed with incoming emails, so your message might simply be overlooked. This is often because lack of time and the subject line failng to attract the recipient's attention.
Next, keep in mind that the majority of emails are being checked on mobile devices. Therefore, keep your subject lines short (no more than 60 characters, although some general recommendation stands at 41) and to the point.
Some brands use emojis, while others are dead set on avoiding them, so we say the best practice depends on your email strategy and your target audience's preferences.
In addition, mind your language. Be literate, minimize punctuation and be consistent with your business' voice.
Calls to Action
Last but not least, your calls to action (CTAs) need to be noticeable and easily accessible. Whichever the action you are aiming for, make certain that your CTAs should feature a motivational message (avoid "Click Here!") and are easy to spot even for people scrolling through your message. That means they should be large enough and feature bright colors or otherwise stand out from the rest of the message.
That's a wrap for the best email marketing benchmarks for 2020
These tips and your usual strategy should be sufficient to keep your email campaigns strong in the long run. As ever, listen to your audience's feedback, and be clever with the wording and timing of your emails. That's, more or less, all there is to it.
About Emily Woodman
Emily Woodman is a long time digital marketer and writer at Mailbird – an email client for Windows.
All views expressed in this article belong to the author of the post.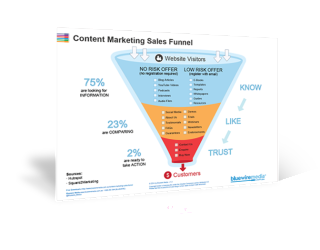 Content Marketing Sales Funnel
Your content marketing sales funnel is all about getting people to know, like and trust you by nurturing them with the right information at the right time.