Email Marketing: 5 Mistakes That Are Killing Your Conversions
Updated on June 23rd, 2022
Email Marketing Conversion Mistakes
'Email marketing is dead'.  Sound familiar?  The demise of email marketing is rife in blogs and industry forums across the digital space.  However is that really true? I propose it's more a matter of making (easily-avoidable) email marketing conversion mistakes.
Figures for 2019 say otherwise. In fact, according to recent studies, 99% of consumers check their emails every day.
You might be thinking that these figures are skewed and only take into account the opening of an email account, not the opening of the email itself.
But the same data also showed that 59% of respondents said marketing emails influenced their purchasing decisions. While 59% of marketers stated that email was their biggest source of ROI.
With every $1 spent on email marketing returning an average of $44, getting your email marketing efforts wrong isn't just killing your conversions, it can kill your revenue too.
So we've established there is a very healthy, alive and kicking audience for your business to tap into.
But perhaps you're just be making some email marketing conversion mistakes…?
Turning your subscribers list from passive to active isn't easy. And with the challenge of inspiring action comes risk.
If your emails are dry, aggressive, repetitive or spammy (to name just a few potential pitfalls) you can turn off your prospects and drive them to hit the dreaded 'unsubscribe' button.
To help you stay on top of your email marketing and drive meaningful business outcomes instead, here are the top 5 email marketing mistakes that are killing your conversions.
Fix these email marketing conversion mistakes and you'll be giving yourself every chance for success.
Email Marketing Conversion Mistake #1:
You're adding weak and easily ignored subject lines
In the digital age, email inboxes are crowded, busy and loud places.
For business owners that means identifying ways to think outside the box inside the inbox.
By the end of 2019, it is projected that there will be 2.9 billion email users worldwide. This is over one-third of the world's population.
Of this massive audience, recent data suggests that 320 billion emails will be sent and received by 2021. Every single day!
If you're not crafting subject lines that stoke curiosity and drive emotional responses to compel opens, you will have failed. Worse than that, you'll disappear in the eyes of your subscribers.
While catchy and clever subject lines won't directly impact your conversions, you need people to open your emails before you can secure a conversion. This makes your email subject lines the first and most important thing to get right.
Here are a few ways to optimise your email subject lines to help you drive open rates.
✔  Keep your subject lines short and sweet
Between 6 and 10 words is typically seen as best practice. Here's a great article from Hunter called 27 Attention-Grabbing Email Subject Lines for Sales.
You can use tools like CoSchedule's free subject line tester to help you find the most effective variation for you.
✔  Be clear and to the point
Tell your subscribers exactly what they'll get by opening the email and avoid needless filler word. Avoid over-promising or lying. Even if these drive an open, you'll lose your chance at a conversion when they realise they've been duped.
✔  Avoid spam words or language
More than a turnoff for savvy consumers in 2019, spam words trigger spam filters which bury your email in an inbox you don't want to be in. Check out a list of the most triggered spam words here.
✔  Use eye catching numbers
Numbers catch the eyes of scanners and add credibility, as long as you back up your figures in your email. You can take this a step further by using less common numbers. Replace 1500 satisfied customers with 1,563 satisfied customers. Odd number seem more believable compared to perfectly round numbers.
✔  Use probing questions
Questions show people that you understand the problems they need help solving and will assist you to establish a relationship with your audience. On a psychological level, people crave the answers to open questions, this is known as an Open Loop, so by teasing them with a question in your subject line you'll boost your chances of driving them to open the email.
Email Marketing Mistake #2:
You're writing unprofessional email copy
There are emails that stand out for the right reasons and those that stand out for the wrong reasons.
Just as website design can discourage visitors from returning, if your email looks amateurish or unprofessional you risk standing out for all the wrong reasons.
No matter what industry you're in, you'll be competing with companies who dedicate time and effort to their email marketing campaigns. So you have to do the same.
Remember, your emails will act as ambassadors for your business, so keeping them professional is key to connecting with your subscribers and driving a higher conversion rate.
To ensure your emails are not unprofessional you should double check your:
Spelling and Grammar (edit then edit again)
Choice of images (avoid stock images)
Language and tone of voice (use respectful and professional language)
You can use free editing tools like Grammarly or Hemingway Editor to give you the professional edge and avoid common email marketing conversion mistakes.
Your emails should always be well thought out, have a clear goal in mind, and match the professionalism you would expect of anyone physically representing your business.
Email Marketing Mistake #3
You're writing sales heavy email copy
If unprofessional email copy is a mistake that's killing your conversions, then going the opposite direction and creating an email full of corporate tech-speak, sales promises and jargon should be fine, right?
Wrong!
Do this and your email will blend in with every other sales-heavy email in your subsciber's inbox.
Worse than that, with consumers more capable than ever before of blocking out unwanted intrusions from businesses – think ad blockers and stream-on-demand entertainment without ads, if they do read your email they will be immediately turned off.
Here's how you can skip the sales-heavy copy and stand out from the crowd:
Don't be the salesman, be the mate. Write as though you were speaking directly to them, which will create a conversational flow to your copy that entices people in as though you were sharing a secret or story with them face to face.
Diego Varoli, Email Marketing Manager at Paperclip Digital, believes that "you should never sacrifice clarity for cleverness. But at the same time, your email is a prime opportunity to show who you are as a person".
Adam Franklin, CEO at Bluewire Media, agrees and goes a step further saying; "The most scary thing for a lot of people when it comes to email marketing is injecting their personality. They often write really boring corporate emails thinking that that's a good thing to do, when in actual fact, you can stand out and think outside of the box by writing like you're writing to a friend."
Write 'you' copy, not 'me' copy
Don't talk about how great your product is. Focus on what value your product can provide. If you find your email is full of we do this and we do that then you have lost track of the star. It's not you, it's them. If your email is full of 'you' statements, you're on the right track.
You should structure your email as though you were writing for an online audience. That means following a logical structure from start to finish without going off topic, keeping paragraphs short, and including one idea per paragraph only. Bullets and subheadings can also break text up into easily scannable segments.
Bluewire's welcome email does a great job of being clear, to the point, and easy to read with simple formatting.
At the end of the day, just because you're writing a B2B or B2C email doesn't mean you have to be boring and dry.
Your email is a chance to paint a picture in the mind of your audience. Show them that you understand their problem and can solve it effectively and efficiently.
Consider using personal anecdotes, behind the scenes info from your company, or testimonies from others who were once in their shoes.
Try different approaches to become more conversational and personable and see what works best for you.
Email Marketing Mistake #4:
You're not optimising for mobile
Mobile is responsible for over 50% of email opens, with some estimates as high as 70%. Fail to optimise for these on-the-go email viewers and your conversions will plummet.
Getting the formatting correct and optimising for mobile devices means:
clutter free designs
short paragraphs
images that are easily viewed on small screens.
As a general rule you should keep your content to a single column and make sure your images are no wider than 600 pixels. This will make for the most engaging user experience on handheld devices and stop prospect drop-off as a result of frustration or email fatigue.
Test your emails on your own mobile devices before sending anything to your subscribers list. This will let you catch any design and formatting flaws before it's too late and you commit these common email marketing conversion mistakes.
Is the text big enough? Can you read it? Is there enough contrasting white space?
If you can confidently say 'yes' to these questions you'll have a mobile friendly email that's optimised for conversions.
Source: https://unsplash.com/photos/J2e34-1CVVs
Email Marketing Mistake #5:
You're not including a Call-to-Action
If you're not telling your subscribers what to do after they're read your email then you're failing to drive home the advantage you gained when they opened it.
If your emails aren't guiding people towards an action, what are they doing?
While persuasive copy is required to draw your prospects in, a clear CTA is there to show them what to do next.
If you're struggling to define an appropriate CTA for your email, ask yourself this one question – "What do I want my subscribers to do?"
Once you've identified your single desired step – and it's important to include just one step as any more will risk turning people off, you should link it thematically to your email body copy.
For instance, this email from video communications company Zoom includes a clear CTA that follows on from their email copy.
Their goal is to get people to join a live demo.
The company has clearly explained what people stand to benefit by joining a live demo (expert advice and support from an industry thought leader) and their CTA drives this home by offering the chance to secure a spot on the guest list in just one click.
Are you guilty of making any of these 5 email marketing conversion mistakes?
Learn from these mistakes and optimise your emails by implementing these strategies and seeing what works.
Continue A/B testing the results until you find your optimal outcome and start enjoying an increase in your email marketing conversions.
About the author
Alexander J Porter is Head of Copy for Paperclip Digital – Sydney's boutique agency with bold visions.
With extensive experience as a content writer he is passionate about SEO, Conversion Rate Optimisation, and Content Marketing, and is constantly driven to explore the way language can strike consumers like lightning.'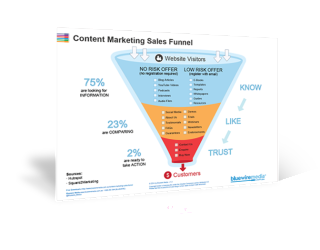 Content Marketing Sales Funnel
Your content marketing sales funnel is all about getting people to know, like and trust you by nurturing them with the right information at the right time.