Is Email Marketing Dead Or Just Getting Started?
Many marketers may think of email marketing as old-fashioned, with sparkly new platforms such as social media, virtual reality and instant messaging now getting all of our attention. Some marketers will even tell you that email is dead.
Is email marketing dead? 
Even though it is often pushed to one side, email is in fact very much alive and performing better than ever!
In this article, I take a look at why email is still important for marketing, plus share some hints and tips on how to use email marketing effectively within your business.
Why we shouldn't be ignoring email marketing
It's easy to get caught up in the hype of other newer technologies and forget about email. However, that could be a big mistake for your business.
Firstly, did you know that the average person still gets 121 emails every single day? If that's the case, then how can email possibly be dead?
Marketing is all about promoting and selling products or services. So, it's important to understand where your customers are, so you can market to them through the appropriate platforms.
Do you consider email as one of those platforms? With around 4.35 billion email accounts and 2.59 billion email users worldwide (according to Radicatti Group), perhaps you should. In comparison, Facebook have an average of 1.09 billion active users. We're not denying Facebook's effectiveness as a marketing tool, but the scale of email is simply staggering.
Obviously just looking at the size of the audience isn't enough, as this doesn't show performance. Many marketers may naturally assume that consumers would prefer to see a tweet or a Facebook message and therefore adapt their marketing strategy accordingly. However, Marketing Sherpa carried out some research which suggests otherwise – 72% of consumers they spoke to said email was their preferred method of communication with companies.
Still not convinced that you should shift some of your marketing budget back to email? What if we were to tell you that McKinsey discovered that email was almost 40x better at acquiring new customers than Facebook and Twitter?
Why marketers still love sending emails
As well as these rather convincing figures, there are many other reasons why some marketers think email is worth the time and effort:
It's mobile – Customers are increasingly mobile, allowing them to be connected whilst on the go. This makes it very easy for businesses to communicate with them at any time of the day.
People like emails – Surprisingly, people do actually like receiving emails that they've subscribed to, so this is a good way to communicate with them, especially when you're providing useful or interesting content, such as offers, competitions and new releases.
Integrated marketing – Email doesn't have to work in a silo. It can be used effectively to promote other marketing activities, such as to highlight a competition running on Facebook, alert people of an upcoming webinar, or to link to an offer via your website.
Return on investment – Although email marketing isn't free, it is affordable and can provide a good return on investment. It can also be less risky than some other activities such as direct mail and TV ads which can be very expensive.
Life span – The lifespan of social media posts can be relatively short. If you add a message on Facebook but a customer doesn't log in until a few hours later, they may not see it within their newsfeed as it could have been displaced by a newer post from another company. Email on the other hand doesn't really have a lifespan. It simply sits in a person's inbox until it is read or deleted, hours, days, weeks or months later.
Personalisation – Another benefit of email is you can send a message to thousands of people yet still remain quite personal. The reason is, you have data about your customers and can therefore segment your mailing list as much as you like, to ensure your messages are relevant to them. In comparison, direct mail or TV ads take a blanket approach, where people may or may not be interested.
Tips for an effective email marketing strategy
Image Source: MailChimp
Earlier we pointed out that the average person gets 121 emails every day, but of course, not all of these actually get read. Some will go to junk and some will end up being deleted. It's therefore crucial to ensure that you create effective emails that get read, rather than ending up in the bin.
Take a look at these top tips to help:
Choose an email marketing tool – The good news is, there are 100's of tools available to help you. Capterra say MailChimp (4 million customers), Constant Contact (650,000 customers) and Vertical Response (600,000 customers) are some of the most popular options.
Write a catchy subject line – Don't forget that the first thing people will see is your subject line and will decide within a split second whether to open or delete your email. Your subject line needs to be able to capture their interest straight away. It's also important to ensure you don't use any words that will trigger spam filters.
Use a good design – Make sure your emails are designed so they capture the attention of your reader. They should also be memorable, especially compared to your competitors. If they are designed well, it's more likely that a person will read it and potentially click links. However, if it has a bad design, you may find you have a high bounce or unsubscribe rate. If you need some inspiration, there are lots of apps that can help you unlock your imagination!
Write interesting content – Don't just email for the sake of it. Think about what the purpose of your email is and why a customer would want to open it. For example, do you have an exciting new product, are you launching a sale or are you starting a competition in which you want your email subscribers to be the first to know? Keep any text short and concise and where possible, add visuals.
Add calls-to-action – Once you've decided on the purpose of your email, make sure you add clear calls-to-action, such as 'Find out more', 'Enter now', 'Shop the sale' and 'Buy now'. Don't forget you can also add buttons which link to your social media accounts.
Track it – Once you've sent your first email, make sure you revisit the results. Look at figures such as how many people it was sent to, how many people opened it, how many people clicked through and how many people unsubscribed. Any future email campaigns can be compared against these results. It may even help you to see areas in which you can improve, such as to make your subject line punchier to increase open rates, or make your call-to-action buttons larger to increase click-throughs.
Conclusion
We hope this information has helped you see that even though email has been around for a long time, it's still alive and well, with lots of business opportunities to be had.
We'd love to know if you use email marketing within your business, or if you now plan to try it after reading this article! Let us know in the comments.
About Elizabeth
Elizabeth Harmon is a writer for Open Colleges, one of Australia's leading online education providers. She is a Social Media Consultant with a number of years' experience in the field. She has worked with a growing list of clients around the world, helping to build successful social media strategies, create effective content and much more. Follow her on Twitter @Liz_Harmon.
Bonus 33 Free Templates
Download the 33 free templates from Toby and Adam's book.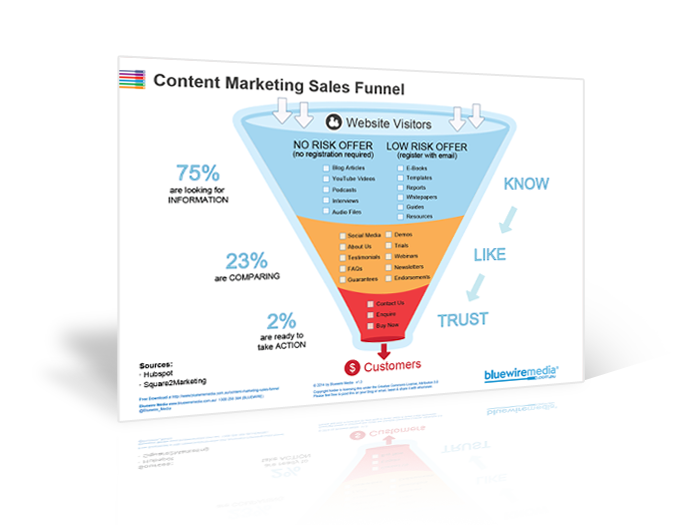 Content Marketing Sales Funnel
Your content marketing sales funnel is all about getting people to know, like and trust you by nurturing them with the right information at the right time.