My videos are embarrassing [#38]
Updated on May 16th, 2019
[Brisbane CBD, Queensland, Australia]
When you record a video in public — with a selfie stick — for sure, there is definitely an element of embarrassment.  Plus the risk that people might criticise you publicly or talk behind your back.
But it's worth pushing through the fear and awkwardness because people are watching!
VIDEO
TRANSCRIPT
Good day, it's Adam Franklin here. And I just want to share a few more lessons that I've learned from doing this 100 video in 100 day challenge.
Now, the first is, that yes, it is awkward. It is, sometimes a bit embarrassing doing these videos, especially, in public, like I am today.
I'm in the city, in the CBD today, and there's people walking in front of me. There's people behind me. It does feel a bit awkward, pulling out your phone and doing them but that said. You have to get over it. You push through it and after a while you don't feel as silly as before but there is an element of embarrassment for sure.
The other thing to keep in mind is that, it's also very easy to say no, because you weren't going to be able to say, things in the comments or behind your back or whatever else and yes, that's true. People probably will but if we don't come to grips with that and become comfortable with that, then we're always going to find an excuse why we don't do the videos and why we don't share our ideas and put our thoughts out there for the world to see and if you're in the business of IP or intellectual property of like, a consultant, or an advisor or a coach. Then, our whole business is IP, and the ideas and the knowledge that we can share.
So, we need to come to grips with the fact that people are maybe going to say, negative things about us, and we need to be comfortable with that, but the third thing that I've learned, and it's not… Finishing on a more positive note. Is that people are watching. Even if it feels like you're not getting as many views or as many comments or as many likes. As, you would like. Just be aware that most people on the internet, they lurk. They are watching, they are seeing what you're doing. Even if they are not commenting, even if they're not liking it. Or even if, they're not sharing it but people out there are paying attention. So it does, pay. To be putting out your content. To be sharing your IP because eventually, people are going to rise to the surface and say, "Hey, I've been following your stuff for a while, let's do business."
There you go. Three tips on the lessons I've learned from the 100 video in 100 day challenge. Take care. See you next video.
100 videos in 100 days. Want more?
This is part of my 100 videos in 100 days challenge.
For all my videos, join my Facebook page
For more videos and tip, let's connect on LinkedIn:
Or subscribe via my website and download my popular Web Strategy Planning Template.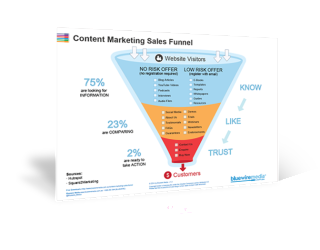 Content Marketing Sales Funnel
Your content marketing sales funnel is all about getting people to know, like and trust you by nurturing them with the right information at the right time.