Why I use Facebook Groups [#28]
Updated on June 10th, 2019
[South Freemantle Football Club, Perth, Western Australia]
VIDEO
TRANSCRIPT
G'day, it's Adam Franklin and I'm at the South Freemantle Football Club in the original, well in the old, I presume it's original, grandstand. And today I just want to build upon one of my last videos, when I spoke about why I don't use Facebook Lives, and in fact I prefer to use the LinkedIn videos, but what I actually find Facebook really useful for is the groups. So I'm still finding that Facebook groups are a great place for people to actually interact with one another, and for your message to actually reach the people in that group.
Of course, business pages, very low organic reach, and I guess the problem with LinkedIn is that people don't log in to that platform as often as Facebook. So Facebook, I find really useful for Facebook groups and that's where I tend to get the most interaction with people in my community.
Hope that makes sense. See you later.
You  may also like:
9 Ways to Improve Your Facebook Group from our friends at Margin Media.
100 videos in 100 days. Want more?
This is part of my 100 videos in 100 days challenge.
For all my videos, join my Facebook page
For more videos and tip, let's connect on LinkedIn:
Or subscribe via my website and download my popular Web Strategy Planning Template.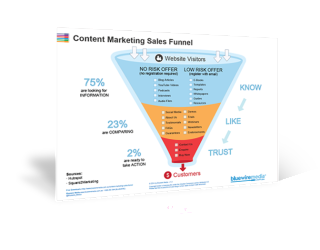 Content Marketing Sales Funnel
Your content marketing sales funnel is all about getting people to know, like and trust you by nurturing them with the right information at the right time.