How to Find the Best Keyword Opportunities For Your Business
Updated on February 25th, 2020
Google is both your best friend and your worst adversary. Sure, Google lets people find your business using certain keywords. Still, all of the algorithm updates it puts out regularly make it hard for SEO strategists to keep their organizations on top of the rankings.
Keyword research and analysis is still important, but finding the best keyword opportunities has changed somewhat from the earlier days of SEO.
But first, a brief background on keyword research. In a nutshell, keyword research is a process where you find and analyze the search terms that people use for your industry. The process for researching keywords involves looking at the level of competition, relevancy for your business, and search volume.
Now, Google's search algorithm accounts for user intent. Your keyword research strategy should also take user intent into consideration.
How to find the best keyword opportunities
Here is a step-by-step guide for keyword research and analysis to find the best keyword opportunities for your business.
Make a List of Potential Topics Based on your Industry
To start the process of keyword analysis, make a list of topics that you'd like to rank for. You should be able to come up with around 5 topic buckets that are relevant to your business. You can use those buckets to determine specific keywords as you move through the process.
For instance, if your business publishes and markets a time clock app, think about the possible topics of discussion. What do you think a potential buyer searches for when they go on Google?
For a few hours, you can occupy the persona of a buyer and imagine the topics that come up the most when you talk to someone who sells similar products. For time clock apps, you can come up with the following topic buckets:
"Timekeeping"
"Activity tracker"
"Employee tracking"
"Online clock"
"Clock app"
Certain tools let you look for the monthly search volume for each potential keyword. The search volume will tell you how important these topics are to your potential audience. This informs the number of sub-topics you will need to build content around to rank higher.
These topics form the basis for your actions in the next step.
A reminder: The topic buckets are not your final keywords. They will just act as your guides for the rest of the process.
Think of Possible Keywords
You now have a few topic buckets. It's time to fill those topic buckets with potential keywords. These keywords should be those you think your target audience would look for and would, therefore, rank in the search engine results.
Of course, it is implied that these keywords are more specific than the buckets we have just listed.
SEO Keyword Example
Let's take the last bucket in the list: "clock app". You can start brainstorming related keywords that you think people would search for. You can use these for starters:
"Time clock app"
"What is a time clock"
"How to use a time clock app"
"Online time clock app"
"Best time clock apps"
"Why do I need a time clock"
"Time clock for online work"
At this point, you don't need to eliminate any options. The whole point of this brainstorming exercise is to come up with any possible word combinations that people may use when they search for related content. We'll get to eliminating keywords as we go through the next steps.
Let your imagination run wild. There are no right or wrong keywords at this stage of the process.
Consult Google to Find Other New Keyword Opportunities
If you haven't used Google search yet while filling your topic bucket with keywords, this is the right time for it.
Go to Google and enter a keyword. You'll find a list of searches related to your keyword at the bottom of the page. You may use the suggested searches as additional keywords. You may also use them as jump-off points for other potential keywords.
When you search for "free time card app", for instance, you'll find another set of related searches. That's another set of possible keywords to fill your topic bucket with.
Mix Head Terms and Long-Tail keywords
You may notice that our possible keywords so far are a mix of two or three-word phrases and longer ones. These are categorized into head terms and long-tail keywords.
Head terms tend to be shorter and generic. Long-tail keywords are longer and more specific. It's essential to have a healthy mix of both types. After all, while head terms are searched more often, it's a lot harder to rank higher more consistently for them.
Long-tail keyword research example
Let's give you an example. Between "time clock app" and "best free time clock app for small business," chances are more people search for the former. While "time clock app" can potentially send more site visitors your way, it also pays to rank for "best free time clock app for small business".
It may seem counter-intuitive, but this sort of specific search tends to be done by someone who knows their stuff. They may be someone working in HR, someone who runs a small business, or someone who really needs a free time clock app for their small business.
In contrast, someone running a search for "time clock app" could be doing it for reasons that are irrelevant to the product you are trying to promote.
Remember what we said earlier about user intent? You need head terms to capture searches with little user intent, then long-tail keywords to address searches with specific user intent.
Analyze your competitors to find best keyword opportunities
Let's get this out of the way. You don't have to copy what your competitors are doing, least of all their SEO strategy. However, knowing and analyzing the keywords your competitors are trying to rank for is one way of evaluating your own.
Analyzing your competitors' keywords used to be something out of a cloak-and-dagger movie. You had to use your browser's incognito mode, search for keywords, then look at your competitors' rankings.
Now, you can run free reports that show the top keywords for the topics you want to rank in.
Of course, it is important to improve your ranking for the keywords that your competitors are targeting. However, it is an opportunity to take a look at the ones that your competitors are neglecting.
You may take these little-used keywords and rank for them. Nobody can really predict what the next trending search terms will be for your space.
You want a balance between search terms with high traffic and those where you have an excellent chance of ranking. This will help you get a good mixture of quick wins and targeted searches.
It's similar to the balance you should strive for between head terms and long-tail keywords.
Cut Down your Keyword List with a Keyword Tool and Trend Analyzer
Once you've filled your bucket with a good mix of keywords, it's time to use quantitative analysis to narrow them down. It may sound like a complicated, number-heavy process, but there are tools you can use to make things easier.
One of the most versatile apps you can use is a keyword tool such as Google Keyword Planner. If you already use Google AdWords to plan your ads, Keyword Planner comes as part of the whole package. If not, it's free to set up.
You can use this to eliminate any keywords which don't meet a certain threshold of monthly searches. Keyword Planner will also suggest related keywords, which may have higher search volumes.
Best free keyword research tool
Keywordtool.io is another good alternative. The free version shows you the ranking of each keyword that appears when you search, which is good enough for most purposes.
The Pro version provides more specific metrics, such as search volume, trend, and competition. Another good entry level option is Longtail Pro.
Either way, you can use your keyword tool results to find search terms in your topic bucket that have either too little or too much search volume. But you should consider that the results are only applicable for the time you did the keyword research.
You also need to track if the keywords are trending up, down, or staying put.
Google Trends has a lot of tools that will help you determine historical interest in the keywords in your bucket. You can run trend searches for the past hour, the past year, or even from 2004 to present. You can also set it for specific countries and locations.
Google Trends also allows you to compare two keywords on the same screen. For example, you can see that searches for "time clock app" have been consistently higher than those for "time clock free download." This helps you with the elimination process.
Using a combination of a keyword tool and a trend analyzer will help you decide which of your terms will stay in your bucket and which ones go out the window.
Keep on researching to find the best keyword opportunities
Now that you've whittled down your list of keywords feel free to use them in your content responsibly. But you should remember that trends change, and so do search results. Re-evaluating your keywords once in a while will help you stay relevant.
Doing it quarterly is a usual practice, but some businesses do it more frequently.
As you climb up the search engine rankings, you can add more topic buckets and keywords. Adding more will not just help you maintain your position. It will also help you establish a presence and grow in new areas.
About the author
Owen Jones is the Senior Content Marketer at Zoomshift, an online schedule maker and timesheet App. He is an experienced SaaS marketer, specializing in content marketing, CRO, and FB advertising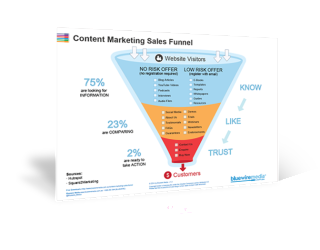 Content Marketing Sales Funnel
Your content marketing sales funnel is all about getting people to know, like and trust you by nurturing them with the right information at the right time.