Find and Validate Content Ideas: 10+ Free Tools
When you know how to find and validate content ideas, you unlock great content that can inform, excite, and inspire your readers and customers. It helps them solve problems, improve their knowledge, and increases their trust in your brand. There are tons of techniques you can use to help your content find and stand out to your key audience.
First, you need a strategic plan for finding ideas for that content.
There are tons of ways to find ideas for posts and articles that will interest your audience. A little forethought can give you a lot of insight into what kind of content will perform well. You don't have to shoot in the dark.
Today, you'll learn techniques for generating a bounty of content ideas tailored for your brand. I'll also cover some tools to validate those ideas by taking a peek into how much interest your audience already has on those topics. This strategy can help you increase your engagement, target the questions and issues most important to your customers, and avoid trends that are dead in the water already.
Content must be valuable
Content with no value is just noise. Creating value for your audience begins with knowing what they need. You can be the world's leading expert in diving equipment, but that won't be much use to a group of people living in the desert. There will always be some subjects you know are a sure bet, core interests or problems in your target audience. However, often the key to ranking well in the huge sea of the entire internet lies in getting specific.
We can do a lot better than just guessing. Validating an idea guides your workflow and helps you avoid investing a ton of energy and resources into a project that fails to perform. Using a handful of free and simple online tools, you can generate and expand content ideas and look into trends and search volume. It's one big way to "work smarter, not harder" in content creation.
Where do I find content ideas?
Free tools for finding content ideas
Let's say you create content for a (fictional) women's bicycle company called Red Bell Bikes and you're looking to fill out the content calendar for the next few months. First, you need some ideas about what kind of content you might create.
Here are some great free tools to get started.
Google Autocomplete
The most beautiful thing about Google autocomplete is it's already at your fingertips. Simply open up a new Google search, begin typing a search term or keyword, and see what predictions appear in the drop-down before you hit enter.
Google's autocomplete algorithms don't function solely off search volume. They analyze data from searches being performed constantly to assess the popularity of search terms in real-time. This is the original tool to find and validate content ideas
AnswerThePublic
AnswerThePublic offers a mind map-style visual layout of questions and comparisons related to keywords you type in. A colour gradient indicates search popularity, and this tool can offer you lots of different directions to take your ideas.
Searching for "women's bikes" in AnswerThePublic returns several results related to the differences between men's and women's bikes, which is a great hint that this could be a subject that interests your audience.
Ubersuggest
Ubersuggest is a gold mine of ideas and information and will help you find and validate content ideas. You can see the popularity of keywords and trends. You can also get lists of content published to other sites using your selected keywords to see what others are writing about your chosen subject and how that content is performing.
SEO content ideas
Plugging some variations of "women's bicycle" into Ubersuggest offers some other keyword ideas, including "women's bike clothing" and topics related to the women's movement. A quick hop to the Content Ideas tab reveals a popular article from The Atlantic:
Google Trends
Google Trends shows you data about the popularity of search terms over time. It also offers related topics and queries based on what other things users who searched for your key phrase have looked at.
For example, according to Trends, people who search for "women's bikes" also search for "women's bike with basket" and "women's padded bike shorts." This snapshot of your audience's search habits can spin a lot of ideas.
Find content ideas on social media and forums
Finding what your audience is actually talking about is a step beyond merely coming up with keywords. It keys you in to customer pain points, common areas of confusion, and questions. Here are some popular places to check:
Reddit: There's a forum on Reddit for just about anything. Writing for Red Bell Bikes, you might want to follow the forums for cycling, bicycle commuting, and women cyclists (all of which are communities with large, active user bases).
Facebook: As with Reddit, Facebook groups exist for just about every topic imaginable. Monitoring them can give you insight into what people are looking for or struggling with.
Find content ideas from your own data
You have an audience. Listen to them. You could put out a survey and ask for people to respond directly, but there's also a ton of information floating around just waiting for you to turn it into valuable marketing material.
Google Search Console
Google Search Console is a free tool that enables you to monitor your site's performance in search results. It will show you what keywords your website ranks for and how many clicks result from those rankings. You can zero in on areas where there's a gap to be filled, like keywords where you're showing up in search results but not triggering much engagement.
Emails and comments from users
If your audience is already asking you for something, give it to them! Are there common questions in your direct communication with users or customers? Are there posts that always cause people to ask for more information, or receive a lot of engagement in other ways? Those are topics you should expand, reiterate, and create more content about.
Support calls and tickets
Similar to the above, look into what kind of support inquiries get made by your customers. This is a great opportunity to create or update quick FAQs as well as in-depth tutorials that help your users solve problems.
How to validate content ideas
You wouldn't plan a party without knowing at least some of your guests had the time and inclination to come. Don't plan a content calendar with no idea of what your audience wants to know.
By now we have a nice list of content ideas. Red Bell Bikes can share some content about the differences between men's and women's bicycles, helmets, and other gear. Let's say we've also received questions from customers about whether Red Bell sells bikes for kids. I'm also interested in the bicycle's role in women's history, which seems like it would interest Red Bell's customers.
Google Trends
We visited Trends during phase one. Circle back and take a closer look at some specific keywords that might be useful. Not all keywords will return enough data for Trends to analyze, but for those that do, you'll see a graph of the search popularity over a year.
Interest in "women's bikes" climbs through the spring and then falls in the winter. Interest in "winter bikes" does the complete opposite.
That's intuitive, but it's an example of what data you can find searching for different keywords. Searching for "kid's bikes" reveals a big spike toward the end of the year as lots of children wait for a new bicycle for Christmas. You'll also see if interest is waning in a topic that isn't likely to be evergreen.
Ubersuggest
Ubersuggest is another excellent tool to return to for more detail about the search viability of your content ideas. Using this tool, you can quickly compare search volume for various terms. You might want to make note of this while you're generating ideas, or you could circle back later to compare them once you've compiled your list of possibilities.
Using search operators to find & validate content ideas
The last technique I'd like to cover for generating and validating content ideas is a way to do some targeted research for what other people are writing about. Google searches return millions of results, but advanced search operators can narrow it down. You can specify where and how your search terms should appear in the content. You can include or exclude specific domains, search for terms in a site URL, or require that the search terms appear in titles.
For example, with this search we see the same Atlantic article from Ubersuggest and other articles on the topic:
Thoughtful use of search operators keeps you from getting buried under a tsunami of half-relevant results. You can easily inspect what other people are writing about your subjects or keywords.
Now create more awesome content based on these topics ideas!
The idea behind using search tools to generate and validate content ideas is for you to always have relevant topics to share with your audience.  Rich content that answers questions and provides solutions builds trust and increases your reach.
Whether you're selling bicycles, developing an app, or running some other kind of business, you know your stuff. You have the expertise. The tools I've listed today are there to help you tune your SEO to make sure that expertise finds its way to the people who need it.
About Quincy Smith
Quincy Smith
oversees the SEO & content team at Ampjar, a brand-to-brand advertising platform.
He's passionate about IPAs, strong coffee, and solo travel.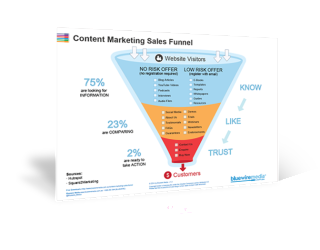 Content Marketing Sales Funnel
Your content marketing sales funnel is all about getting people to know, like and trust you by nurturing them with the right information at the right time.