How to form profitable strategic partnerships using social media
Updated on January 5th, 2020
How professional services businesses can form profitable strategic partnerships using digital marketing and social media.
VIDEO: Form Profitable strategic partnerships
Tips for profitable JVs
Don't approach potential strategic partners with your hand out. Add value to them and you'll immediately stand out.
Offer to contribute your knowledge and IP to help your strategic partner's clients and audience.
Make your strategic partner look good and let them be the hero with their audience.
Offer to let your partner co-brand or rebrand the flagship content you share with them.
Form profitable strategic partnerships on a continual basis and they will build momentum.
TRANSCRIPT:
Hey, it's Adam Franklin here in Bondi Beach. And as you can see behind me, it's a miserable old day. It's bucketing down. But that's not going to stop me sharing a couple of tips today, because I just had a conversation with one of our students and he wanted to talk to me about how professional services businesses can form profitable strategic relationships using digital marketing and social media.
Now he was saying that it's very difficult sometimes because if you're looking to partner up with somebody who serves the same audience but you're in noncompeting areas, then there's so many people trying to do the same thing. But the thing that they're doing wrong, is most people are just going to these partnerships with their hands out saying, "Can you send me referrals?" And it's very difficult to stand out from the dozens of other professional services businesses buying for your business.
Example #1: Financial Planner
For example, if you're a financial planner and you want to form a strategic relationship with say an accounting firm, or if you're a mortgage broker and you're looking to form a strategic partnership with a real estate agent, well instead of just bugging them and cold contacting them on LinkedIn or email or phone call or whatever, think about what you have in terms of knowledge and IP that can actually be of value to them?
If you're a wealth manager or a financial planner like this particular student of ours, and you're looking to form relationships with accounting firms, then instead of bugging them, think about a piece of content that might be very useful to the accountants clients. Now, it could be as simple as a financial plan template or a checklist of things that you need to take care of when you're putting together your financial plan. But if you do that well, then that can actually provide value to the accountants.
Related article

I've been interviewed about it here.
'Lead magnets': how brokers should use social media
Be generous
Now, I'm a big believer in being generous and sharing useful information because it comes back in spades. So if you're in this situation, what you might do is create a financial plan template and send it off to the accountant and say, "Look, this might be of interest to your clients. And if you like, we can co-brand it, or if you want, you can put your own logo on it if you like." But that then gives them an excuse to reach out to their clients and to add value. It gives the accountant an excuse to reach out to their clients. Now, they may not have a whole lot of content. They may not have something even close to what you've got, and because you're in noncompeting but complimentary businesses, then that's what makes it so powerful.
Strategic Partnerships
That's just one example. And if you do that, then that can pave the way for a good strategic partnership. You can reach out to people on social media or LinkedIn or via email, and that is going to put you in front of a whole lot of people. Now treat these relationships just like you would if you were meeting someone at a dinner party or a business event. Don't just ram stuff down their throat, but start a conversation, ask the question if this sort of stuff would be valuable? And with any luck, you will be able to stand out from the crowd and form good strategic relationships using digital marketing and social media.
Now if you've liked that, please tag someone or share it with someone or give us some love. And very soon, I'm going to be releasing our new free mini course called "Tools of the Trade". So stay tuned for that, and all the best for this Friday afternoon. Have a good one. See you.
For tips and future Facebook Lives, join the Bluewire Media Facebook page.
MY MARKETING METHODOLOGY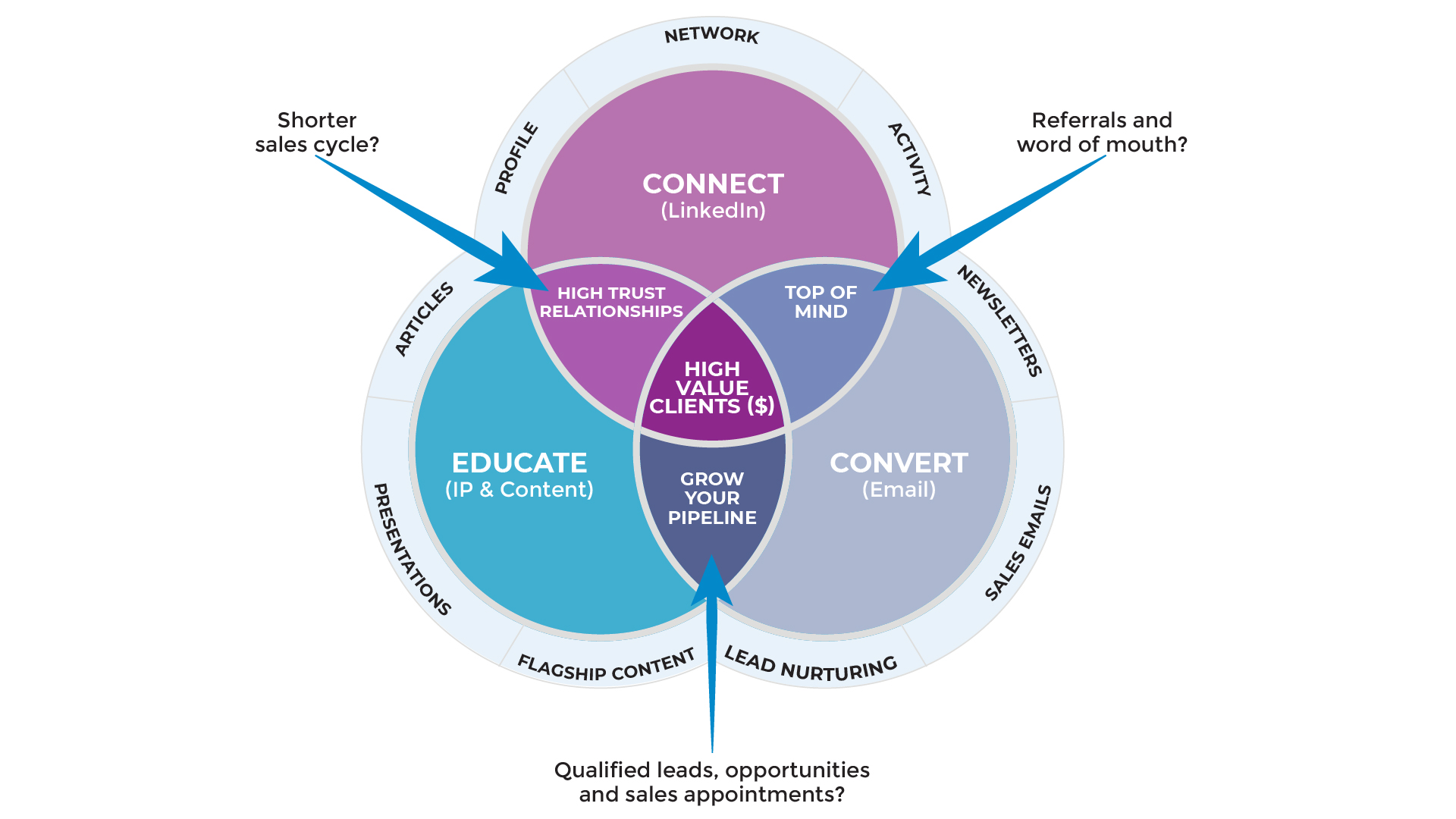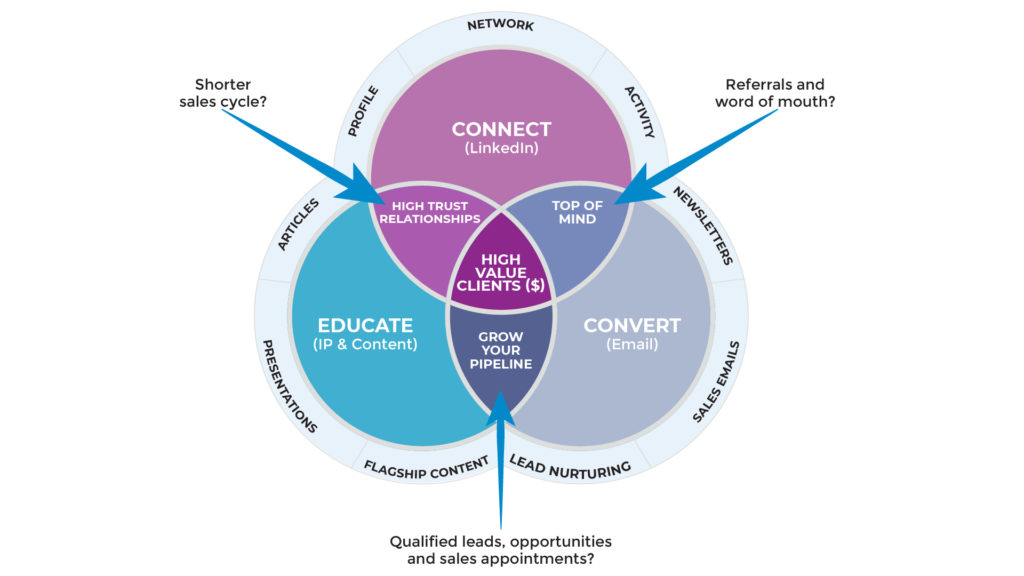 PS. When you're ready, here are 6 ways we help
consultants & advisors

grow:

1. Web Strategy Planning Template (PDF). Our flagship 1-page tool we co-created with David Meerman Scott. It's been downloaded over 1 million times and featured on Forbes.

2. Read a free chapter from our book. Web Marketing That Works --- an Amazon #1 best seller.

3. Join the private group on Facebook. Access free training resources, and hang out with 2,300+ peers.

4. Discover your marketing score. Take the 40 point Marketing Scorecard (in < 6mins) and get a customised report.

5. DIY for $7. Get the Complete 50+ Script Library for connecting with people to winning clients.

6. Let's brainstorm how to fill your marketing funnel.

DM the word "INTERESTED"

via Messenger

 or 

book a 20 min slot to talk

 on Zoom.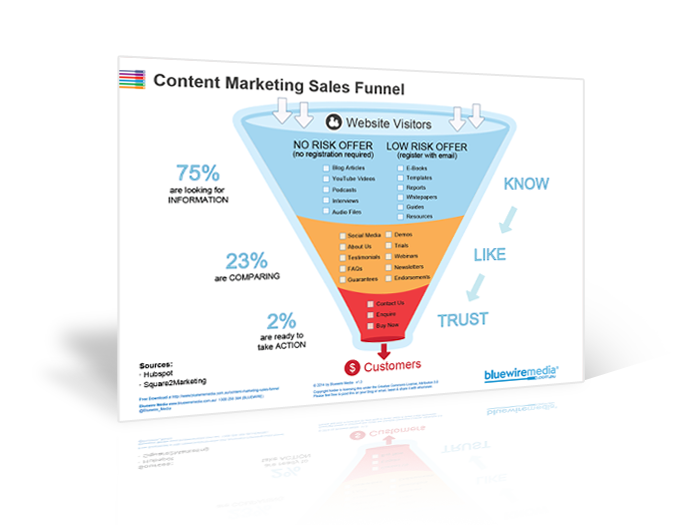 Content Marketing Sales Funnel
Your content marketing sales funnel is all about getting people to know, like and trust you by nurturing them with the right information at the right time.