Updated on July 19th, 2017
Congratulations!
You can download your free first chapter of Web Marketing That Works (26 pages, 948 KB – PDF) and it's also in your inbox.


WEBINAR INVITE: Make High Ticket Sales via LinkedIn (in just 10 Minutes a day)
ATTN: High-trust, relationship-based businesses selling high-ticket products & services
*Replay is available if you register.
Who is this for?
It will be particularly useful if you use LinkedIn and you:
Sell high ticket products or services ($10k+ annual client spend).
Are in a high trust, relationship-based business.
Are looking to scale through digital marketing
Are looking to leverage your existing networks and the IP you've built over the last 10+ years.
You have existing clients who know, like and trust you.
We'll cover:
In this masterclass, you're going to learn…
6 steps to attract leads & make high-ticket sales on LinkedIn in just 10 minutes a day.
How to develop high-trust relationships on LinkedIn.
How to put your best foot forward on LinkedIn.
The 3 pillars of the High Trust Marketing System.
BONUS: LinkedIn PDF bundle when you register.
How to move forward and learn the exact scripts and processes to succeed.
LinkedIn Resources:
Here are some resources to get you started - they're instant PDF downloads.
What people have said lately:
"Thanks Adam - solid presentation mate! Got the book too - it's great" ~Andrew M
"Thanks Adam, I found the webinar very useful." ~Stuart F
"Thank you Adam, was great content." ~Sandra L
"Thanks for the webinar this morning really enjoyed it. I have walked away with some tips that I will certainly test. Thank you for sharing." ~ Kathy C
Buy the whole book for $25 USD.
Buy our Amazon #1 best seller Web Marketing That Works. It includes shipping anywhere in the world.
Chapter Outline
Chapter 1 Your web universe: content, web and inbound marketing
Chapter 2 Web strategy: defining your buyer personas
Chapter 3 Flagship content: the cornerstone of your web marketing
Chapter 4 Content marketing: know, like and trust
Chapter 5 Web marketing metrics and reporting ROI
Chapter 6 Building your own website
Chapter 7 Landing pages: design, psychology and leads
Chapter 8 Email marketing: the ultimate tool for web marketers
Chapter 9 From blogging to content marketing: attracting leads, not just readers
Chapter 10 Video, audio and image publishing: YouTube, webinars, infographics and podcasts
Chapter 11 Publishing content and finding your editorial rhythm
Chapter 12 Search and keywords: search engine optimisation
Chapter 13 PR on the web: influencer outreach
Chapter 14 The secret to online is offline: events and speaking
Chapter 15 How to sell online while keeping your integrity
Chapter 16 Social media in action: strategy and guidelines
Chapter 17 LinkedIn: the essential social network for business
Chapter 18 Facebook: a gold mine for marketers
Chapter 19 Twitter: a communication revolution
Chapter 20 The road ahead
So before you go…
Get the whole book for $25 USD now >>
Web Marketing That Works
If you're looking to master social media, conquer content marketing and attract customers online, this book is your blueprint.
In this step-by-step guide to web marketing you will learn:
how to distill your digital marketing strategy to a single page (pg 6)
how to uncover your flagship content (pg 23)
how to avoid the 5 key pitfalls that risk derailing every website project (pg 47)
why premium content and landing pages in tandem can be the difference between failure and knockout results
why email is the ultimate web marketing tool (p 77)
how to amplify traction on your blog. Hint: you don't need more content (p 90)
how to connect with influencers in 10 simple steps (pg 140)
why the secret to online is offline (pg 149)
how to create your editorial calendar (pg 116)
how to top Google search results without knowing SEO (pg 125)
how to sell online without losing your integrity (p 161)
how to develop a social media strategy and guidelines (pg 178)
With over a decade in the marketing trenches of their own business Bluewire Media, Adam Franklin & Toby Jenkins reveal the truth about Web Marketing That Works.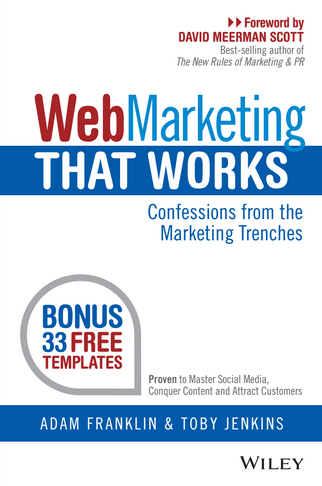 Get Web Marketing That Works for only $25 USD >>
What do I do now?
There are 2 options:
or
2. No thanks – I'm happy to work this out myself for now. Just the free chapter please.
Either way is fine with us :-) But we want you to know that we stand behind all of our products with a personal, no questions asked 60 day money back guarantee.
Regardless of what you choose, a link to the free chapter has been been sent to the email address you supplied, so you can access the them at any time. The email has our personal details on it, so if you have any questions or feedback, please feel free to get in touch.
Thanks,
Adam Franklin & Toby Jenkins
Authors of Web Marketing That Works
Founders of Bluewire Media
PS. Your email will come from [email protected], so check your junk mail if you don't get it immediately!
PPS. If this your first download from us, you can also expect our popular Bluewire News in your inbox.
PPPS. INVITE: On-Demand Workshop:
If you're ready for some more training, I want to invite you to join me now for an online workshop:
How to Create Your Digital Marketing Strategy (And Attract More Leads on Autopilot!)
Register here for the exclusive On-Demand Webinar hosted by Adam Franklin.