Free tool to grow your email list (fast)
Updated on October 30th, 2019
Grow your email list fast
One of things that we've learnt in our marketing journey is the importance of growing our list of email subscribers. We are always testing better ways to grow our email list and we wanted to share the best tool we've found.
It's a free product called SumoMe ListBuilder from the kind people at AppSumo and we've been using it for the last 2 months. If you're on WordPress, you can download the WordPress plugin for SumoMe (470 KB – zip file) for free.
Most importantly this tool is a pop-up that is non-annoying. Sounds like a contradiction right? But it only pops up when people are about to leave your website — as in when people move their cursor over the "X" or red dot to close their browser tab or are about to type in a new website URL.
It also syncs new subscribers smoothly with your MailChimp, AWeber, Constant Contact, Campaign Monitor or GetResponse account, or you can download contacts in a CSV file.
We've found the key to a good conversion rate is having a top quality offer. We've chosen to offer new subscribers the 33 marketing templates from our book (you'll already have all of these). Since the offer is compelling we've seen our conversion rate vary between 4 per cent to 16 per cent each day compared to the average 1.6 per cent. So the moral of the story is ensure you have a valuable offer!
Here's what our pop-up form looks like (and remember it only appears when people are leaving our website).
Here's what ours looks like:

The SumoMe ListBuilder is totally free and it takes literally 37 seconds to install on your website.
To show you how well it's been working for us we've had 874 people subscribe in the last 75 days. This is over and above people who subscribe by downloading one of our templates via a landing page. For a refresher on landing pages, revisit the Landing Page Design Template.
Also, if you haven't seen Donna Moritz's free Create Traffic Driving Images video training, please check it out (it's free when you enter your email address). Highly recommended.
Also, here is a great new resource for How to Launch Your Product and Grow Your Email List Successfully 
This is from the regular Bluewire News
If you'd like to join 11,889 other marketers and get these as emails direct in your inbox, please subscribe here.  Plus you'll get 33 free marketing templates from our book.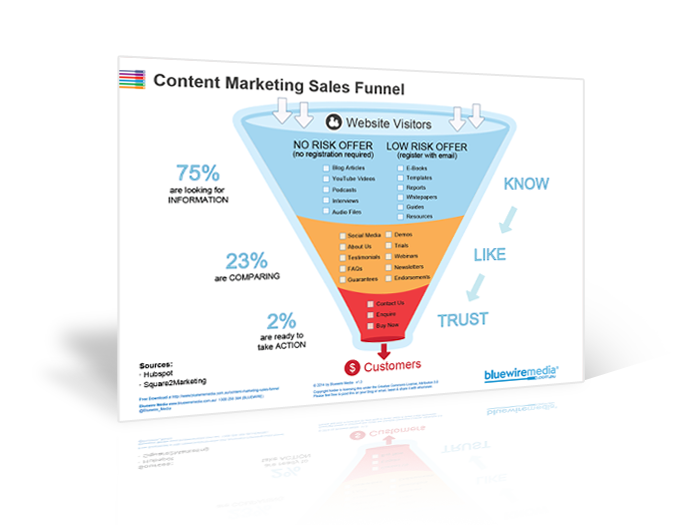 Content Marketing Sales Funnel
Your content marketing sales funnel is all about getting people to know, like and trust you by nurturing them with the right information at the right time.