WMTW 094: Greg Cassar and the Profit Triad [podcast]
Podcast: Play in new window | Download
Subscribe: RSS
Updated on August 13th, 2015
"We buy based on emotions and justify based on logic." Greg Cassar (Tweet this)
In this episode I chat to Greg Cassar about direct response digital marketing, and the profit triad.
Show-notes:
Key points
Greg is the owner of The Collective, a Digital Marketing Coaching business.
Build something sticky in order to build something sustainable.
Stats are important, monitor and learn from them.
Every business should have a blog to establish authority.
Have a marketing funnel; give them something in exchange for their email address.
Acquire people through online mediums but then take them offline.
Profit Triad
How do we get more clients? – Use advertisements.
How do we get them spending more? – Add more value to your products.
How do we get them coming back again? – Re-market to your clients.
People mentioned
Links mentioned
Get in touch with Greg
Did you like this podcast?
If you liked this podcast, please click to tweet this show >>
Subscribe
We would love you to subscribe to Web Marketing That Works and please leave your honest reviews via:
Stitcher radio
iTunes
SoundCloud
Bonus 33 Free Templates
Download the 33 free templates from our new book.
Or order the book online: Web Marketing That Works: Confessions from the Marketing Trenches (Wiley 2014).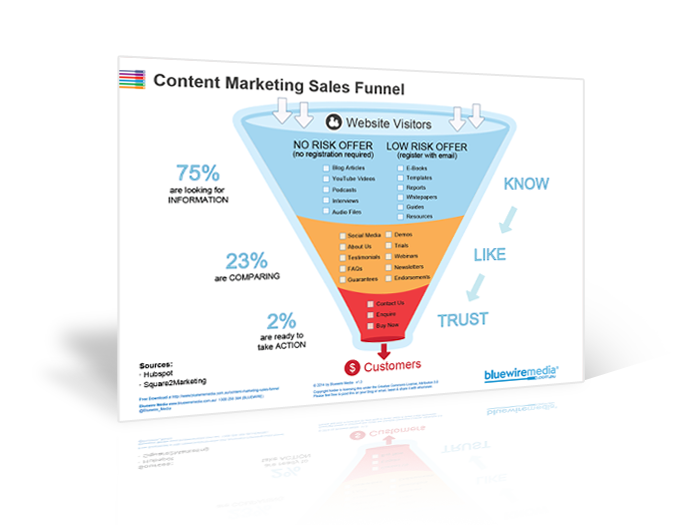 Content Marketing Sales Funnel
Your content marketing sales funnel is all about getting people to know, like and trust you by nurturing them with the right information at the right time.