Grow with Twiends
The competition on Twitter is stiff. Everyone is working to promote their brand to the largest audience at all times, and it takes enormous amounts of effort to cultivate a brand that really stands out from all the rest. Twitter has a unique capacity to let creators build a brand and form an audience, since it has 330 million monthly active users. This user base lends plenty of room for growth, and if you continue reading, you will learn the best ways to grow your following on Twitter.
No need to be discouraged by the intimidating size of Twitter's platform and how crowded it can feel. There are plenty of ways that you can conquer your competition so that your profile has as much exposure as possible. Many of the techniques that we will outline in this article are from Twiends, which focuses on helping users optimize their Twitter accounts.
Let's look at how to grow with Twiends
Play by the rules
The best way to start building a second-to-none profile is to keep within Twitter's Terms of Service. All of the following tips are aimed at keeping you in Twitter's good graces so that you don't risk getting locked out or facing other punitive restrictions such as a reduced number of accounts that you are able to follow within a day.
The main way to get into trouble with Twitter involves buying followers. This is not an ideal way to grow your account not only because Twitter is adept at catching on when accounts engage in these activities, so it is likely that you will get caught, but also because your account is much more valuable–and truly the most profitable–when your followers care about your content. Take it from us, keep it real.
Show off a little
Social media is a place to see and be seen. If you want to increase your followers, you should prepare to be seen. This entails setting up an attractive profile on Twitter. Each part of your profile should be filled in so that your followers can get an immediate sense of who you are and can know what to expect. Your present and future followers want to see a quality profile picture that tells them something about your brand, a real location, a cover photo, and a biography.
Just because you need to check all the boxes while building your profile doesn't mean it has to be run-of-the-mill. There are plenty of ways to write a biography that makes it all come together in a way that is truly entertaining.
Find your online niche
Twiends has several great ideas for organically pumping up the participation from your Twitter followers and ultimately growing your market on Twitter. First of all, you will want to be active on the platform, posting often but not too often. We recommend daily, but you certainly should not live-tweet your morning routine (unless you run a skincare blog or a breakfast food page — you get our point).
A great way to obtain relevant followers is not only to Tweet, but to participate with others. Retweet and comment often! The accounts that see your comments are probably interested in what you have to say, and you will probably get a few follows out of it!
Twiends also recommends making polls on Twitter. People are very opinionated, and they will be all too happy to share when all it takes is a click. You can do this as a fun way to connect, but you can even use it as an honest source of feedback to test what your customer base might like to see more of.
Another way to provoke opinions from your followers is by asking questions. These, again, can be silly or informational, but Twitter users enjoy answering both! Users also want to see how their friends will answer, so your questions stand a good chance of getting retweets in addition to comments.
Make yourself known
Many businesses find it helpful to branch outside of the platform itself and bring followers in that way. Include your company's Twitter handle on your website and on articles that you post. Direct people to your Twitter account by linking up the account to your company's website. In short, put your handle on everything. It's more effective than passing out a business card because if you follow the advice we gave earlier, your followers will see you posting content daily. They have an interactive and continued access with your brand.
Also be sure to reach out to your in-person family and friends. These are the easy follows you can gain, and your supportive loved ones can recommend you to other potential followers on Twitter as well.
Go do it – grow with Twiends!
Hopefully now you can see that you don't need to take expensive or rule-breaking measures to grow your Twitter following. It doesn't even take very much time. If you Tweet thoughtfully, you can grow organically with followers who are genuinely interested in you and your brand.
About Sara Kissel
Sara Kissel is an avid writer and law student based in Indiana. Her areas of interest are diverse but she especially enjoys learning about the latest in digital marketing and social media and how it intersects with the law. In her free time she likes baking and going on runs.
BLUEWIRE MARKETING METHODOLOGY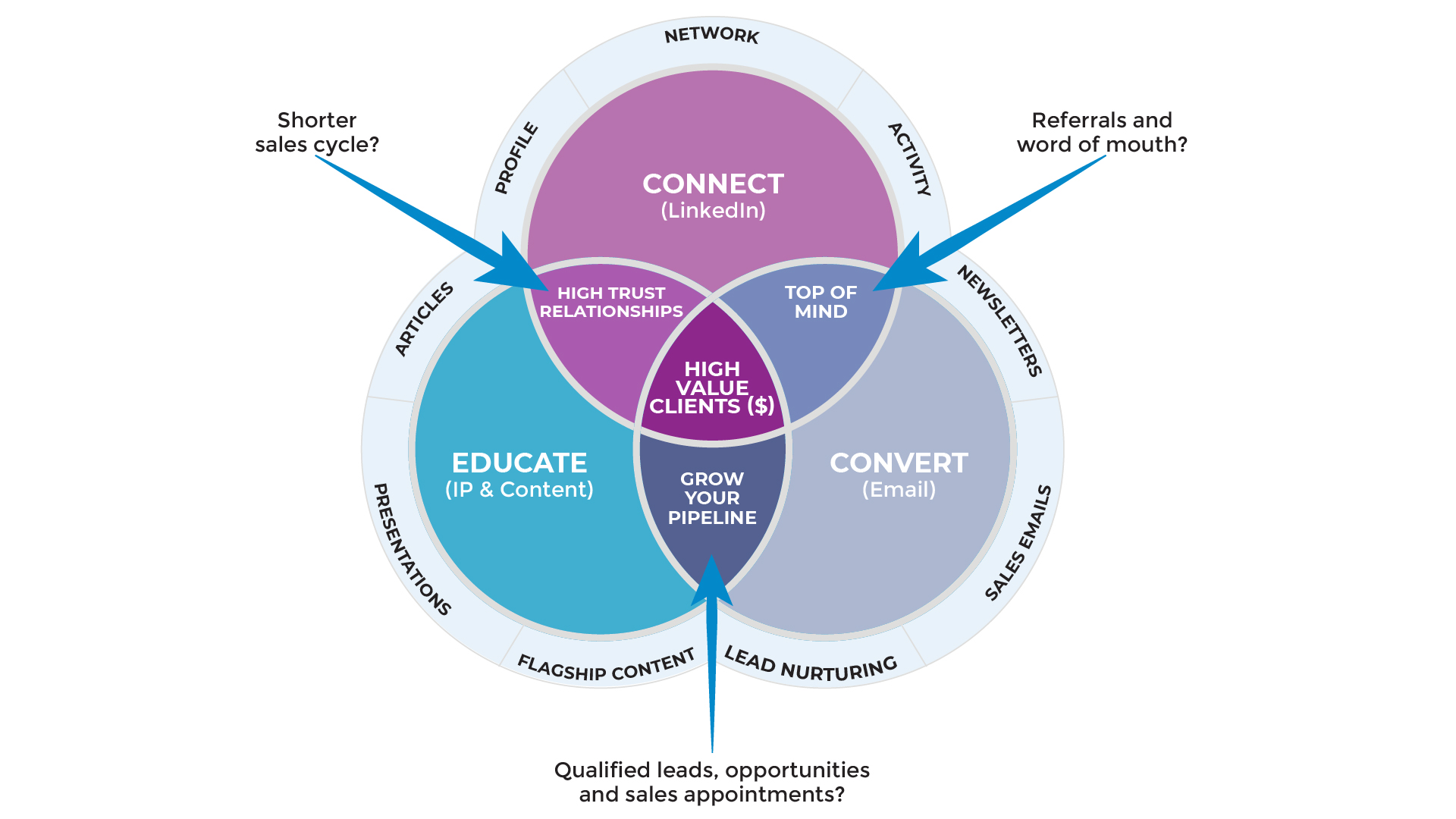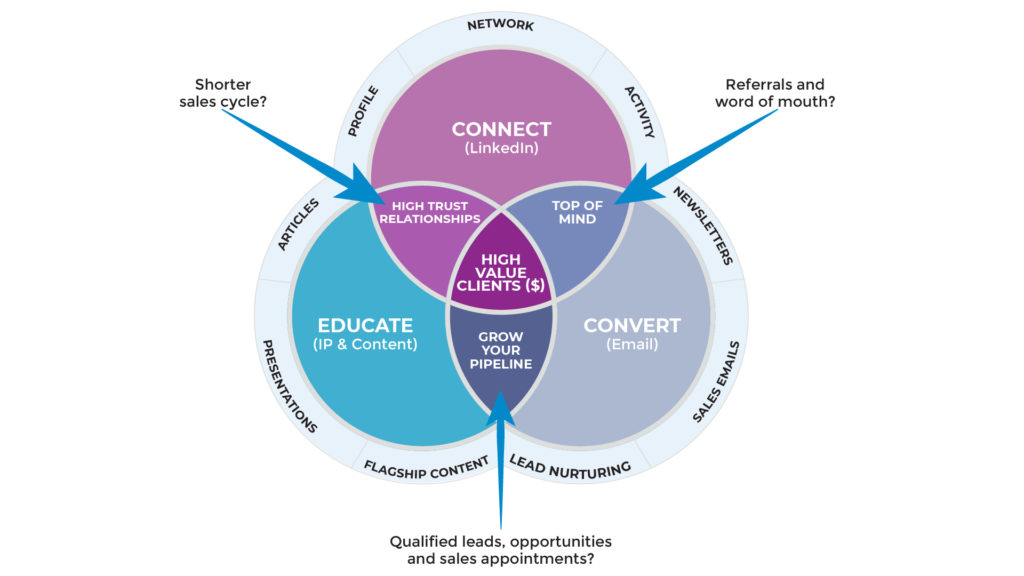 PS. When you're ready, here are 6 ways we help
consultants & advisors

grow:

1. Web Strategy Planning Template (PDF). Our flagship 1-page tool we co-created with David Meerman Scott. It's been downloaded over 1 million times and featured on Forbes.

2. Read a free chapter from our book. Web Marketing That Works --- an Amazon #1 best seller.

3. Join the private group on Facebook. Access free training resources, and hang out with 2,300+ peers.

4. Discover your marketing score. Take the 40 point Marketing Scorecard (in < 6mins) and get a customised report.

5. DIY for $7. Get the Complete 50+ Script Library for connecting with people to winning clients.

6. Let's brainstorm how to fill your marketing funnel.

DM the word "INTERESTED"

via Messenger

 or 

book a 20 min slot to talk

 on Zoom.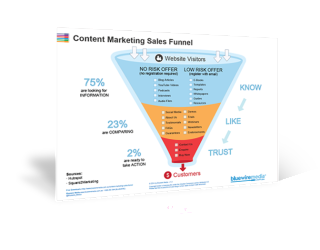 Content Marketing Sales Funnel
Your content marketing sales funnel is all about getting people to know, like and trust you by nurturing them with the right information at the right time.