How Machine Learning Will Resurrect Content Marketing
What's the biggest struggle for content marketers in 2016?
Readers are facing content overload and marketers are struggling for audience engagement.
Many companies are publishing more content. In fact, TrackMaven studied 2 years of their data from 8,800 brands. It showed an increasing number of brands were creating lots and lots of content, but seeing less and less impact.
Unfortunately, content doesn't have the same powerful effect to grow your business as it used to.
What are we to do with too much content and a decreasing amount of return? It's time to get smart with it using machine learning software.
What is Machine Learning?
Machine Learning is a sub-set of artificial intelligence where computer algorithms are programmed to learn from data and information. From their initial programming they don't need to be manually updated, but are able to improve their algorithms by themselves.
Their output consistently adapts to the information it takes in. The more information you feed it, the more accurate and personalized your results are.
You can see machine learning in spam filtering, pre-populating search engines, new ranking, self-driving cars, optical character recognition (OCR), and more recently in a game of GO.
Photo: Google
Machine learning and content marketing personalisation
Right now the problem is too much content and not enough engagement.
As a content marketer you consistently reference your blog and social media analytics to ensure that your content strategy produces relevant and shareable content.
You're on your own to decipher that data. You ask yourself:
"Do these metrics matter?"
"What's the scale of the data being pulled?"
"How relevant and useful is this information to me?"
"What exactly do I do with this information?"
With machine learning software you are able to make sense of all that data and how it personally impacts your business online. You are able to leverage it to impact your content marketing strategy specific to your brand.
Leveraging your data to create high impact content
There is tons of data that is constantly being created, analysed, and utilised to help track and improve the things we do.
In fact we produce an astonishing 2.5 quintillion bytes of data everyday!
So how do we make sense of all this data and leverage it to positively impact your content marketing strategy?
Machine learning tools like Atomic Reach analyse your content and social engagement data and affect the recommendations and insights of your audience behaviour.
As time progresses these recommendations adjust for all users, analysing your audience's engagement patterns and the content you produce. From these patterns the system is able to forecast when you should share articles, and which aspects of your blog actually matter to your reader. These forecasts are called predictive analytics.
When you apply machine learning to your content strategy you will:
be able to pinpoint which areas in your article increase readability for your audience (Title, images, word selection, paragraph density)
be able create an effective content strategy by unlocking top performing topics
reduce time wasted on writing about topics that have generated low impact in the past
discover which audience is engaged with your content
be able to create a data-driven blog style guide that then allows for more creativity
never again create dry, too factual and too repetitious blog content
be able to create content that is as relevant, engaging, and adaptive as your audience
You will always take into account your audience
@Atomic_Reach @GrowMap Most auto scheduling tools don't take in to account your core audience and just look at your followers…

— Ian Anderson Gray (@iagdotme) February 23, 2016
The foundation of every successful brand and blog is that they are able to create content that engages their audience.
Machine learning systems work better than any non-intelligent automation system.
Many successful marketers use social media automation tools to constantly share their content.
The issue is that most of these are bots and lack a human touch. It's marketing for marketing's sake, instead of marketing to establish a true connection.
Machine learning algorithms test thousands of variants of marketing messages, and automatically determine what works and what doesn't from your data. This guides your marketing strategy, and gives breathing room for creativity in your strategies. It takes away time focused on operational tasks and increases productivity.
Monitoring your content and social media performance with intelligence
Most of us still manually monitor our page views, unique views, time spent, and other metrics for content and social engagement when determining the direction of our marketing strategy.
There are problems with this method, that most of you have probably encountered, like:
misinterpreting your data – the cause of a peak or a dip in numbers
being shown irrelvant metrics that is strictly focused on keywords instead of identifying keywords in relevant conversations
being unable to gauge sentiment
improper segmentation
not having enough data to develop a proper strategy
When you monitor your engagement data for your content and social media using predictive analytics, it's not simply showing you how many clicks your blog posts generated. It is showing you how to improve and maintain consistency alongside your audience's engagement behaviour, honing in on what created that engagement.
For example, your engagement data showed that your audience loved that blog post about the "7 Steps To A Revenue-Driving Social Media Strategy", you would then ask what ingredients to your blog post recipe appealed to your readers?
With a performance dashboard that gives you predictive analytics, breaking your article down into factors like title, sentence length, link quality and emotion puts together the puzzle for how to create an adaptive blog checklist.
Will you be sharing this?
Engagement. That's what every content marketer and social media professional seeks. We produce tons of content, share and interact with our community, but what is the most successful way to build a loyal following?
By using machine learning in your content marketing strategy you'll be shown what's important now, be able to forecast and write about what's relevant now and not what was relevant this time last year, and create content that grows alongside your readers.
Have you experimented with machine learning in your content marketing strategy? Feel free to voice your thoughts and ask questions in the comment section and share it with those who need that missing piece to their content strategy puzzle.
About Amanda
Initially a self-taught social media enthusiast, turned Atomic Reach Marketing Coordinator, Amanda Chiu writes posts, shares news, seeks industry knowledge, and engages with online communities daily. Her attempts at clearing her ever-growing reading list continues to be unsuccessful, and she really does believe that sharing is caring. Follow her on Twitter at @manda_auror
Bonus 33 Free Templates
Download the 33 free templates from Toby and Adam's book.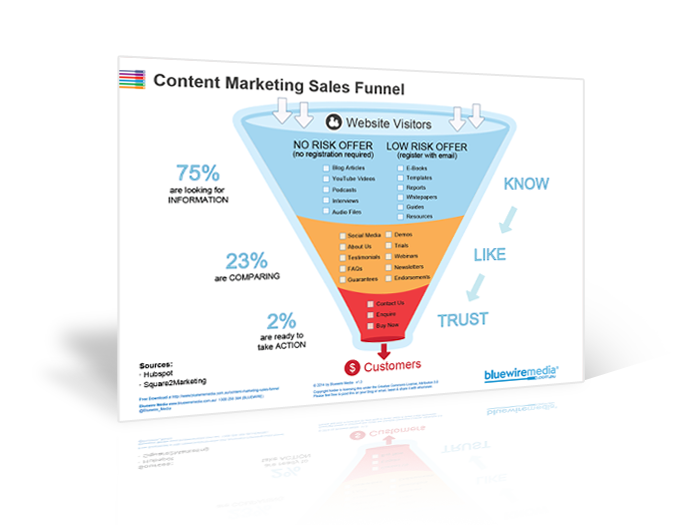 Content Marketing Sales Funnel
Your content marketing sales funnel is all about getting people to know, like and trust you by nurturing them with the right information at the right time.