How Pozible Crowdfunding Launched Sofi Spritz To National Distribution
Updated on April 16th, 2015
[UPDATE: Tom has launched a new Pozible campaign to raise another $10,000 and decide between 2 new flavours. Check it out here for more details.]
A rugby playing lad from Brisbane, Tom Maclean is certainly not the first person you would expect to be developing an Italian style wine spritzer.  After years in corporate London and then a few more in Sydney, he was itching to sink his teeth into a creative & entrepreneurial project.
Sofi Spritz was the result.
I've followed and joined in with Tom's journey. From the original idea to product testing (and tasting which was delicious!), from initial logo concepts to knocking on bottle shop doors. And now he's hit his goal – national distribution with Dan Murphy's, Australia's largest liquor retailer.
I know plenty of people who've used crowdfunding, but Tom was one of the first people I know personally to use the crowdfunding platform Pozible. For this post, I asked him to share some of his journey and specifically the lessons he learned – what worked and what didn't work – in leveraging Pozible to launch Sofi Spritz to national distribution.
Enter Tom…
Background:
Armed with the inspiration and memories of travels through Italy, I dove into months of research into wine making, juices, extracts, bottling and distribution. The end product was Sofi Spritz. It was inspired by the Italians' love of aperitivo – Sofi is made with blood orange and bitters over a Riesling base with a dash of sparkling water.
Soon after coming up with a prototype, I teamed up with Simon Gilbert, a 5th generation master winemaker, to get the taste just right. Through friends, I was introduced to Charl Laubscher of Love & Money for the branding & design and Erika Geraerts of Willow & Blake for social media & copy.
With the team in place, and the product already testing very well at local farmers' markets, it was time to launch a $10,000 Pozible crowdfunding campaign to fund necessary packaging improvements that were required for me to get the national distribution.
The crowd funding campaign was successfully completed 6 months ago and having just delivered last week to Dan Murphy's, Sofi is now stocked in every store just in time for the silly season!
Crowdfunding
We decided to run a crowdfunding campaign for SOFI after testing the market on a small scale – primarily in Bondi, Sydney.  We were getting fantastic feedback from farmer's markets and in-store tastings but knew that we would need to grow towards national distribution for our little girl to survive in a market dominated by the big boys.
We wanted to change the packaging format to fit online sales and our belief was that a Pozible campaign would not only help to fund the necessary packaging improvements, but it would also give us an opportunity to tell the story behind SOFI and to prove that there is a market out there, waiting for her.
What worked?
Bloggers:
We contacted bloggers as soon as we launched the campaign.
We emailed as many food and drink bloggers as we could find – providing the background, links to the campaign and offering free samples (a 4-pack and a lime for serving).
Many accepted the samples and the reviews were overwhelmingly positive. This certainly helped push the campaign along and provided valuable ongoing PR.  We sent out an update to our campaign summarising all the blogger posts which helped to give some independent verification of the taste:
 Personal Networks:

We thought hard about the best way to approach personal networks.  We wanted to make sure they were aware of the campaign but certainly didn't want to hassle or come across as pushy.  We also needed to make sure that they were aware of the crowdfunding deadline (which we set at a fairly short 20 days)  and hoped they might help to spread the word on our behalf.
The most effective thing we did was create a Facebook Event which coincided with the end of the campaign so people knew not to put off participating or they would miss the cut-off.
The main advantage of a Facebook Event was that friends could opt out and would not receive updates so it avoided harassing those who weren't keen.  Those who were interested would automatically get updates that the end of the campaign was approaching as we put the "event" at the time of the campaign completion. This did cause a little confusion as some supporters thought there was a party somewhere at that exact time!
Emailing all friends & family was also crucial.  We avoided a bulk group email and contacted each individually in a relaxed way – just linking to the campaign and inviting feedback.
Content:
We put time and effort into telling SOFI's story using plenty of photos from our social media which is focussed on Instagram to break it up and make for an easier read. In fact, post-campaign feedback from Pozible was that we had too many images. We thought pictures were crucial to convey the lifestyle and occasion of drinking SOFI and felt that including lots of pics was the only way to do this.
We wanted the copy to come in under 600 words to limit reading time to a manageable couple of minutes and we wanted it to be informative but entertaining and hopefully, a little funny.
What didn't work so well:
Plan and prepare early in the product development process:
I wish we had taken photos and videos of the first steps (eg focus groups with girlfriends, the many prototype iterations, the final production and winemaking process). This could have all been compiled at the end to create the all-important video. This also would have allowed us to bring potential backers along on the journey of initial product development.
Timing:
We chose a short campaign length (20 days is around the minimum recommended by Pozible) because we did not think we would benefit from more time and wanted to close the campaign before the end of summer.  Pozible had told us that most pledges come at the start and end of the campaign so you typically see a big lull in the middle requiring real effort to keep up momentum.  We thought that 20 days would be enough to get any short lead PR, such as the bloggers, completed but would not be so long as to risk losing momentum.
If we had launched it in the middle or start of the summer season when we were doing lots of events, it may have made sense to run a longer campaign.  In fact, if we had our time over, we would have launched in spring and closed the campaign at the height of summer.
Video:
We were well aware that a video dramatically increases the likelihood and scale of success with crowdfunding.  However, we decided that it would require too much time to do the video justice given we hadn't planned for it in advance.  The team behind SOFI are spread across the country (sales run out of Sydney, winemaking in Mudgee and social media/creative in Melbourne) – all of us would have needed to be involved in the video to tell the story well.
Others will tell you that the project manager sitting in front of a webcam to tell the story is enough (and for most projects, it probably is) but we felt that SOFI was such a team effort that we resisted the temptation to do a rushed job of it. In the end we settled for a picture only. This is what our page looked like:
Was crowdfunding worth it?
Definitely.
We funded significant packaging improvements: – a new 4 pack, a new carton and a new bottle and suggested serve:
And ultimately backers from all over the country have been able to share SOFI with their friends.
We now have national distribution in place with Dan Murphy's, Kemeny's and our growing network of independent retailers (all listed on www.sofispritz.com), and we can't wait to introduce SOFI to the rest of the WORLD!
Much of our success to date would have been far less likely without the Pozible campaign and we are now super excited about the summer to come.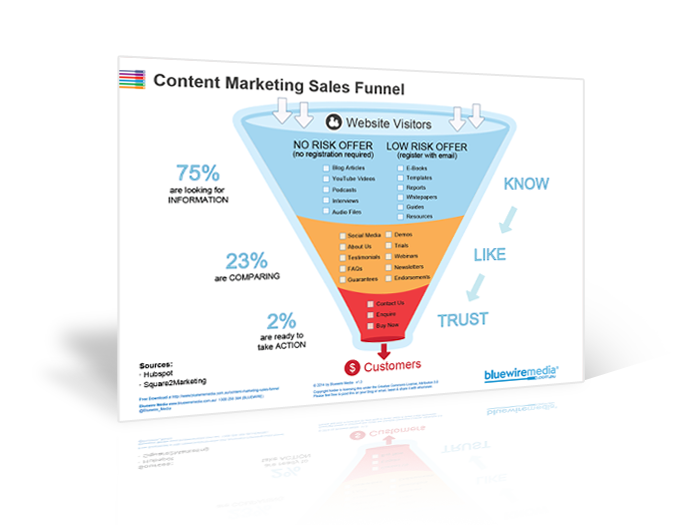 Content Marketing Sales Funnel
Your content marketing sales funnel is all about getting people to know, like and trust you by nurturing them with the right information at the right time.