How Short Emails Can Significantly Improve Your Response Rates
This is a guest post – Bill Acholla is a digital marketing consultant, professional blogger and a writer specializing in content writing and marketing at Billacholla.com. He works closely with B2B and B2C companies providing the right content that generates social shares, comments, and traffic back to their business blogs.
Welcome Bill…
Have you had the chance to check your inbox lately?
From real estate to loan offers, phishing schemes, Facebook notifications and "Hot Singles in Your Area"- you're likely to come across a sea of spam messages in your email inbox. Filtering out the relevant messages seems like a hassle, doesn't it?
Now imagine if you're a digital marketing expert hoping to use email to reach out to your customers. The biggest challenge is how to use email to improve your response rates? Given that your target audience is likely to be on the run 24/7, with barely enough time to sit and read through all emails, what can you do to make sure that your message gets across to them?
Email marketing is the new frontier. If used wisely, this tool will shoot your ROI sky high. There are several ways through which you can use emails to significantly improve your response rates.
Here's a look at a few fool-proof ways:
1. Try the "Because" Trump Card
The potential of email marketing is practically limitless. It allows you to reach out to more and more readers and is far more effective than direct face-to-face marketing. However, there is no way to ensure that the client has received the email pitch, making it difficult for you to convince your audience via email.
In this regard, you simply cannot underestimate the power of the word "because" in email outreach posts. Using this simple and powerful word warrants the reader that the email message is specifically written for them. It also helps them understand the "why" of the email message and focuses on the reader benefit.
Here's how I used the word "Because" in my email outreach campaign:
Here's the response I got;
2. Use the Power of Content
Generating leads through creating viral content is a strategy that guarantees success in email marketing. It is easy to get all tangled up when writing great content. But when it comes to emails, you need to get to your message swiftly and succinctly. Keep your email message short, simple & action-oriented and follow a problem-solving approach.
Reach out to anyone with confidence and zeal. Be very specific in your call to action. The best way to do so is to create a compelling message that offers a hyperlink directly to your landing page. High click-rates from email spammers offer an insight on how images (attached to your email messages) can improve the response rate.
Below is an example of a short email that I used to reach out to an expert blogger for guest blogging:
And the response was as below:
3. Pay Heed to your Headlines
As they say that a book is judged by its cover, your email is judged by the subject line. Sending across an email with a vague subject line is bound to leave your email unopened for a long time. In contrast, flooding the email subject with clichéd words like "New, Amazing and Hot" will have your email address marked as spam permanently.
"The key is to strike a balance. There are several time-tested keywords that will capture the reader's attention in a jiffy", says Jon Morrow.
For instance, if you're an online retailer in search of new leads and customers, emails with the tagline "HURRY! 50% off sale ends in 2 days!" is bound to get more traffic and responses than only "50% Sale!"
4. Stay Away from SPAM Triggers
If you want to promote your blogging business, planning out your email is as important as assessing guest blogging opportunities. When it comes to email writing, there are several "spam triggers". These include key-terms that will compel your audience to mark your message as spam, and include (among other things) excessive punctuation marks and CAPS.
"One of the best ways of improving your digital marketing skills is to try and learn from the best", says David Moth from EConsultancy. He recommends all email marketers to be wary of terms that would render the email messages as "too pushy or salesy."
In Christmas 2012, Sony launched a viral email marketing campaign to promote and sell PlayStation Vista to all existing PlayStation Vita and Plus subscribers. The email content was tailored to appeal to subscribers in all market segments and across all geographical locations.
Here's what their email message looked like:
Through this campaign, Sony was able to reach out to an audience of 4.2 million subscribers across 16 distinct market segments. A total of 9236 subscribers connected to the central link, via their Vita Console. Sony's investment in this email marketing campaign was €5,000 and was able to generate ROI of 580x for every euro spent.
This shows that when you plan your guest blogging, it is necessary to plan a target email side-by-side. Sending over the blog post with a small and concise email is sure to improve your response rates unlike anything else.
5. Proofreading is a Must
Just as you proofread and edit your blog post at least twice before forwarding it, you need to proofread and scan your email for any typos and other errors. Make sure that the vocabulary and tenses used are correct. The email should not contain fancy and difficult-to-comprehend words.
Regardless of what some marketing gurus might tell you, do NOT use large graphics on top of your email. Not only are you wasting valuable space, you're also making it difficult to load and review for your reader. Keep all the graphics for the end of your message. It is best to first send the email to your own self to see how it appears, before forwarding it to your audience.
The Final Verdict
Unlike direct marketing, email marketing is here to stay. According to a study by Salesforce, 77% of all consumers prefer permission-based marketing communications via email. In 2013, 44% of all email recipients ended up making at least one purchase on all promotional events.
If you're planning to use influencer outreach best practice as a resort to acquire more leads, you should create compelling emails first. So rise above the spam level, get in-touch with us and master the art of effective email writing, editing and marketing! Lo and behold, the power of email marketing for improved response rates.
About Bill
Bill Acholla is a digital marketing consultant, professional blogger and a writer specializing in content writing and marketing at Billacholla.com. He works closely with B2B and B2C companies providing the right content that generates social shares, comments, and traffic back to their business blogs.
Bonus 33 Free Templates
Download the 33 free templates from Toby and Adam's book.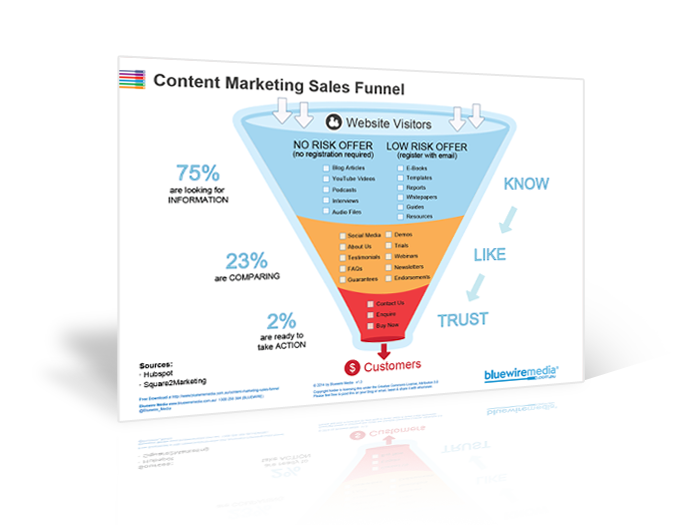 Content Marketing Sales Funnel
Your content marketing sales funnel is all about getting people to know, like and trust you by nurturing them with the right information at the right time.