How to be happy in a digital world?
Updated on September 13th, 2020
Happy in digital world
Due to COVID-19 we all, at least most entrepreneurs need to find a (new) way to be happy in the digital world.

Now let's look at the word 'digital'.
Did you know that Digital is derived from the Latin word digitus, meaning finger, and refers to counting on the fingers.
But it also refers to systems, processed in a numerical way. Whether it concerns your computer, photography, it is technology, this data-driven and online logic that helps you to be visible online as an entrepreneur.
However, the energy that you put into those systems, your marketing is tangible for your customers.
We all know that what "touches" your customers is the 'ultimate nectar' that bees attract, right?
Now you may be wondering in what capacity nectar has to do with happiness in the digital world?
I believe that in everything you do, the energy you bring into the 'tasks' of entrepreneurship 'exhales' in your marketing.  For example, in the way you present and position yourself and how effectively and efficiently you use the digital world.
Time is the most precious value, and to anyone who thinks it is a waste of time…  Ask someone who is sick or has become ill from the stress, to use all those systems and keep them running. You can not negotiate with death, unfortunately ;-)
Being lazy
Being lazy has enormous resistance in many people. Yet letting go, a deep dive into really being very lazy is a huge source of value. It is very important to let go of the digital and to ensure that your own happiness hormones remain activated.
Many people don't even know what makes them truly happy, do you? It is that inside feeling, that endurance of this contentment, that never stops existing.
Getting curious about what the biggest overlooked secrets are?
In this downloadable PDF, I reveal 6 ways on how to do that. Click here to get the PDF
About Monique Toonen
Monique Toonen is setting a new standard for how to feel good, be happy and enjoy Life. Her commitment to normalize Happiness on the planet, unconditionally feeling good on a soul vibration is changing the way how to handle true needs and choosing quality first.
As a founder & CEO at HappiGuru International she specializes in helping ambitious business owners in technical & numbers driven Industry to build their High-End Happiness Life.  She does this with tailored 1 on 1 coaching and 5* Happiness Nature Retreats for men only at Victoria Waterfalls & The Cook Islands. Check out her LinkedIn profile to connect or say hi on Facebook.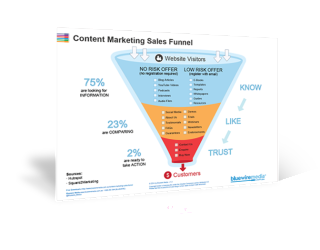 Content Marketing Sales Funnel
Your content marketing sales funnel is all about getting people to know, like and trust you by nurturing them with the right information at the right time.