How to Build Your WeChat Following (And Master Chinese Social Media)
Updated on May 2nd, 2016
The social media landscape in China is a fascinating and unique proposition for western companies looking to expand into the mysterious orient.
With over 650 million Chinese netziens online, the growth of social networks has been prolific. Domestic, Chinese companies dominate here due to state censorship and restrictions with traditional western platforms essentially being shut out of China.
The largest and most important platform in China is Tencent's "WeChat" (Weixin). It boasts over 500 million users and has become the primary platform facilitating social interaction in the middle kingdom; it presents a major opportunity for savvy marketers.
The key for any brand looking to boost their presence in China is to increase their WeChat following and engage effectively, users on the platform can only see posts by those they are connected with, which means that promotional efforts are somewhat ineffective without a substantial following.
So let's have a closer look at how you can increase your WeChat following.
Create attractive, shareable content
The Chinese particularly trust content shared by their immediate social circle. So disseminating content that engages users and can be shared is of vital importance.
Content needs to be short and highly interesting. Humour revolving around family, friendship and slapstick style comedy prove the most popular. Short video's are commonly shared and cartoon style, simple and almost childlike graphics retain a strong appeal.
Visuals need to be created and adapted for the format WeChat provides.
Alibaba's popular online store Tmall utilizes this cartoon style graphic.
Offline to Online Content
The use of QR codes on WeChat is key. The phenomenon of the QR code has exploded in China with codes now embedded in the physical environments of large, cosmopolitan centre's such as Shanghai, Quangzhou or Beijing.
Featuring a QR code on physical products which link straight to your official WeChat account is an effective way of driving traffic and building your followers.
Scanning the code can also unlock exclusive content to incentivise users. Some companies have begun launching competitions where if the user is following them on WeChat, and then scans another QR code, they can win prizes or access unique content.
Offer exclusive content, promotions and discounts to subscribers
Offering exclusive, promotional offers via your WeChat account attracts more followers. The Chinese consumer desires differentiation, so promoting these types of offers exclusively to followers can be a strong incentive.
Family is the most important thing in China so promotions and discounts should extend beyond a single user and include one's friends and family to attract more followers. Subscribers are then more likely to recommend your official WeChat account within their social circle.
Burberry announced a partnership with WeChat for a brand event in Shanghai, the company allowed users of the mobile messaging service to unlock interactive content before and after the show if they had subscribed to Burberry's account.
A new 'red envelope' service has been launched on WeChat, with brands able to send out these digital 'red enveiopes' to their followers, giving them the chance to win vouchers or money. This emerging trend should be capitalised on if you are trying to make a play at the Chinese social media market and grow a WeChat following.
Organise games
Organising group games with 'prizes' for the winners can be effective. There are a number of games on WeChat which are available worldwide.
The 'Game Centre' is located next to the 'Discover' tab in the messaging service. Inviting users to play group games such as 'Gunz Dash' or '2Days Match' can development the user's engagement with your brand in a social setting.
Making full use of its location-based services, WeChat players can also search for other players nearby to find opponents, this could be a different way to attract users to your page if they are invited for the purposes of playing an organised game.
The language interpretation platform 'Lendalingo' (based in China) engage in this type of community activity to attract potential translators. The answer is always to add value. 
Target Communities
WeChat conversation groups represent a significant opportunity to target certain communities and demographics, identify these specific groups and create user accounts which can then be invited into the group chats.
By engaging in conversations you can reach certain types of people with specific interests. It is important to tailor and adapt your marketing style in these groups. Engage in authentic user to user conversations and subtly reference your brand. The Chinese don't buy products, they buy brands, so personalise your brand, make it 'friendly' in the eyes of the consumer.
WeChat groups are very active sites for interaction so you will need to employ native Chinese speakers to converse authentically. Engage in community management through text messages, audio sound bites and 'sights' (short video clips that can be sent via chat), to utilise WeChat's sociability functions.
Incentive Sharing
This is a growing opportunity with specific types of users being paid to share posts as their 'moments' (akin to a status update on Facebook).
As mentioned before, this is especially effective as the Chinese are greatly influenced by the comments and preferences of their social circle.
WeChat is also known as the 'WeChat Times' in China with many Chinese turning away from traditional media sources for their information about the world due to state propaganda, the network has become the most influential forum in China. Certain demographics can be targeted in this way through individuals sharing your content amongst their social network.
Utilise Key Opinion Leaders
KOL's or 'key opinion leaders' are important in reaching to Chinese market.
KOL's are highly popular figures on social networks and are considered experts on their particular subjects. They have attracted a large community of people around them who are influenced by their views and opinions.
Your brand can recruit a KOL to post positive content helping you reach thousands, if not millions, of potential consumers. Your efforts should be devoted to building these connections so that other people with influence talk positively about your brand.
Promote on other platforms
Promote your WeChat on other Chinese social networking platforms such as Weibo, Baidu Tieba, or Renren.
A comprehensive digital strategy involves engaging effectively with the broad range of domestic social media outlets that have emerged in China. Weibo is a much more 'open' social network than WeChat as you don't have to be connected to see other user's posts. Cross promotion on these other networks is a necessity.
WeChat QR codes linking to your WeChat page should be embedded into all digital content.
What do you think, are you ready to start connecting in China?
About Ben
Benji has lived in Shanghai, China for five years and specializes in digital marketing and social networking in the aptly named 'mysterious orient'. He is passionate about finding digital solutions for western brands in China. For more information see his blog/website here.
Bonus 33 Free Templates
Download the 33 free templates from Toby and Adam's book.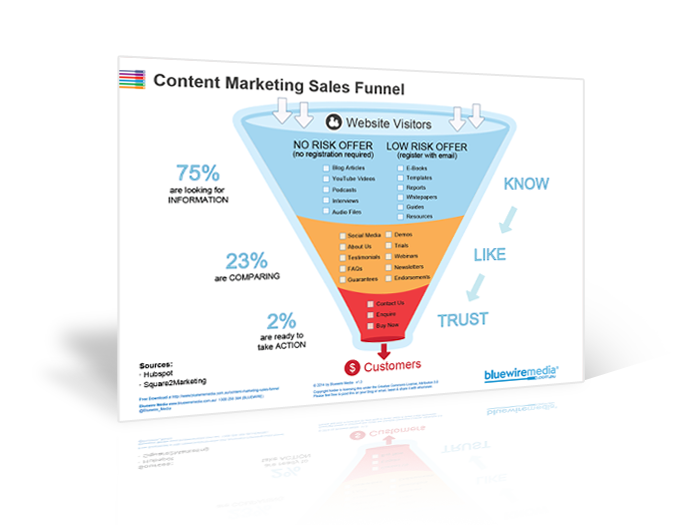 Content Marketing Sales Funnel
Your content marketing sales funnel is all about getting people to know, like and trust you by nurturing them with the right information at the right time.