How to Choose the Best Ecommerce Shopping Cart for Your Store
Updated on March 18th, 2020
Ecommerce shopping carts
In case you hadn't realised, eCommerce represents a tremendous opportunity to connect with your customers wherever they are. Let's explore the ecommerce shopping cart options.
In 2016, 53% of global internet users made an online purchase and 40% of US males aged 18-34 said that they would ideally buy everything online.
If you're embarking on a new eCommerce venture, picking the right shopping cart software for your store is crucial. You'll need a cart that is affordable, works with your web host, has all the features you need, and scales appropriately when your business grows.
Fortunately, all the reputable shopping carts come with essential functionalities, such as processing payments, managing inventory, and tracking sales. However, there are some significant differences when you dig a little deeper.
SaaS or Self-Hosted Ecommerce Shopping Cart?
Choosing between Software as a Service (SaaS) carts and self-hosted carts is an important distinction.
Generally speaking, it's easy to get started with SaaS carts without any technical experience, however, they aren't as flexible as self-hosted carts.
If maximum customisation is important to you, then go with a self-hosted cart. However, if you just want an easy platform to build your store on and don't care about modifying minor details, SaaS is the way to go.
Although you'll still have the associated costs with your site, self-hosted carts are free to use. SaaS carts charge a subscription fee and can result in significant costs as your store grows.
To help you make your decision, let's compare some of the world's most popular shopping carts.
1. Shopify

Cart type: SaaS
Price: $29 USD (initially)
Shopify is an incredibly popular shopping cart because of its simple features, abundance of store themes (both free and premium) and ease of use.
If you have zero design knowledge or experience with eCommerce, you can create a professional looking store and have it up and running within hours using Shopify themes.
Benefits
Shopify is an excellent choice for startups – you get an enormous amount of features for an affordable monthly fee.
If you want to analyze your traffic and conversions over a specific time period, Shopify's in-store analytics are extremely useful. For more in-depth analytics, it's easy to integrate Shopify and Google Analytics.
Using Shopify's simplistic interface, you can quickly design a store without enlisting the help of a coder or graphic designer.
Shopify features social media integration, discount codes, abandoned cart emails and more. For extra features such as countdown timers and integrated reviews, you'll find whatever you're looking for at the Shopify app store.
Shopify's customer support is also exceptional. They're available 24/7 by phone, email and live chat.
Disadvantages
Compared to WordPress, Shopify's blog functionality is underwhelming.
While there is an abundance of apps available to enhance your store, most of the good ones require a monthly subscription. As your store grows, your subscription to Shopify gets more expensive, so costs can quickly accumulate.
Finally, a Shopify store is much harder to customise when compared to self-hosted solutions. If you want to be able to change every small detail of your store, Shopify might not be for you.
2. BigCommerce

Cart type: SaaS
Price: $29.95 USD (initially)
If you're experienced with HTML and CSS, you can use BigCommerce to create a unique store, customised to your own preferences.
Unlike Shopify, you will have to invest some initial time in learning how to use all of BigCommerce's functionalities. Once you know what you're doing however, BigCommerce is straightforward to use.
Benefits
In addition to many other functionalities, BigCommerce enables you to manage inventory, process payments from multiple channels, and identify your most popular products using analytics.
While BigCommerce has a store editor which is great for non-technical merchants, you can really customise the aesthetics and functionality of your store to a high degree if you're experienced with HTML and CSS.
BigCommerce supports mobile users and you can get in touch with customer service at any time of the day or night.
Disadvantages
Like Shopify, BigCommerce's recurring fees can add up, especially as your annual sales grow.
Surpassing $50,000 USD in sales will result in a monthly subscription increase from $29.95 USD to $79.95 USD. If you increase your sales to $150,000 USD per year, expect an even larger price hike. Credit card fees are also higher on BigCommerce than on Shopify.
While BigCommerce features a growing app marketplace, the diversity of apps is greater with Shopify.
3. WooCommerce
Cart type: Self-hosted
Price: Free
Whether you want to create a store from the ground up or sell products on an existing WordPress blog, WooCommerce provides a flexible solution. WooCommerce has an abundance of features while remaining user-friendly.
Benefits
WooCommerce is completely free to use and features a higher level of flexibility compared to SaaS carts. If you already have a popular WordPress blog and are seeking to monetise it, you can easily install the WooCommerce plugin and get to work.
There are an enormous amount of WooCommerce Extensions available, allowing you to enhance your eCommerce store in any way that you want.
Typical eCommerce functionalities like store analytics and inventory management are all easy with WooCommerce.
Disadvantages
Although WooCommerce itself is free, many of the extensions come at a cost. Hosting will also have to be arranged separately.
Because WooCommerce cannot be used without WordPress, there is a learning curve required to operate both platforms.
WordPress is, by far, the most frequently hacked CMS, so consider security concerns when using WooCommerce.
4. Magento
Cart type: Self-hosted
Price: Free
Out of all of the carts listed in this article, Magento offers the highest level of flexibility but is also the most difficult to use. The Magento Community Edition version is free. However, for the complete range of functionality, Magento Enterprise incurs a hefty price tag.
Advantages
Magento boasts an incredible range of features, and unlike WooCommerce, no additional extensions are required.
The platform has a large community of users, so soliciting help and feedback is never a problem. Magento can facilitate the running of multiple storefronts, in multiple languages, with multiple currencies.
For highly sophisticated eCommerce applications, Magento can be a wise choice.
Disadvantages
If you're just getting started with eCommerce and want to sell your handmade goods, Magento is probably not for you.
First, you'll need to get your hosting from a provider that specialises in Magento. Running Magento on a standard server can result in slow load times and a negative user experience.
Unless you're a high-level coder, making edits can be challenging with Magento.
Finally, qualified Magento developers are scarce, so be prepared to pay a premium fee for freelancers who are experienced with this platform.
Which is your favourite eCommerce shopping cart and why? Let me know in the comments below.
About Aaron Agius
Aaron Agius is an experienced search, content and social marketer. He has worked with some of the world's largest and most recognised brands, including Salesforce, Coca-Cola, Target and others, to build their online presence. See more from Aaron at Louder Online, his blog, Facebook, Twitter and LinkedIn.
Bonus 33 Free Templates
Download the 33 free templates from Toby and Adam's book.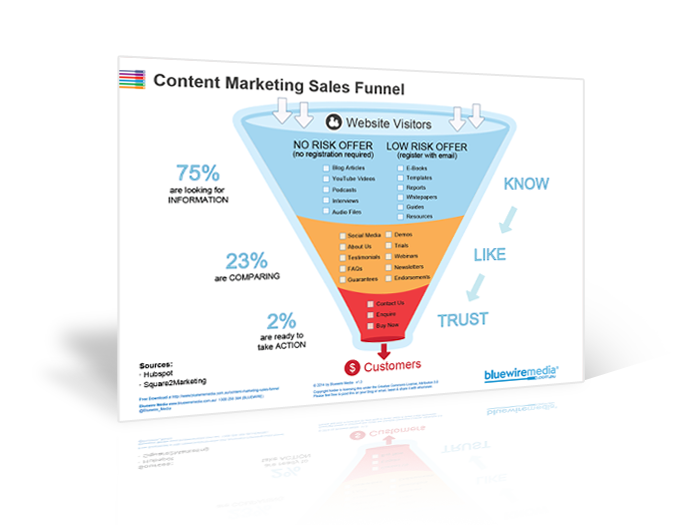 Content Marketing Sales Funnel
Your content marketing sales funnel is all about getting people to know, like and trust you by nurturing them with the right information at the right time.