How To Crack The Content Marketing Code (5 Quick Tips)
Are you neglecting the importance of content marketing for the overall success of your website?
That could be a big mistake. As of December 2015, 40% of the world's population is using the Internet. The figures rise up to 86.75% in the US, and 89.9% in the UK. Those numbers are too big to ignore, and that's exactly what you're doing if you don't care about content marketing.
Many marketers understand the importance of content marketing strategies, but they fail to make them effective. The most common problem is the shotgun approach: marketers think more is better, so they don't care too much about the content's quality as long as it meets their criteria of quantity. This hit-and-miss strategy dilutes the effectiveness of their overall content marketing efforts. Needless to say, it also wastes them a lot of time and money.
Content marketing is not about saturation, but about penetration. Its main purpose is to attract a specific target audience to your website by offering them relevant, valuable, and consistent content. For content to be any of these, it has to be planned and created with a specific target audience in mind.
Following up on the firearms analogy, content marketing should be more of a sniper rifle: deliberate, carefully aimed, responsive to changes in the environment, focused, and dead on target.
Here are some tips to help you solve content marketing problems complete with tools.
Make a plan and think of great topics
This is the first step to follow if you're committed to developing high-quality, effective content that will get the attention of your target audience. The first part of the plan is to develop topics around a particular set of keywords that will resonate with your audience. You can check out Google keyword planner to get started.
Once you're done collecting relevant keywords, you can use a mind-mapping tool like Coggle to get ideas for a more focused topic. It is completely free, although you can get more features if you pay $5 or $8 a month for the Awesome and Organization plans respectively.
For the purpose of creating a content marketing plan, however, the free plan is perfectly fine. Use it to develop an association of ideas from your core topic or keyword. You can also send it to anyone who might want to add their own ideas, or edit what you've already come up with.
Mind maps provide a visual representation of where your content can go, and how far you can spin a topic to make it unique and relevant to your target reader's interests.
Make your headline pop
You absolutely need to start each and every one of your articles with a headline that attracts attention.
That can be tough, especially if you are writing about something that isn't really exciting. Think of it this way: your article needs to stand out among all the other similar articles in a search.
When a potential reader searches Google using a keyword you used in the title, they will come across a huge list of articles that give possible solutions to their problem. Why should they choose to read your piece instead of any other option in the search results? What makes it so special? The headline should subtly answer those questions.
If you can't get any ideas for an impressive headline, you can use the Blog Topic Generator – a free utility by HubSpot, which gives you a list of the most popular blog topics related to your keywords.
When you get a few initial ideas, you can check their effectiveness with CoSchedule – a headline analyzer that gives you a score based on the word balance, headline type, length, keywords, sentiment, and other parameters that determine the overall effectiveness. Analyse a few alternatives and go for the one with the highest score.
ContentIdeator is another title generator you can use. All you need to do is enter a keyword, and you'll get a list of possible headlines for your post. ContentIdeator is also a good resource for building your mind map. It generates 50 title suggestions using variations on a keyword.
Make it good
Now that you have a plan and a title, it's time to conduct in-depth research and write the actual content.
The research part is easy enough, since you can find any information you need online. There is no philosophy in this – you collect reliable resources and you decide which ones you will use to support the arguments you make. Needless to say, you'll always provide proper references to the resources you use.
No matter how much information you collect during the research stage, sometimes it is hard to get down to the writing because you're distracted by social media, emails, and other pages that you're not supposed to waste time on. You can eliminate all distractions by using FocusWriter – writing software with a simple interface that keeps you focused on the work without having to set up anything. It is a multi-language tool, which is cool. You can choose how much you want to "tip" to download the app in the platform you want. Tips range from $0 to $20.
Make it polished
Before publishing an article or blog content, you should check if you nailed the right tone for your target audience. Most of all, you need to make sure it's free of any errors.
Writers usually have a problem checking their own work. Unfortunately, you cannot rely on automated spelling and grammar checking tools, since they are not 100% foolproof. If you want to make sure your content is perfect before publishing it, you can outsource the editing and proofreading stages to professional writers and editors from services like Assignment Masters. The prices for this type of assistance start from 9.95 a page, which is much less than the quote a freelance editor would charge.
Remember: nothing ruins great content more than typos and poor sentence structure. You have to polish the piece to perfection before presenting it to your target audience.
Make it efficient
Finally, you need to find a way to organise your content marketing tasks and make it easy for yourself to handle the promotion of one or several online projects. Blogo is the perfect tool to use for that purpose. It's an app that lets you publish and manage multiple blogs from a single platform. Simply add all the blogs you maintain into one dashboard.
When you want to publish content on one of these sites, you can choose the right blog from the drop down list and start writing. You can preview the post while writing, so you'll know exactly how it will look like when you publish it. The best part is that you can use Blogo to write even if you're offline. You can rely on the same platform to manage blog comments and engage your audience on all blogs you maintain. Unfortunately, the tool is only open for Mac users, and it costs $29.99.
Wrap
Content marketing is a complex process, and it can take some time before you see actual results. However, you can already put an end to most problems by narrowing your focus, developing a plan, and using the right tools to write, publish, and maintain consistent content. As far as planning and writing is concerned, the tips and tools listed above can help you make effective content marketing a breeze.
About Linda
Linda Craig is an eager productivity specialist. Her main goal is to organize content marketing tasks in the most efficient way. Follow Linda on Twitter.
Bonus 33 Free Templates
Download the 33 free templates from Toby and Adam's book.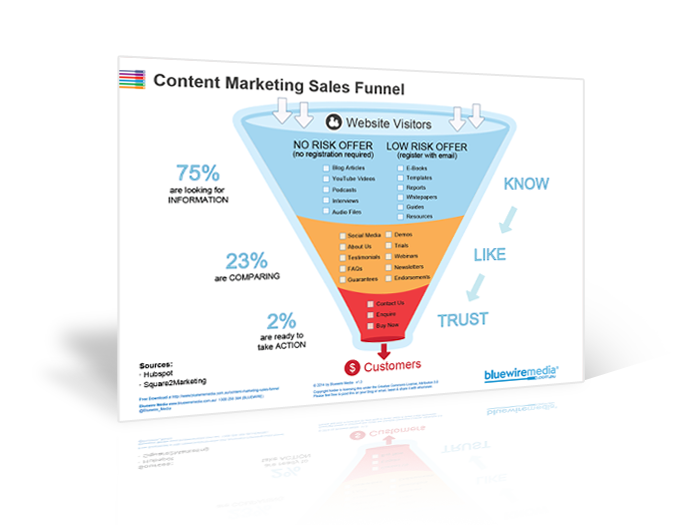 Content Marketing Sales Funnel
Your content marketing sales funnel is all about getting people to know, like and trust you by nurturing them with the right information at the right time.