How to create a Web Marketing Report
Updated on October 13th, 2019
Web marketing reports: how to create one
One of the common problems with web marketing and web marketing reports is not the lack of data, but the overwhelming abundance of data. With all of the tools now available to us, we can really get buried and sorting the signal from the noise (the important from the trivial) can be tough going.
In this post I wanted to share the Web Marketing Report Template that we use with our clients to quickly get a grasp on the numbers each week.
Here's what a digital marketing report looks like:
Web Marketing Report: Let's go through the parts
Goals Table:
At the top you'll see the GOALS section for both your business goals and your web goals. The idea of presenting them here, is that you'll get to revisit them frequently. By revisiting your goals frequently, you'll be reminded of what you're trying to accomplish and it will help you to stay focussed on the outcomes that are most important to you. Another common problem we see is that it's really easy to slip into vanity metrics or numbers for the sake of numbers. By keeping your business and web goals aligned, you'll be that much more focussed on the marketing that actually works for you.  Your overall digital marketing strategy should align with your business goals.
Metrics Table:
So onto the metrics. As I said, there are a ton of tools (free and paid) that will give you incredible detail around any number of numbers. The idea of this template is to provide a very straightforward way to keep track of your content marketing and sales funnel. Over time you might find that some numbers become much more important to your business and more detail is required. That's when you can start looking at software options to help you track more detail.
Social Media:
Social Media is your starting point for keeping track of your community. It is a relatively risk free way for someone to connect with you, to get to know you and to follow the content you share. Hence keeping track of your social media community is a great place to start with your numbers. In this template we choose the 3 biggest platforms – Facebook, Twitter, LinkedIn as example communities to track. Watching the change in the these over time will help you assess whether your community is finding your content interesting. As you progress, you might like to then focus just on the communities that are most appropriate to you.  Here's our Social Media Strategy Planner.
Search: SEO
Tracking your domain authority and the number of inbound links your website has will help you to understand how you're progressing with your search engine optimisation efforts.  Here's our SEO Strategy Planner.
Blog:

As you track total blog traffic and the traffic to particular articles you will come to understand what kinds of content are resonating most with your audience.  Here's our blog post planning template and our influencer outreach email template to help get your blog on the radar of high-authority bloggers.
Website:
By tracking Unique visitors, the conversion rates on your landing pages and the total number of new contacts in your email database, you'll see how well you website is converting traffic into contacts that you can then nurture through your email marketing.   A good lead magnet on a landing page will ensure lots of new email subscribers, which leads to me the next part.
Email
Because email is a more intimate connection than social media, your email list is gold. Particularly when it comes to selling. Tracking the total active contacts will be a good regular comparison point to see if you are growing your core database. Tracking open rates will tell you whether your subject lines are effective and click through rates will determine if your content is compelling enough to convince people to take action.   Use this lead nurturing template as a starting point.
Sales
Sales is a critical piece of the Web Marketing Report because it helps you close the loop. All of your other metrics need to be assisting in bringing in quality enquiries, that lead to better opportunities, and ultimately more sales. Closing the loop to understand what kinds of activities are bringing your best customers is a crucial ingredient to your Web Marketing success.
Web Marketing Report PDF Resource
Please feel free to download the Web Marketing Report Template for your own use and edit it as you see fit!
If you have any other key numbers you track in your business, please add them into the comments.
OUR DIGITAL MARKETING METHODOLOGY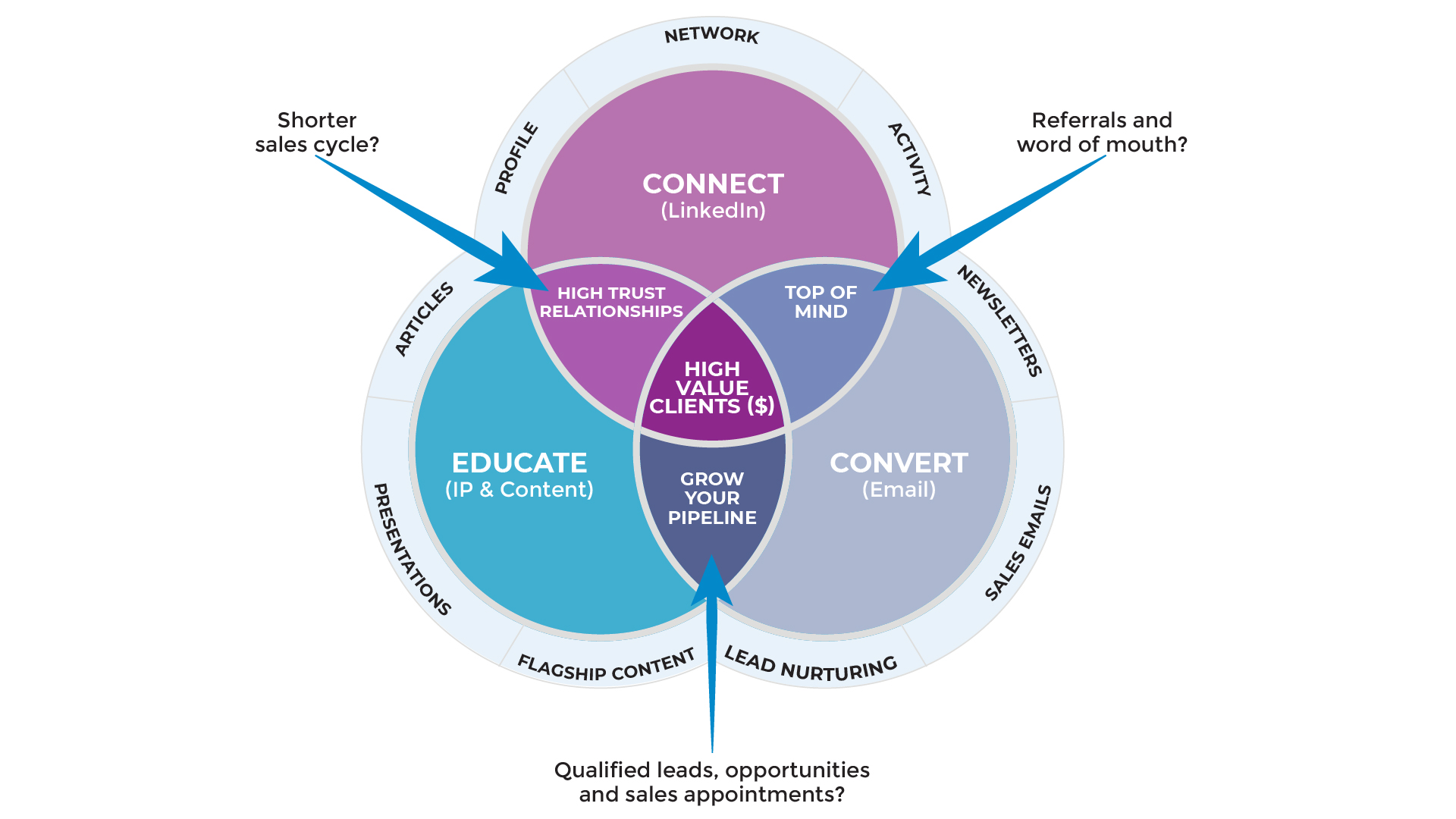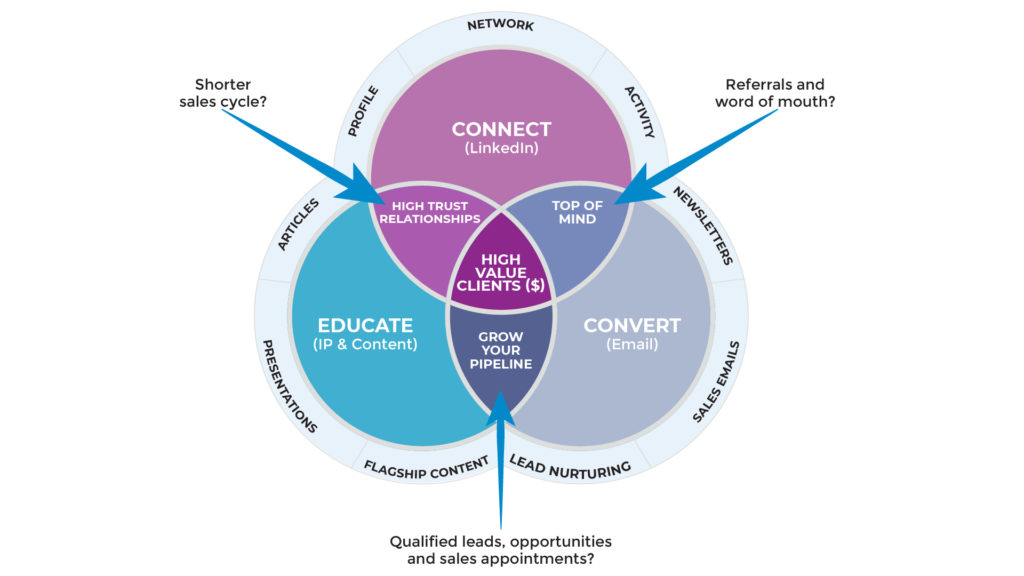 PS. When you're ready, here are 6 ways we help
consultants & advisors

grow:

1. Web Strategy Planning Template (PDF). Our flagship 1-page tool we co-created with David Meerman Scott. It's been downloaded over 1 million times and featured on Forbes.

2. Read a free chapter from our book. Web Marketing That Works --- an Amazon #1 best seller.

3. Join the private group on Facebook. Access free training resources, and hang out with 2,300+ peers.

4. Discover your marketing score. Take the 40 point Marketing Scorecard (in < 6mins) and get a customised report.

5. DIY for $7. Get the Complete 50+ Script Library for connecting with people to winning clients.

6. Let's brainstorm how to fill your marketing funnel.

DM the word "INTERESTED"

via Messenger

 or 

book a 20 min slot to talk

 on Zoom.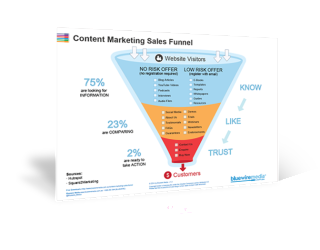 Content Marketing Sales Funnel
Your content marketing sales funnel is all about getting people to know, like and trust you by nurturing them with the right information at the right time.