How to Create Content for All 5 Stages of the Online Buying Process
How to Write for Users in Each Stage of the Online Buying Process
Source: Shuttershock
The average online buyer has a sea of information at their fingertips. Because of this, the typical salesy style of advertising is on its way out. With the absence of tradition, it leaves a pretty big question: how do you tailor your marketing messages, so that it hits the mark?
Well, most importantly, the user doesn't like to be rushed. Rather, you should guide your prospective customer through a series of consideration stages – also known as the online buying process.
In this article, we break down the main steps of the online buying process, and tell you how to write to induce conversions.
What is the online buying process?
The online buying process (also known as the buyer's journey or marketing funnel) is a series of stages customers move through, leading up to the purchase and afterward.
Depending on what you're selling, it may take a shorter or longer amount of time for the consumer buying process to be completed; for example, if you're a car salesman, your buyer's journey is likely to take weeks or months longer than say, the decision of whether or not to buy a coffee.
Whatever the time-frame, this process always happens – it's based on human nature. And it's important to nurture your leads all the way through. This idea goes hand in hand with the core principles of content marketing – a strategy focused on educating, engaging, and leading the user to consider and purchase your product.
Source: Shuttershock
#1 in the Buying Process: Problem Recognition
This is the first stage in the online buying process, and possibly the most important. The problem recognition stage is exactly what it sounds – the user is only just realising that they have a pain point or problem which requires a solution.
They may still be questioning whether this problem is worth solving – after all, we have limited time and energy. This "problem" can take any shape or form, and can arise either out of need or desire.
Ultimately in this stage, the goal is to show the user that their current reality is missing something and their problem is worth solving – that their life will improve after solving it. With this realisation, you can pull them into the subsequent stages of the sales process.
Source: Shuttershock
#2 in the Buying Process: Information Search
The user has defined their problem – and so begins the information search on how to solve it. At this point, the user is researching all possible avenues of approach.
To be clear, they're not yet weighing up the advantages and disadvantages of certain products; rather, they're comparing which direction to further refine their research towards.
For example, someone with back pain might research: back pain medication, back pain stretches, back pain physiotherapy, and so on.
Source: Shuttershock
#3 in the Buying Process: Evaluation of Alternatives
In this stage, the user has settled on a category of solutions and is now comparing all providers who offer this type of solution. The potential customer may be considering your products or services, while also weighing your offering against that of your competitors. They will have arrived at the decision which presents the greatest benefits with the least amount of risk.
Source: Shuttershock
#4 in the Buying Process: Make a Purchase
After all of this, you might think you've got it in the bag… but you'd be wrong in thinking that.
Your goal should be to alleviate all possible last minute doubts, as any new information could make them back out and reconsider, whether that's a negative opinion from a loved one or a clunky checkout page which takes too long to load.
In fact, a KISSMetrics study showed that 40% of people will abandon their shopping cart if the page takes over 3 seconds to load!
Source: Shuttershock
#5 in the Buying Process: Post-purchase evaluation
This stage is important, as it could influence how future customers experience the online buying process with your business.
For example, if your customer had a negative experience and left a bad review, how did you respond? If potential customers see the brand responding and trying to make things right, they'll be less inclined to judge you with the same level of influence.
A happy customer, however, can become a brand advocate for you and spread your business through word of mouth. According to Semrush, 88% of people trust brands the most when it's recommended by friends or family.
How to write for each stage in the purchase process
By producing content for each evaluation stage, you can guide the user towards a buying decision which benefits them – and you!
Establish a relationship with the user before they've even made a purchase. This will increase customer satisfaction and brand loyalty, as well as building an evergreen library of resources which can encourage all future customers to purchase your products online.
Content comes with the additional benefit of being easily shareable, further building brand awareness.
Source: Shuttershock
Stages #1 and #2: Awareness content
Awareness content is all about helping the user. The user isn't ready to hear about your brand or compare options yet; they've only just become aware of their problem, and are still familiarising themselves with all aspects of this pain point.
Your job is to help 'create' the problem, in a way: with as many resources as possible, to help them better understand the nature of the problem.
Types of content
How-to guides.
Dominate the niche by creating informational resources around the topic that demonstrate your authority in the field early on.
Infographics and downloadable PDFs/whitepapers.
Content writing tips
Ask the user towards leading questions, which will pull the customer further into the purchase funnel.
Avoid all 'sales-y' language and tactics – no FOMO, no rushing. Just helpful content for the user to digest at their own pace.
Alleviate their doubts around solving the problem. For example: address common misconceptions on the topic, or highlight the risks of leaving the problem unsolved.
Stage #3: Consideration Content
In this stage, the buyer has decided that they do want to solve their problem – and it's time for you to help them explore all the ways that they can solve it!
Give the user all the information they need, to help them decide on the right solution for them. In this early stage, you can position yourself as the most desirable option in comparison to your competitors.
You can boost your credibility by improving your organic search rankings, and ensuring that your brand appears established and trusted online.
Types of content
Comparison content – eg. pros and cons, comparison tools.
Explanations of the different approaches to certain problems.
Partnerships and awards.
Content writing tips
Focus on the benefits of your solution and approach – what's in it for them? How will your product or service address their problem and improve their life?
Familiarise yourself with the alternative solutions out there, so you can help buyers arrive at a decision which is right for them.
Stage #4: Conversion Content
While you might know that your business offers the best option, your users don't! They may still walk away – if they do, you should find out why the consumer is hesitating to convert.
It is important to stay present during this stage: if you can, keep the customer information on file so you can easily provide extra information.
Types of content
Email reminders/newsletters.
Remarketing eg. "you left this in your cart!".
Facts, case studies and testimonials about your product or service.
Content writing tips
Focus on your USPs and product specifications.
Reinforce why the user is considering buying your product.
Information about deals, demos, free trials, consultations.
Think about what factors come into play when you're weighing up a purchase decision yourself. Do you think about the price? Durability? Whether it's ethically sourced and produced? Provide this information.
What doubts might the user have about purchasing from you? Help the user alleviate these doubts, as well as showing signs of stability and credibility.
Stage #5: Engagement Content
This type of content will be suitable for audiences in the final stage of the buying cycle as it focuses on customer retention.
Many marketers drop the ball when it comes to this, but it can play a key part in your customer's confidence in buying from you, and the chances they'll buy again. Post-purchase content encourages them to spread the word about your business.
Types of content
Warranties and guarantees.
Thank you pages and emails.
Product and service how-to guides – eg. "how to use your new product".
How to return an item – to account for any dissatisfied customers.
Content writing tips
Combat cognitive dissonance by helping the reader affirm that they've made the right decision, and create easy-to-access support content to make the returns process as smooth as possible.
Finding the Right Content Marketing Strategy
It is crucial to understand where your target user falls within these stages. The actual buying process never diverges too much from these five stages – by building a content strategy around these pillars, informed by SEO, you'll be investing in a consistent lead gen tool. You'll also build rapport with the user, all as they explore their options.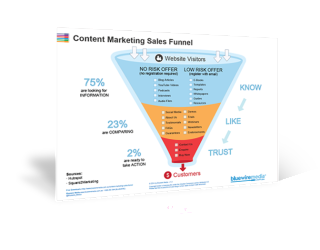 Content Marketing Sales Funnel
Your content marketing sales funnel is all about getting people to know, like and trust you by nurturing them with the right information at the right time.