How to do LinkedIn Outreach effectively with Adam Franklin
Updated on April 4th, 2019
[Video location] Lavender Bay, Sydney Harbour.
You've likely been on the receiving end of LinkedIn connection requests that make you cringe. It usually happens because we forget to be human and instead we cram way too much 'salesy' information in the initial outreach message. Sadly these types of messages repel your prospects rather than attract them.
In real life we have a back and forth exchange when we meet new people or reconnect with old contacts. We need to emulate this in our LinkedIn communications and allow conversations to happen rather than 'talking at' people and coming across as needy and pushy.
What do you think?

Type "yes please" for my companion PDF detailing a 6 step message nurturing process.
TRANSCRIPT:
G'day, it's Adam Franklin here. I've just wrapped up the Sydney leg of my LinkedIn Accelerator workshop.
I just wanted to share a couple of things that resonated with the attendees but also reminded me that the simple stuff is the most important. It's the simple stuff that works the best. For example, when we meet people in real life, whether we're reconnecting with an old friend or whether we're meeting somebody new, we typically say, "Hello." If it's a new person we introduce our self, if not we say, "Hello, how are you?" In real life, there's a back and forth as an between the two people.
Exactly the same thing should be happening on LinkedIn, for it to be effective, in terms of nurturing the right people from being a cold contact, or a stranger, all the way through to being, hopefully, a high-value client. Yet, strangely, and you've probably been on the receiving end of this, a lot of us, when we put on our sales and marketing hat and we approach people on LinkedIn, we kind of think, "Well, this could be our only opportunity to connect with this person, therefore we need to put everything into our outreach email."
We put in all this stuff, we think they need to know 'cause it's our only chance to talk to them. In doing so, we come across as needy and pushy. In fact, we repel those prospects away.
Whereas, if we took a much more natural approach and said, "Hello. Nice to meet you. Looks like we both live in Sydney. It'd be great to connect." Wait for them to respond and have a nurturing process that's very human, it's just like real life, and typically takes people through that whole "know, like and trust" process and ideally, allows you to ask some questions, whereby they can raise their virtual hand and say, "Look, I could be in the market for your services." and ideally transition elegantly to a sales discussion.
The moral of this story is to just remember the simple stuff, that works in real life, works best on LinkedIn as well. If you'd like my PDF resource on this, just type, "Yes please," into the comments and I'll arrange for it to be sent over to you. No opt-in required or anything like that.
If you're interested in my LinkedIn Accelerator workshop, just let me know, either privately or in the comments, and we can … I'll let you know when I'll be in your city or maybe we can arrange something in-house at your organisation.
That's it from me, in Sydney, take care. See you later.
FOLLOW ALONG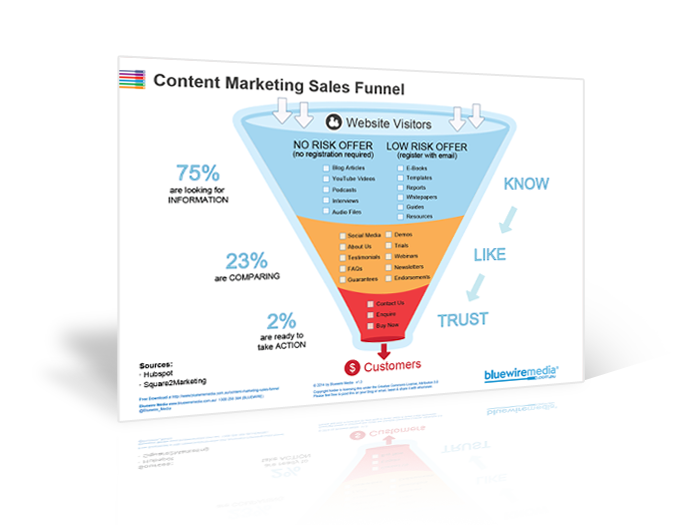 Content Marketing Sales Funnel
Your content marketing sales funnel is all about getting people to know, like and trust you by nurturing them with the right information at the right time.