How to Drive Online Sales With Social Media Quizzes
Updated on May 17th, 2019
This is a guest post  – JP Misenas is the content marketing director and audio/visual technician/engineer of Interact, a place for creating entertaining and engaging quizzes that generate email leads. He writes about innovative ways to connect with customers and to build professional long-lasting relationships with them.
Welcome JP…
As a marketer, I'm sure you are an incredibly busy individual; deadlines are approaching, quotas have to be met.
When it comes to online retail, you don't have the time to figure out which method will best introduce a steady flow of revenue and lead generation. Tie in the time it takes to figure out how to implement [insert method] and you've got yourself another handful of stress to worry about.
Fear not, I'm here to help.
Given the popularity of social media quizzes, you can save yourself the time it takes to test out other methods by going straight to using quizzes as a tool to generate leads and increase online sales through personalized product recommendations. 
At Interact, we've specialized in over 25,000 quizzes, so we know our way around town. Today, we'll be looking at Birchbox's quiz, titled "Find Your Face Mask Soul Mate in One Minute" and the steps they took to create a quiz that personalises the shopping experience to bring in online sales.
Part I: Creating A Lead Generating Quiz To Drive Online Sales
Birchbox specialises in monthly deliveries of beauty and grooming products tailored to your tastes. Their quiz "Find Your Face Mask Soul Mate in One Minute" is a quick and simple personality test that yields results with personalized product recommendations.
If you want to make a quiz just like Birchbox's, let's walk through the steps required.
1. Having The Right Idea & Picking The Right Title
Let's jump right in. The first thing you have to do is have a solid idea. We know that your current task is to create a quiz, but what kind of quiz?
Here are a couple of foundations you can build upon:
The "Event" Based Quiz

– This quiz is based around the concept of an event or campaign. Taking the quiz could drive interaction and can easily tie in with anything from a contest, a giveaway, or a promotional event. It's

completely doable

and drives results.

The "Your Products" Based Quiz

– This one's pretty straight forward. This kind of a quiz will be in relation to the content of your company. In Birchbox's case, they're placing a focus on personalized facemasks.
2. Crafting The Questions
This is where the bulk of the quiz is. Your questions will make up the body of your quiz. It's also the most opportune moment for you to speak directly with your customers.
Here are a couple of pointers you can follow to take advantage of this opportunity:
Inject Personality Into Your Quizzes

– Make the quiz become a representation of your brand. Inject as much personality as possible into it. Make it personal and talk to your audience as if you were talking to them normally on social media.

Make Use Of A Lot Of Images

– A lot of the popular quizzes make use of images. Pictures keep things interesting and relevant. Inclusion of images also makes it feel like a game show of some sort. It encourages people to get comfortable and makes them more likely to opt-in later. Birchbox made sure to use images in every question they asked in their quiz.

Keep Things Short And Simple

– The sweet spot for question count is usually between 6-10. People these days don't have the longest attention span, so we'll want to keep their attention as long as possible without having them get bored with your quiz. Birchbox did an excellent job in this field by only having a total of 5 questions.
3. Creating The Lead Capture Form
As an online retailer, this is the part where the quiz shines for you. Creating a lead capture form can help build your list of subscribers or potential customers. This is where long-term revenue begins.
Here are some guidelines you may want to follow when creating your lead capture form:
Give Your Customers A Valued Promise

– Give your audience something more than just their results. Use incentives like a giveaway entry, a free resource like an e-book or e-magazine, a weekly newsletter, coupons/discounts, or even just some personalised advice.

Be Honest With Your Marketing Strategy

– We're not pulling any underhanded tactics here by having people opt-in without them knowing what they're getting into. If you're going to email people, let them know that you are. Even if it's just once a week, disclose that information with them so that they know it's you.

Only Ask For What You Need

– Don't ask for someone's zip code if you aren't going to use that information. Don't ask for a customer's phone number if you're never going to call them. Only ask for the information you need.
4. Creating Share-Worthy Results
Surprisingly, the results of a social media quiz are just as important as the questions. What's the most shared thing people post about on social media? The quiz itself, or their results? You got it. It's the results.
Here are some important points to take note of when creating shareable results:
Give Positive Results Without Lying

– Don't be afraid to play around with people's egos and

emotions to generate shares

. Tell someone how much they rock. Focus on good traits and positive emotions. Avoid lying to your audience by telling them something they're not. Be truthfully encouraging.

Include Relatable Images For The Results

– When you come across someone sharing their results on social media, what's the first thing you usually see first? A picture right? When most people share their results on social media, it's usually in the form of an image. Pictures have a higher click-rate, which is all the more reason for you to include attractive images for your results. Birchbox includes an image of their recommend product along with a link to it.

Entice Your Customers With Something Short

– The end of your quiz shouldn't be the end of your interaction with your customers. Make your results lead into something more, like your website or products via a personalised link in a follow-up email after subscription. Make sure your quiz results are short too, at about 3-5 sentences. In Birchbox's case, they briefly describe the recommended product for you to encourage a purchase.
Part II: Promoting Your Quiz on Social Media
Facebook and Twitter make up a bulk of social media traffic, that's what makes them the ideal platform for advertising. Now that you've created a beautiful quiz, let's put it to the test by promoting on social media with these tips in mind:
Share Results on Facebook and Twitter
Make sure to have an awesome visual representation of your quiz in the form of an image.

Write a captivating caption to draw attention and to promote your quiz.

Share both the image and the caption with a shortened link to track results.
Use Paid Advertising to Promote Your Quizzes
Promoting your quiz on Facebook can be a seemingly intimidating task, but for the sake of time, here are a couple of the more important things to think about when using paid Facebook advertising:
Select Your Target Audience

– You can choose your target audience through several categories ranging from location, demographics, interests, behaviors and connections. Each category can be narrowed down even further. For instance, Birchbox's

Facebook Page

could target the circle of friends and family of their current customers through "Connections."

Create A Custom Audience

– Creating a custom audience allows you to choose an audience from an existing list that you've uploaded. Facebook creates an audience out of your pre-existing list similar to that of your current customers.
Follow Up And Drive Revenue Using Marketing Automation
Once you've collected all of your leads, it's time to keep these potential customers interested by following up with them through marketing automation. From there, you can turn your leads into paying customers.
Let's break it down:
Your Very First Follow-Up: Thanking Them For Taking The Quiz

– This will be your very first automated response after someone completes your lead capture form. Immediately follow up with them with a "Thank you for taking this quiz!" to assert your brand and to remind them that they've opted in. If you forget to do this, people won't remember you, and they'll write your emails off as spam without a moment's hesitation.
A Couple of Days Later: Increase Interest By Playing With Their Curiosity

– A couple of days later, send a list of other possible results to the quiz your audience just took. This will entice your audience's curiosity to see if they can get the other results by retaking the quiz. Doing this is also a natural transition from your "Thank You" email to sending out other content.
A Week Later: Share Your Story

– Alright, it's been about a week now, right? Go ahead and send them another email along the lines of a customer case study or testimonial. It'd be a good idea to make sure that the story is targeted to people based on the result they got. This will help convince your leads to become paying customers.
Two Weeks Later: Closing Those Sales

– Two weeks later and here we are. We've been sending out emails for two weeks now. It's finally time to convert your leads into customers. Try using incentives to close the sale, like coupons/discounts, or even a webinar signup. Give your audience a reason to buy into your company.
Part III: Let's Review What We've Learned
No one has the time to sift through all of the available methods of increasing online sales and generating leads. The sheer idea of implementing and testing each method would probably take you months on end until you come across maybe a handful that work out for your brand.
Working with Interact and seeing how successful these quizzes have been on social media allows me to save you a lot of time (and money) when it comes to figuring out an efficient method to drive online sales and generate leads.
Today we've gone over the core basics to creating a social media quiz, from title selection to question crafting, to lead capture forms and creating shareable results. We've also given you tips on how to promote your quiz on social media.

Hopefully this will be a blueprint for you to follow and execute your own quizzical endeavors to drive online sales and generate leads for your brand.
2019 update:
Additional resources:
LeadQuizzes allows you to make quizzes to generate leads.
About JP
JP Misenas is the content marketing director and audio/visual technician/engineer of Interact, a place for creating entertaining and engaging quizzes that generate email leads. He writes about innovative ways to connect with customers and to build professional long-lasting relationships with them.
Bonus 33 Free Templates
Download the 33 free templates from Toby and Adam's book.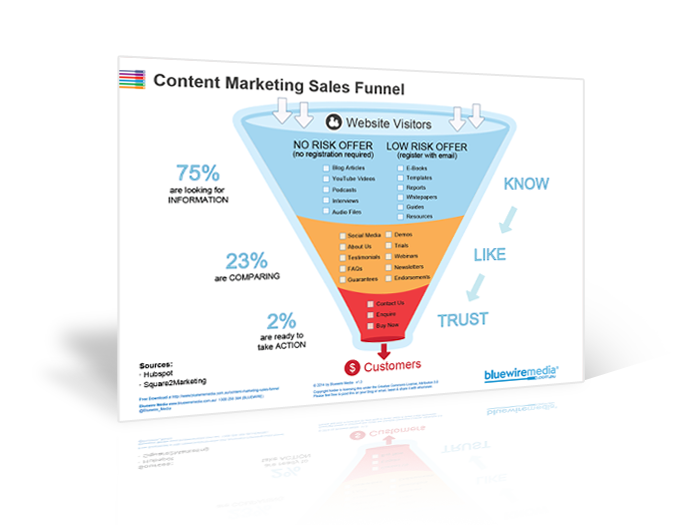 Content Marketing Sales Funnel
Your content marketing sales funnel is all about getting people to know, like and trust you by nurturing them with the right information at the right time.