How to Effectively Use Quizzes to Generate Leads
This is a guest post  – JP Misenas is the content marketing director and audio/visual technician/engineer of Interact, a place for creating entertaining and engaging quizzes that generate email leads. He writes about innovative ways to connect with customers and to build professional long-lasting relationships with them.
Welcome JP…
Quizzes have been basking in the sunlight of the internet for years now…
But have you ever noticed how useful they are for generating leads?
They are essentially just  another form of content marketing. But one that is still under-utilised by many, which means there is a big opportunity for you.
If you want to use quizzes to get more leads, you have to go beyond just making them 'fun' and offer more than just entertainment.
Plus, if you want to generate leads people will want something in return for the information they give you. (Not just entertainment)
At Interact we've dedicated our existence to creating successful quizzes for companies worldwide. In this post I'll show you several different ways to create quizzes for lead generation, and then break them down so that you can walk away with an actionable strategy to bring in leads from those quizzes.
1. Personalise Your Website and Ask for a Lead in Return
Personalising your website counts for a lot, especially when it comes to your target audience. Not everyone will have a product or service that will be well-received by everyone, so as marketers, we tend to cater to a specific group of people.
The above example comes from the World Wildlife Fund. As an organisation that protects endangered species around the world, they created a quiz titled "Who's Your Animal Soulmate?" based on the content found on their page.
There are many animal lovers around the world, and World Wildlife Fund appeals to many of them, especially with their message to preserve several different species. This kind of personalisation allows them to target a specific audience, and in return, nets them even more leads to help the organisation thrive.
The above quiz is a simple one, consisting of fun questions with images that are easily relatable to anyone that takes it. Your quizzes can be personalised by offering familiar images, situations or experiences.
As with all forms of interactive content, you need to find a way to integrate a lead capture form with it. Quizzes are the perfect way of executing such an action. By gating the quiz and placing a lead capture form before delivering results, you are able to obtain contact information and maybe more. Offering incentives for opting in increases these rates by a considerable amount.
In a case study that highlights their success, World Wildlife Fund's "Who's Your Animal Soulmate?" quiz was taken 2,703 times with opt-in's (name and email) at 1,043, resulting in an astounding 38.5% conversion rate! Now those are numbers worth boasting about.
2. Create a Knowledge Test Within Your Quiz
The above example comes from Pin Cancer, with their quiz titled "How Well Do You Know Team USA?"
Pin Cancer is a non-profit organization that sponsors pledges based on a wrestler's wins, pins or takedowns to fight cancer.
Pin Cancer's choice of title is incredibly fitting to the content presented on their page. In this particular instance, their main focus are Team USA supporters, striking a chord that resonates closely to wrestling aficionados of the United States.
Pin Cancer's quiz is a knowledge test, challenging the quiz taker's visual memory to see if they can match a name with a face (or in this case, hair).
With eight straight-forward questions, the quiz utilises Pin Cancer's focus on wrestling, keeping it relevant to a point where this quiz would do well with an audience that's familiar to the organisation's content.
Above you'll see my results. (Probably best to ignore them) It's evident that I know nothing about wrestling.
The point is, Pin Cancer's knowledge test played out the way they wanted it to. It truly challenges the memory of a participant, giving them their results after coming across a lead capture form that requests their information. Again, gating a quiz with a lead capture form is the perfect way to generate leads.
Pin Cancer's latest quiz has generated 500 leads so far and is still running. In total, they have collected over 4,000 leads.
3. Repurpose Past Successes to Squeeze More Leads Out of Your Quiz
Marketers are always creating content, and in most cases, some of this content will be more popular than others (see 80/20 rule).
Another way to use quizzes to generate leads would be to repurpose your most popular content (the 20% that gets you 80% of your traffic).
Consider recycling past successes as a means of continuing that same success in the present. If you've ever created content that did well with a target audience, think about reusing that same idea in the form of a quiz.
Capitalising on a previous success like that levels the playing field when it comes to presenting a new form of content. By utilising something that did so well through a different medium, you're likely to attract the same crowd from before, maybe even more.
With the amount of attention that their Amerman Family Foundation Dog Therapy Program gets, this example comes from Children's Hospital Los Angeles in the form of a quiz titled "Which Therapy Dog Are You?"
Taking advantage of their previous success, CHLA chose to outlet one of their successful programs as a fun, interactive quiz.
It proved to be incredibly popular, especially with their incentive of donating $1 to the Helping Hands Fund whenever the quiz is taken. Incentives such as these drive opt-in rates tremendously, and with the idea of such an incentive going towards a good cause, it promotes social shares as well.
The quiz itself was short and simple, just like the previous examples I've shown you. By keeping things simple, you avoid running the risk of overwhelming your audience and scaring them away.
If we're going to use a previous success, we have to make sure we maintain its momentum by offering content that will help it ride the rails of popularity.
As with the other quizzes, CHLA gated their quiz with a lead capture form that signs up participants to receive updates and information on an infrequent basis with the option to unsubscribe at any time.
Once the results were in, quiz takers were immediately prompted with a thank you email that was running through automation, reminding them that their participation will result in a donation towards the Helping Hands Fund.
In this case study highlighting their success, Children's Hospital LA generated 30,600 leads, and $30,000 in donations within three weeks. They turned a previous success into an even bigger one by creating a quiz based on one of their more successful programs.
Back To You
This is the part where we reconvene just to check up on how you're doing. Although that was a good amount of information, I'm sure you'll be able to walk away with something today. The three Quiz examples I've provided should give you a solid foundation on where to begin in terms of creating your own.
As long as you keep these three examples in mind, something should click for you. Go with the example that best fits your company's needs and/or audience and begin by emulating that same process.
The footing may be a bit rough at first, but given time and dedication, your quiz will obtain the same amount of leads you've read about today.
Good luck!
About JP
JP Misenas is the content marketing director and audio/visual technician/engineer of Interact, a place for creating entertaining and engaging quizzes that generate email leads. He writes about innovative ways to connect with customers and to build professional long-lasting relationships with them.
Bonus 33 Free Templates
Download the 33 free templates from Toby and Adam's book.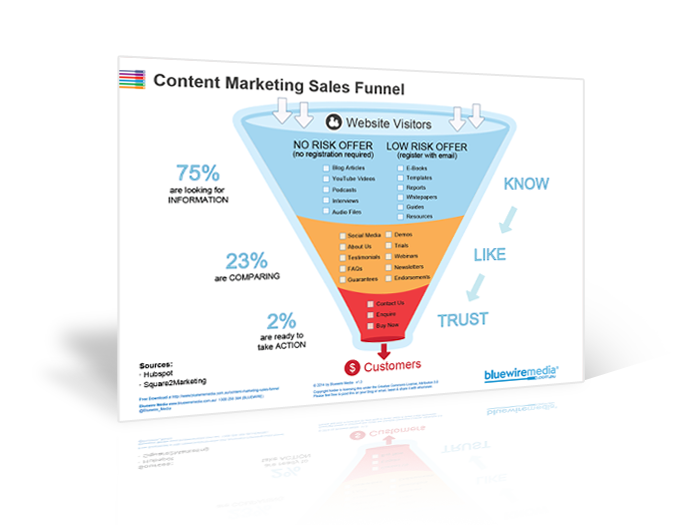 Content Marketing Sales Funnel
Your content marketing sales funnel is all about getting people to know, like and trust you by nurturing them with the right information at the right time.