How to evaluate a website for guest posts
Updated on November 10th, 2019
This is a guest blog post by Mitchell Hunter who is studying a Bachelor of Communication at the University of Newcastle and is currently interning at Gorilla SEO – a digital marketing company based in Newcastle, Australia. Today he's gong to show us how evaluate a website for guest posts.
Photo by Anete Lūsiņa on Unsplash
Welcome Mitchell Hunter
Guest blogging can be an effective marketing technique for your business – it can help grow brand awareness, reach new audiences and help build links to your website for SEO purposes.
How do you evaluate if a website is a good fit to host your guest post?
Before you reach out to a website owner and ask to guest post, follow these helpful tips to evaluate the site's potential.
Relevance
It should go without saying, but ensure the blog you are targeting is relevant to your field. Quality blogs will want your guest post to provide value to their existing audience. Ask yourself questions like:
Does the site target a similar audience to my website?
Would I want the existing audience to visit my website?
Can I provide value to this audience?
Consider your primary target market and who you are writing for. It's important to research the site and read previous articles thoroughly so you get to know the audience you're pitching to. This tips will help you evaluate a website for guest posts.
Trustworthy
Making sure the target site is trustworthy is especially important if you are blogging on behalf of your company or place of work. When you guest post on a website, you are essentially partnering with that website or brand – and you want to make sure they are legitimate and respectable operators.
Blogs can be written by individuals, businesses, community groups, collectives and many more.  Sometimes it's not perfectly clear who you are dealing with. You can safeguard yourself and your company by ensuring the blog is well-established, contains a high standard of written work, discusses topics in a non-confrontational and uncontroversial way and has evidence of a trustworthy community.. Such as comments on posts and shares on social media).
This is good due diligence when evaluating a website for guest posts.
Up to date
Be sure to take notice of whether the site has been updated recently. If the last blog post was over a year ago, then contacting the webmaster is likely to be a waste of your time.
SEO Metrics
Certain metrics can help you evaluate the strength of a website or blog from a search engine optimisation point of view. SEO practitioners use metrics such as:
MozRank (both from Moz),
Trust Flow (Majestic SEO),
PageRank and
the number of inbound links to the website to evaluate its SEO strength.
These metrics help give you an idea of how valuable a link from this website may be for you. While these metrics help give a quantitative understanding of the website, they shouldn't be used in isolation of each other.
If you use Google Chrome or Mozilla Firefox as your browser, there are a number of free browser extensions that can be downloaded to quickly provide these metrics as you browse the web.
Author Links
Following on from the last point, if you are guest posting with the intent of building links to your website, you should check the target site to see if they do in fact provide author links.
Some guest post opportunities won't necessarily provide an author link, such as high profile news websites.
Policies
Finally, make sure you look at any available guest blogging policies for publishing on the site when evaluating a website for guest post submission.
Are contact details provided?
Do they accept guest posts?
Are there any guidelines about guest posting such as word length, photos, backlinks or topics?
These policies can give you a good idea about whether the blog is a good fit for you or your company. They also help you provide a tailored pitch to the webmaster – so use them when you can.
By taking the above points into consideration, you can effectively evaluate the suitability of a blog for your guest post. It's important to use each of these in combination rather than isolation – as any individual evaluation criteria can be misleading on its own.
About the guest author
Mitchell Hunter is studying a Bachelor of Communication at the University of Newcastle.
He is currently interning at Gorilla SEO – a digital marketing company based in Newcastle, Australia.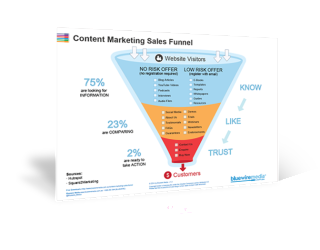 Content Marketing Sales Funnel
Your content marketing sales funnel is all about getting people to know, like and trust you by nurturing them with the right information at the right time.