How To Incorporate Humour In Your Content Marketing
Updated on March 26th, 2020
This is a guest post  – Daniel Matthews is a freelance writer and musician from America's Northwest. His passions are writing, creativity, and humor. He specializes in writing about company culture, marketing, and tech, with a sprinkle of anything super-interesting in the world right now. Please find on Twitter and LinkedIn.

Welcome Daniel…
I used to work with a child who couldn't pay attention to anything.
I was a social worker charged with 'rehabilitating' a 5-year-old. His diagnosis was ADHD. He was one of the most extreme cases my agency had seen.
He would trash classrooms, punch kids in the face, rock back and forth constantly while everyone else was sitting still.
He couldn't remember anything.
Guess what he used to pay attention to, and remember? The knock-knock joke about the interrupting cow. Never heard it before?
Q: Knock knock
A: Who's there?
Q: Interrupting cow
A: Interrupting co—
Q: Moooooo!
Ok so it's not very funny on paper. But the point is, the humour captured his attention and stayed in his memory. He went around repeating the joke to everyone.
Think of your audience as the 5-year-old.
Humour and customer involvement
In a study conducted by Millward Brown on customer involvement with brands, ads with humour outperformed those without by 32 percent. Study participants paid more attention to humorous ads and therefore remembered them more often.  
I'm not saying your audience is all a bunch of 5-year-olds diagnosed with ADHD. I'm saying the average person has an attention span of about 8 seconds, and there's a lot of competition for their attention.
Online content marketing is a great place for humour. And humour is a great way to earn audience attention, and resound in their memory.
Here's how:
Tweet like Old Spice
According to Intuit, about 2.5 million Australians are on Twitter each month. A Twitter presence is essential, and if your Tweets are funny and memorable, so is your brand.
Old Spice does this well. They've got 226,000 followers, and this is deodorant we're talking about. If their tweets were overly-advertorial and not entertaining, no one would care. Their closest competitor, Axe, has 133,000 followers. Old Spice sets itself apart with humour. Here's what that looks like:
Although this has nothing to do with their brand, it's still branded, because Old Spice has maintained this level of humour on Twitter all along. They know their audience. The Tweets that get the most attention include video:
Like most commercials, this one is 98% completely loosely based on a true-ish "story." https://t.co/8gnGNu5VPQ

— Old Spice (@OldSpice) October 1, 2015
Their strategy is:
Define your audience and what they like

Maintain a consistent presence

Don't focus on the hard sell
Defy expectations
From a razor blade company you expect to get ads on TV about how smooth the shave is, with an up-close view of a guy in a bathroom shaving. But Dollar Shave Club defies the norm in several ways:
Take the ad straight to YouTube

Use long-form content

Set the ad in a place you wouldn't expect (in this case, a warehouse)
Throughout the ad, Dollar Shave Club defies expectations in humorous ways. They deliver a masterclass in humorous marketing.
In ads, we don't expect profanity. We don't expect a guy in a gigantic bear outfit. We don't expect the spokesman/CEO to say our grandfather had polio. We don't expect him to ride in a wagon with a worker named Alejandro. And we don't expect them to have a dance party with a mini-chainsaw at the end.
This ad
garnered nearly 22 million views. Note that it explicitly touts the product at the same time as it tells a story. From this we learn:
Make it clear what you're selling and why it's great

Show why you're different in a humorous way

Use bizarre and absurd juxtapositions to make people laugh
Find out more about the Dollar Shave Club here.
Facebook like Eat24
Eat24's Facebook page has converted humour into nearly 68,000 likes. I say 'has', because the San Francisco-based food delivery startup 'broke up' with Facebook in a hilarious blog post, which was their last status update in 2014.
Eat24's problem with Facebook was the change Facebook made to its algorithm. The breakup letter was an example of Eat24 being real about their social media presence. Another way they did this was by creating funny memes, like this:
This meme exemplifies their fun brand presence. It garnered 137 shares. Shares are a sign of engagement, involvement.
On Facebook, Eat24 included:
Humorous statuses with memes and photos expressing fun and a casual personality

Conversations and banter with followers, to further express personality
This is a strategy the Eat24 CEO advocates for all social media channels. But Eat24 also does this:
Make it obvious what you're selling, what you're into, have fun with it

Run advertising campaigns outside of social media, keeping social media social, while ads run on other channels
Creating memes
Creating memes is not difficult. I did one for a post on Jeff Bullas' blog and it turned out like this:
All I did was Googled "free meme maker" and went to PicsArt's Meme Generator and also Imgflip Meme Generator:
I uploaded my image and chose to add a "scumbag hat" to my meme. By doing so I made fun of myself a little bit. I'm proud to say that the post got 2,000 Tweets and 184 Facebook shares.
Like beer commercials, consider your audience
In America, we remember the Foster's "How to speak Australian" beer commercials. These ads present exaggerative takes on the differences between Australian and American culture. Here's the key: they do it for an American audience. To the tune of more than 40,000 views.
Their strategy is:
Play on audience perceptions and stereotypes

Play on the meaning of common, everyday terms and situations

Present the brand as good-humoured and slightly self-deprecating

Again, don't focus on the hard sell
But be careful. Playing on stereotypes can be rough territory.
Don't be afraid to change tack
Although Foster's claims their most recent campaign, the 'Brad and Dan' commercials, drove a 70% sales growth, the humorous ads played on statistics of men as beer-drinkers and stereotyped women as – well, objects of male affection.
Alan Clark (from SAB Miller, which owns Foster's now) announced they'll be discontinuing that campaign in favor of less sexist ads, because women drink beer too. On the positive end, this is a sign SAB Miller is willing to adjust their marketing based on audience.
Since prohibition, American beer marketing has long based advertising on statistics that say men are the primary beer-drinkers. You can see for yourself what many of the humorous, man-targeted ads look like, here. As marketers, we must decide whether we want to go with the stats, or break new ground because of trends we see coming.
Make it interactive
Have you heard of the Choose Your Own Adventure stories? Have you heard of the New Zealand pizza chain Pizza Hell? Chances are you have because the Deliver Me to Hell campaign video has over 11 million views on YouTube.
For this campaign, Pizza Hell created a zombie apocalypse scenario. A delivery boy has to make it through the gauntlet of zombies to deliver a pizza. The original video prompted viewers to choose the delivery boy's next steps. If their choices got him through to the end, successful viewers had the chance to win a year's supply of free pizza.
Pizza Hell's strategy is:
Create an original, outrageous scenario

Mash it together with a recognisable concept (choose your own adventure)

Offer a reward to seal the deal of audience participation
Note that, like the Dollar Shave Club video, this makes ample use of juxtaposition.
This is funny because:
It combines the mundane – a pizza delivery – with the absurd and grotesque – a zombie apocalypse
It's successful because:
Choose Your Own Adventure and zombies are both popular

People love to have the freedom to contribute ideas in a gamified experience    
Why it works
By and large, funny marketing doesn't point at the product and say, "look at this, it's good!" Funny marketing relies on the jokes and the concept to sell the product. Like the class clown, funny marketing gets attention and popularity. It sticks in your memory.
But it's balanced.
There's still branding going on, there's still a product, always there in the periphery. Successful campaigns have the audience pinpointed and know how not to go too far, how not to make people grimace. If you can master the balance of brand and audience-appropriate comedy, you'll be at the front of the class.  
About Daniel
Daniel Matthews is a freelance writer and musician from America's Northwest. His passions are writing, creativity, and humor. He specializes in writing about company culture, marketing, and tech, with a sprinkle of anything super-interesting in the world right now. Please find on Twitter and LinkedIn.
Bonus 33 Free Templates
Download the 33 free templates from Toby and Adam's book.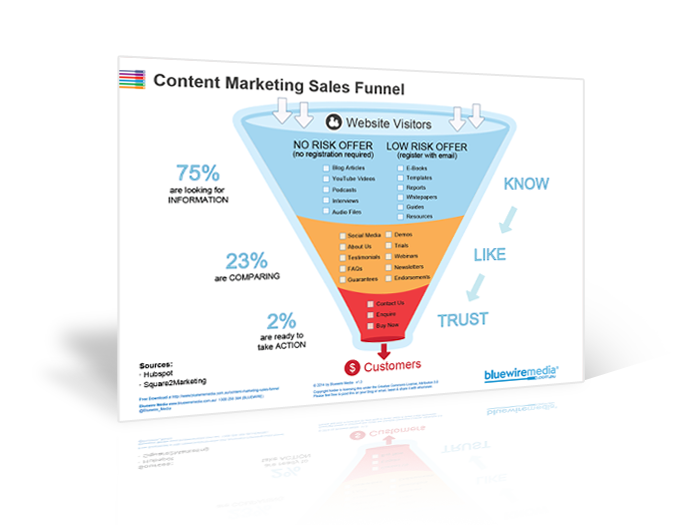 Content Marketing Sales Funnel
Your content marketing sales funnel is all about getting people to know, like and trust you by nurturing them with the right information at the right time.