How to Market Your Brand With a Sustainable Mindset
Updated on March 29th, 2022
Market Your Brand
Sustainability has become a hot topic in the last few years, as retailers are now able to maintain quality while staying environmentally and financially conscious. Sustainability is not just a niche perk anymore. Today it is a necessity and a useful tool for marketers in all industries.

With more and more companies focusing on sustainability, marketers should know where to look for the opportunity to showcase company practices and changes. This may be in your supply chain, where your materials or products are sourced from, and who you are partnered with for delivery.
Or, it may be the effect of the product itself. Consider what elements of the company are sustainable, no matter if it is the packaging or production.
Even if your company isn't devoted to 100% sustainability, you can use changes in policies, packaging, and products as a focus to highlight an intentional move towards environmental awareness.
Pivoting an ongoing campaign is daunting, but you can successfully address a change in direction by addressing the cause for the change. Incorporating a focus on your brand's sustainability efforts from the beginning can be an easier task.
How to Incorporate Sustainability Into a New Campaign
If you are incorporating the lens of sustainability into your campaign from the beginning, you have an advantage in starting fresh. You won't have to worry about preconceived ideas regarding the products, and you can focus your efforts on specific demographics.
Consider the product, its delivery, sourcing, and production when selecting an initial focus.
Consider the very beginning of the production line. How does the company source the raw materials for their product? How are they processed? Do they ethically or sustainably source from another company or organization?
This can be an excellent starting point, as you can highlight your relationship to established sustainability initiatives. If it is a young company, this shows a dedication to sustainability from the beginning.
For an established company, your marketing messages about new eco-friendly product sourcing initiatives will show a willingness to change practices when better resources are found. When you're looking for inspiration, consider the sustainability practices of other industries.
The makeup industry, for example, is doing an excellent job considering the entirety of the product when focusing on sustainability. The makeup industry has been an early adopter of awareness-based marketing and sourcing.
For sustainable beauty brands, major points of focus are the lack of chemicals, sustainable packaging, and eco-friendly manufacturing.
Make sure that you are highlighting both the need that your product serves, and how your company is sustainably filling that need. Even if your business didn't start this way, you can still pivot existing campaigns to focus on sustainability measures.
How to Pivot an Existing Campaign
If you aren't involved in the marketing from the beginning or if the company is changing its practices, you may have to pivot a marketing campaign that did not originally focus on sustainability.
There are a few best practices you can follow to make the change in focus as smooth as possible. The first step is to sit down and get on the same page.
Begin by having in-depth meetings with clients and prospects to find out as much as you can. Why are they making the change? What are they excited about and what scares them? Take note of pain points and concerns they feel less confident addressing.
You will also want to address the reason behind the pivot. A company may simply be putting in place a long-standing plan to update its practices, or it may be responding to the current health crisis. Make sure that you have a perspective and an intention behind the change.
When pivoting an existing campaign, you want to first address your existing vectors, and then consider new pathways to approach. Social media is an excellent tool in these situations.
Changes in campaigns and company practices can be distributed widely and linked to related efforts quickly in already established networks. You may also want to consider newer avenues such as influencer marketing.
Contrary to popular opinion, influencer marketing is useful far beyond Instagram and can improve your engagement with a new demographic.
Why Focus on Sustainability
As environmental and economic issues have skyrocketed in the last few years, the consumer population has become more intensely aware of which companies and brands actively implement sustainable practices and which don't.
This awareness has taken corporate social responsibility and moved it into conscious capitalism. Corporate responsibility usually focuses on philanthropy, volunteering, and community engagement, where conscious capitalism is rooted in the company's core philosophy.
Conscious capitalism involves being aware of the societal needs that surround the company, as well as actively engaging employees, and building core values focused on sustainability throughout company practices.
Focusing on sustainability also has distinct benefits for the company. Research has shown that companies that focus on sustainability have a higher rate of customer satisfaction. This is because sustainable business practices go beyond the production chain and recyclable packaging.
When purchasing from a sustainable company, the customer feels good both about the products that they have bought, and their decision to be more environmentally conscious. This not only builds a positive reputation for your company, it provides a foundation to build long-term customer relationships.
Sustainability has become a hot topic for companies, and in turn, for marketing. Being able to show that your company is not only aware of its effect on the world, but that you are taking active steps to make your brand sustainable, helps build greater customer satisfaction and can expand your reach into new markets.
By using sustainability as your focus, you can pivot perception, provide incentives for sustainable practices, and steer your company towards conscious capitalism.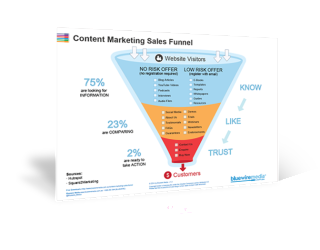 Content Marketing Sales Funnel
Your content marketing sales funnel is all about getting people to know, like and trust you by nurturing them with the right information at the right time.