How to Optimise Your Conversion Funnel in 5 Easy Steps
Getting more visitors to your site is important…
But turning them into customers is what leads to the growth of your business.
Despite knowing of its importance, the majority of marketers don't do conversion rate optimisation very well, if at all. According to an article published on Econsultancy.com, for every $92 businesses spent on driving traffic to their websites, only $1 is spent on converting them.
This is where your conversion funnel comes into the equation. Streamlining your conversion funnel is crucial to making your business successful. Optimising each stage of the conversion funnel will help in removing the friction between visitors turning into customers.
Conversion funnel optimisation can help you drive more traffic, generate more leads and most importantly, retain existing customers.
Before you start optimisation of your conversion funnel, it is essential that you know and understand which visitors will actually turn into buyers and filter them out. There are numerous ways of making your conversion funnel better and the changes don't have to be big necessarily. Even minor changes make the world of difference.
Streamlining your conversion funnel is not such a difficult task, but you need to know where to start. To help you, we have jotted down these 5 easy steps to help you optimise your conversion funnel and increase your sales without much effort.
Step One: Set-Up A Conversion Funnel In Google Analytics
The most important step to optimise your conversion funnel is to develop a visual conversion funnel in your Google Analytics account.
According to Kissmetrics.com, funnels help us see this process (or processes) easily, by giving us a visual representation of the conversion data between each step.
If you are wondering how to develop a conversion funnel in Google analytics, follow the simple steps below:
First, create a URL Destination Goal
Select Use Funnel
Enter the URL (without domain name)
Name this step
Select Goal Funnel
Give an appropriate name to your conversion funnel goals
Assign an appropriate URL for each page in your sales funnel sequence
Click Save and your Analytics conversion funnel is ready
Check out this video to understand how you can set up a conversion funnel in your Google Analytics account.
Step Two: Test Your Landing Pages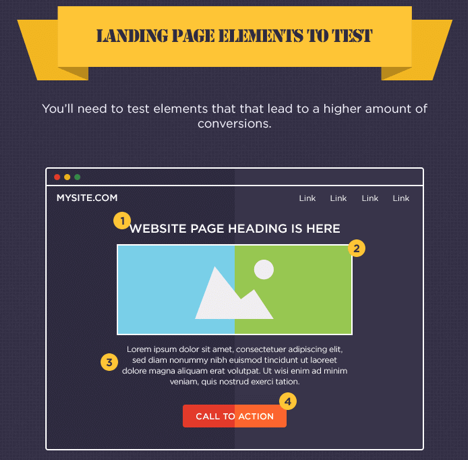 The landing page is the first thing your perspective buyers see when they come to your site. Therefore, testing your landing page is a must for every marketer who wants to increase conversions. After all, first impression matters.
An article published at Wishpond.com states that anytime your business is more impressive than another, use the power of a comparison value proposition to encourage conversion.
Here's a list of landing page elements that you must test periodically to ensure that your business is getting the maximum leads possible. Have a look:
Tip 1
Test the design of your landing page. Make the design simple, minimal and engaging. It should not be cluttered – something that confuses your site visitors.
According to an article published in Kissmetrics, "you may find that not only does a complete overhaul of your site design dramatically increase conversions, it may substantially shift the way you seek out your target audience, and the type of customers you attract."
Tip 2
Your landing page is the first chance for you to impress your visitors and take them to the next level in the conversion funnel. Therefore, use a logical structure while designing the page.
Since the first thing visitors look at after coming to your landing page is the headline at the top of the page, make sure that headlines are catchy. Since, middle of the page leads to engagement, give important information on this part of the page. Lastly, the bottom of your page should have a strong call to action that guides visitors take the desired action.
Tip 3
As discussed above, headlines attract visitors' attention. Therefore, testing the headline is a must for increasing leads.
Tip 4
Test your landing page content. The type of writing you have on your landing page pulls in readers, boosts conversions and ultimately makes people take out cash from their pockets. Therefore, ensure that you present creative and original content.
Tip 5
Test the design, text, colour and placement of your call-to-action. The place where you have placed your CTA has a considerable impact on the site visitors. It should be placed prominently. Try and use text in your CTA to make it clear to the vistors what you want to convey. And try and avoid using flamboyant colours. The simple ones perform better.
Step Three: Test Your Sign-Up Forms
Most people avoid filling in sign-up forms due to length. The aim is to get the sign-up form filled, right? So make it simple and easy so that your customers provide their personal information happily.
The data collected through these forms helps in driving sales, generating leads and boosting conversions. Though many marketers overlook sign-up forms, we suggest you test them as well for the growth of your business. Don't worry, there is a wide range of A/B testing tools that can help you test your sign-up forms easily and conveniently.
Here's how you can do it:
Tip 1
Place the form prominently on your site. To increase conversions your sign-up forms need to be easily seen and accessed by your website visitors.
Tip 2
Your sign-up form should not be too lengthy for customers to get irked while filling it in. Erase all the unnecessary points. Your sign-up forms should not include more than the basic bare-minimum information required. Every additional field makes you lose a number of prospects.
For instance, if you are not dealing with any financial transaction, then your sign-up form can be limited to name and email. You can also run tests to know which points can be removed for the comfort of your customers. According to Conversionxl.com, "In one study an 11-field version of a contact form was replaced with a 4-field version, resulting in a 160% increase in the number of forms submitted and a 120% increase in conversion while the quality of submissions stayed the same."
Tip 3
The headline of your sign-up forms plays a crucial role in grabbing eyeballs. Having an eye-catchy, creative headline can help you improve leads to a great extent.
Tip 4
One of the most important reasons for testing your sign-up forms is to check if they are responsive and accessible on different mediums. Keep the buttons, design and fields of your sign-up forms simple so that they don't take much time to load on mobile devices.
Tip 5
Ensure that the captchas field that you have are not too complicated. Though they help in keeping spammers out, but at the same time, if they are difficult to read, they might kill conversions. An article published on Moz.com reveals that only 71% of the time 3 users agree on the translation of a captcha.
Step Four: Test Trust Elements on Your Site
(Source: Acquireconvert.com)
Expert marketer and TruConversion.com founder, Hammad Akbar suggests to add trust symbols and credibility features to your site in order to earn the trust of your customers. This is one of the most essential elements of your site that you need to test and work with to increase conversions.
Here are some elements that you can add and test to increase the trustworthiness of your website:
Tip 1
A 100% money back guarantee offer or a simple replacement process can easily win the trust of the customers who won't think twice before buying your product. Test the two elements to know which one converts better for your product or service.
Tip 2
Being a member of the Better Business Bureau and having its logo on your site will make people feel more comfortable about buying on your site while they're still researching.
Tip 3
The financial transactions on your site should be safe and smooth. To let people know that your site is safe to make any kind of transactions, ensure a VeriSign logo on your site.
Tip 4
Lastly, you can use social proof to generate more business. According to Wowconsulting.com, 70% of consumers say they look at product reviews before buying, and it seems these reviews are over ten times more trusted than the description companies offer themselves. By using tweets, videos, posts and comments of your happy customers, there is more chance that people trust and buy your product.
Step Five: Test Your Email Conversion
(Source: Zapier.com)
Conducting periodical A/B tests are the easiest and most efficient way of increasing conversions. Emails form an important part of the conversion funnel process. Therefore, it is essential that the emails that you send are read by the maximum amount of people and don't just keep lying in their inbox.
Here's how you can do it:
Tip 1
Test the subject line. You can test various subject lines to see which one generates more leads, having a higher click through rate.
Tip 2
Test your email content. Use different styles of writing (with name personalisation etc.) and see which one works better for you or which one distracts the readers from taking a step forward. An article published on Monetate.com states that email copy has to provide enough text to pique the reader's interest, perhaps also including at least one strong benefit.
Tip 3
You can also test what works best with your recipients – plain text email or HTML based email.
Tip 4
Your email CTA is one of the most important elements of your email to test because it's what generates conversions. Test whether your audience likes an image CTA or a text CTA.
Tip 5
Last but not the least, test images and videos in your emails. Though majority of people get attracted to videos in emails, it also depends on the organisation, service and product. So, don't forget to test both and check which one converts better.
Parting words
Keeping your customers busy long enough to turn them into buyers isn't an easy task, and retaining them is even harder. Optimising your conversion funnel will not only help you earn more revenue, it will also give you a better know-how of your customers.
And now that you have all the tips and tricks and know what elements to experiment on, it's time to start testing! Trust us, it is amazing to see what your customers like and prefer, and how they react to a particular feature of your landing page.
About Daniel
Daniel Louis is the Chief Marketing Officer at TruConversion.com with both startups and enterprise clients have given him unique perspective and ability to connect the dots for brands of all sizes. He loves writing on content  strategy, marketing, and optimization initiatives.
Bonus 33 Free Templates
Download the 33 free templates from Toby and Adam's book.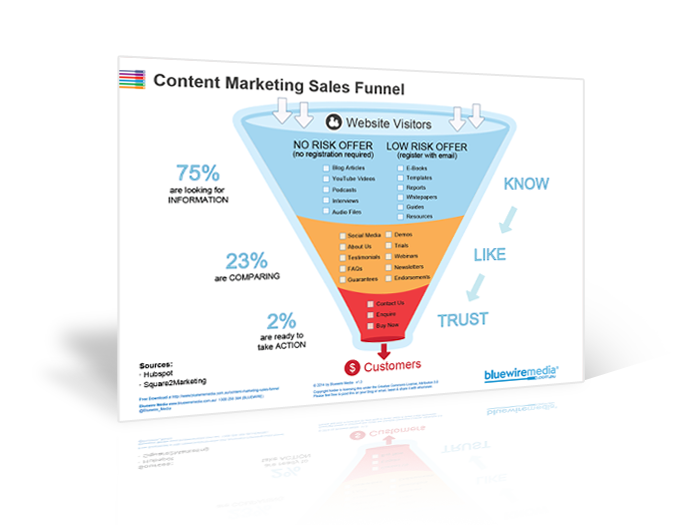 Content Marketing Sales Funnel
Your content marketing sales funnel is all about getting people to know, like and trust you by nurturing them with the right information at the right time.