How to Persuade with Content Marketing – Backed by Science
Updated on March 12th, 2019
What is the point of content marketing? Isn't it to influence people to say 'YES'?
YES I trust you
YES I will share your content on social media and with my email list.
YES I will download your e-book
YES I will purchase your product
The video below is a hand-drawn animation that summarises research conducted by Robert Cialdini and Steve Martin on the science of persuasion – influencing others to say 'YES".  According to Cialdini and Martin there are six universal principles that can be used to influence human behaviour. I recommend giving the video a watch, it is well worth the 12 minutes.
The six principles they identify are;
Reciprocity
Scarcity
Authority
Consistency
Liking
Consensus
So what does all off this mean for your content marketing?
I love consuming information from other walks of life and applying it to my work. Content marketing is an obsession of mine, so I'd like to share with you how I see these principles being applied in the world of content marketing, and give some tips on how you can leverage them to influence your customers to say 'YES'.
Reciprocity
Definition: People are obliged to give back to others, the form of behaviour, gift or service they receive first.
Tip: Be the first to give. And make sure what you give is personalized and unexpected. [Tweet]
When it comes to content marketing, giving away free stuff is a core ingredient to your success. Whether it is something as simple as a comment on a blog post, or something far more significant such as a free download of an e-book or template. People that accept your gift will be more likely to re-pay the favour in the future.
So what can you give away for free to initiate the reciprocity principle? Here are a few examples;
1. In-depth blog articles
Long form content (an article over 1500 words) is a great way to skyrocket your search engine rankings. Why? Because you have more opportunity to inform search engines what topic you are writing about  and increase your chances of being found for long-tail keywords. In-depth blog articles are one way of distributing this 'long form content' on your site and they initiate the reciprocity principle by providing your readers with an excessive amount of valuable information they can implement on their own.
Robbie Richards (RobbieRichards.com) is someone that does this very well and as a result is quickly becoming an industry thought leader. Check out this blog post as an example of what I am talking about;
How I Increased Traffic by 272% in 30 Days (Without Spending a Penny)
2. Online tools
An example of how an online tool can initiate reciprocity is the Quick Sprout website grader, provided free by Neil Patel. Once you hit the home page of the Quick Sprout site you will see a space to enter your website URL (shown in the screenshot below). After hitting 'Search' the free website grader will quickly analyze your website and produce a report that highlights loads of helpful ways you can better optimise your site for search engines.
3. E-Books
It is fast becoming common for online businesses to provide a 'resources' section on their website. Typically this will include lots of information aimed at helping their customers overcome challenges they may face. Things like market data sheets, helpful templates or e-books. iMPACT Inbound is an Inbound Marketing agency from the USA who has nailed this section of their site. Visually it looks amazing and the content is super helpful. Check it out here; iMPACT Inbound Free Marketing Resources
4. Online courses
Adam and Toby have both been featured on the hit podcast Entrepreneur on Fire hosted by John Lee Dumas. This podcast began pulling in over $2 million in revenue after only 2 years of operation, not bad right! One way Dumas grew his audience was through the principle of reciprocity. You will see below that he offers a 'Free 10-day Webinar Course' for his visitors to claim. This act of giving is no doubt one of the reasons Entrepreneur on Fire has been such a wild success.
5. Templates and Checklists
Online content such as blog posts can be helpful for readers if well written. But have you ever read a post and loved what it said but then never implemented any change? This has happened to me on numerous occasions. But every time I have read a blog post that lead me to download a free template or checklist, the chances of implementing those suggestions went up exponentially. Try and create something tangible your readers can download and print off. Not only will they be more likely to act on your advice, your brand will have a physical presence in their day-to-day life.
Bluewire Media have taken this to the next level by offering 33 Free Templates easily downloadable as a gift to readers of Web Marketing That Works.
6. Product trials
If you regularly read my blog posts, it will be no surprise to you that I love KWFinder.com! It's a fantastic online tool for conducting keyword research. KWFinder offer 5 free keyword searches a day before you need to upgrade to their premium offering. This is an example of initiating the reciprocity principle.
Give people a look at the goods before they buy, but make it a meaningful look. This will increase your chances of converting them into paying customers.
7. How-to Videos
"A third of all online activity is spent watching video" (Source: Mill for Business)
Consumers crave video content. Providing them with helpful how-to videos builds trust and increases the chance they will further enquire about your product or service.
Let me share two examples with you.
Moz Whiteboard Friday is a weekly video that uses the visual engagement of a whiteboard coupled with the credibility of search engine expert Rand Fishkin. If you haven't watched an episode do it now! (Moz provides software that helps make Inbound Marketing easier)
Wishpond is another marketing software company who uses how-to videos to initiate reciprocity. You can find the Wishpond library of how-to videos and case studies on YouTube. What makes them different and interesting? They are all only about 1 minute long and fronted by Bree Nakatani. Bree's energetic, trustworthy demeanour coupled with some cool stats and tips will make you want to find out more about their company.
Scarcity
Definition: People want more of those things they can have less of.
Tip: Let people know what they can't have, not just the benefits of what they can have. [Tweet]
When it comes to content marketing, be selective about who you engage with and create lasting relationships with those that matter. This makes your expertise a scarce resource. The key is not to give away everything you have, but just enough to excite your prospects. Dangle the carrot in front of the rabbit.
Neil Patel leverages the scarcity principle to his advantage when looking to convert leads into customers. The screenshot below highlights the quote 'Hurry only one spot is available'. Neil elaborates on this by honing in on his scarce resource in the paragraph following.

Note: Be careful. Scarcity is important but not if it is fake scarcity, or you haven't achieved the other 5 principles of persuasion with your copy. For example, Neil spends most of this landing page establishing social proof BEFORE initiating scarcity.
Authority
Definition: People follow the lead of credible, knowledgeable experts
Tip: Perception is vital in establishing your personal brand, and that of your organisation as an expert. [Tweet]
An example of a marketer with unquestioned authority in his field is Michael Hyatt. In fact he has built an entire online training centre called Platform University on the back of the authority concept.
Hyatt says that good ideas are no longer enough to succeed and get noticed. Instead you need to build a platform to convey those ideas. A platform consists of fans, customers, prospects, followers and connections. It is what Seth Godin describes as a tribe. A group of people that are pursuing a similar life purpose or are unapologetic about their passions.
Your platform increases your visibility to the world and builds authority in your chosen field. Once you are seen, people begin to perceive you as credible. Once you are credible, people will trust in what you have to offer them and follow your lead.
Consistency
Definition: People like to be consistent with the things they have previously said or done.
Tip: Ask for something small first, such as an email address, a social share or a comment. [Tweet]
This principle links back closely to reciprocity. Once you have a small commitment from someone, such as an email address they are more likely to commit to something much larger. When it comes to content marketing this means that regular call-to-actions (CTAs) are vital for tapping into the consistency principle.
Here are some CTA's you can use to attract a small commitment from your customers, and initiate the consistency principle;
Social share or connection
Resource download
Email list opt-in
Blog comment
If you start to build small commitments from your audience in the form of these CTA's, you earn the right to ask for something more significant from them. They are already committed to what you have to offer, then it is up to you to close the deal.
Liking
Definition: People prefer to say yes to those that they like
Tip: Find common ground with people in your niche and establish relationships based on that common ground. [Tweet]
Cialdini and Martin present three important factors for being liked;
We like people that are similar to us
We like people who pay us compliments
We like people who cooperate with us toward mutual goals
So what does this mean for content marketing?
Connect with people that have similar interests to you. Be generous by commenting on their blog posts, reviewing their products, re-sharing their content, recommending them to others. Pay them compliments when it matters. Once you have established a relationship with generosity, take it to the next level by collaborating on a project toward a common goal.
Dave Kerpen has written a number of books and launched a multi-branded marketing agency on the back of this very simple principle – Likeable Media. Dave re-iterates the need to be authentic, generous and un-promotional when building your social media presence and growing your business online. And I'll always remember the first template I downloaded here at Bluewire – The Blogger Outreach Email Template. This template is exactly what the liking principle is all about. (And it works!)
Consensus
Definition: People will look to the actions and behaviours of others to determine their own actions.
Tip: Use testimonials or social proof to attract people to your offering. [Tweet]
Consensus is often referred to as social proof. Most people are unlikely to use or endorse a service unless others are doing it as well. Take the innovation adoption life cycle as an example. The biggest group of people to adopt a new technology, product or innovation are those that have waited for others to test it out first. Most of us aren't risk takers. It is the same reason you turned up 15 minutes late to that party on Saturday night.
When it comes to content marketing, look to use social proof on your landing pages, in your web copy and across your social networks.
Here are some ways you can use social proof in your content marketing;
Testimonials
Case Studies
Social share numbers
Embed social media posts on your blog
The number of users/downloads/subscribers
Bluewire media use social proof to encourage website visitors to download the Web Strategy Planning Template. You can see in the screenshot below the text says; "Join over 10,512 successful marketers who use the famous Web Strategy Planning Template". This tactic is used regularly by marketers trying to persuade people to opt-in to an email list or download a resource.
Conclusion
How could you better use the six principles of persuasion in your content marketing?
Next time you document your strategy, create a piece of content or engage with a potential customer keep these principles in mind. Make sure you;
Be the first to give, and make it personal
Give away just enough to excite your prospects, but not everything you have
Build trust by establishing authority
Ask for something small first before you go large
Be authentic, generous and un-promotional
Don't fall victim to imposter syndrome, use social proof to grow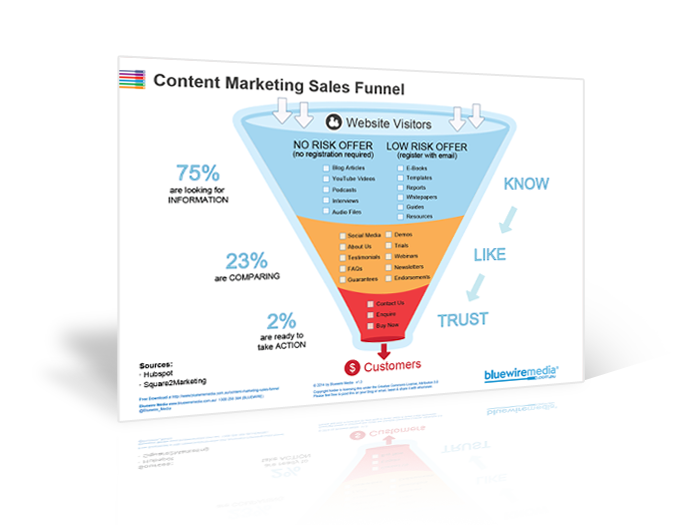 Content Marketing Sales Funnel
Your content marketing sales funnel is all about getting people to know, like and trust you by nurturing them with the right information at the right time.