How to reach a targeted audience through leveraging popular #hashtags
Updated on July 8th, 2013
Case study
It's a bit of a Monday night ritual for me – a glass of wine, Twitter and the ABC show Q&A hosted by Tony Jones.
The show is "live and interactive" and that means Twitter is alive with comments and questions, with viewers using the hashtag #qanda while the show is on.
The Queensland Premier's marketing team has recognised that those monitoring and contributing to the #qanda hashtag are generally likely to be interested in politics and have given them a chance to ask Anna Bligh a question. They released the following tweet during the show on Monday night.
The link takes you to Anna Bligh's Facebook page where you can submit your question. If people then choose to "like" the Facebook page, Bligh's team can use this connection in the future to send more news or information their way. It's a sort of social database of interested people if you will.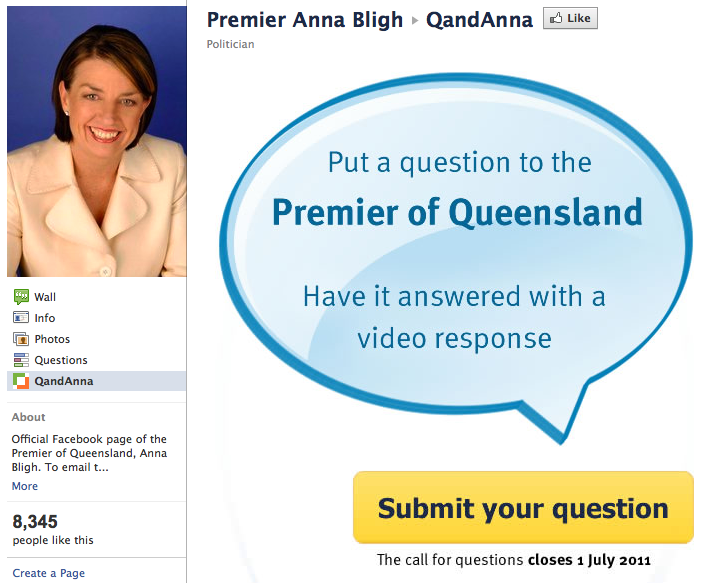 From a marketing perspective, I think the Premier's team have leveraged a fabulous opportunity to get a message to a targeted audience who are likely to want to take up the offer. The videos will then be available on the web for all to see and the Premier doesn't even have to answer in real time – unlike Q and A's panelists.
Take away
In a broader sense, this reinforces the need to target your message to a specific audience who will find it relevant. It's also a lesson in creating content you know will matter to your audience.
More specifically though, is there a popular hashtag being used within your target audience? Could you leverage that?
Tip
Monitor what's trending on Twitter and leverage areas of relevance in a timely way.
Copywriting Sydney and Brisbane: Need help crafting content that your taregt audience will love? Call 1300 258 394.