How to Stop Cannibalizing Your Website Traffic
Updated on March 17th, 2019
There's an insane amount of competition for web traffic out there already: don't compete against yourself.
Web traffic cannibalization occurs when you send your audience in multiple directions rather than toward one clear destination. This can really hurt your bottom line, so here's how to stop getting in your own way with web traffic.
Social media
Are you guiding your visitors to your site from social networks, or are you leading them away? It may seem wise to put social media buttons everywhere you can, but in many cases all you're doing is helping people off of your site. For example, on a blog you want share buttons, but on your pay per click landing page, no way.
Before you use social media buttons on your pages, ask yourself how it helps your business for them to leave your site right now and go to Facebook or Twitter. If it doesn't help, or hinders your sales funnel, don't put those buttons there. If you have a very active social presence and it does help for visitors to join that conversation, use the buttons – but in the footer of your page. Never direct visitors away immediately.
Note the difference between using social sharing buttons on a content post and using them on your pages. You want people to share your content, so that does help your business. But odds are great that having them leave the landing pages of your site isn't helpful.
One exception to this rule looks like this. If your website has no content or is extremely simple but your business has a very, very active social media life, it may be wise to take visitors to see it. But this is only true when your site has little to no engagement and no content to offer.
Videos
It's great to provide visitors to your site with videos, but not at the expense of losing them to the gigantic rabbit hole of YouTube. Remember, YouTube isn't returning the favor; it's not going to send them back to your site. In fact, an analysis of 95 businesses on YouTube showed that the click-through rate between YouTube and business websites was less than one percent.
Instead, embed your videos with a service like Vimeo or Viddler. If you decide to use YouTube, optimize your videos so they show up for keywords when being searched. Also, add a link to your site in the description, use annotations and cards.
Keyword cannibalization and page confusion
Keyword cannibalization is a major problem and can be hurting your entire site. Whether you're not auditing your content well or Google doesn't understand your site structure, this is something to fix right now.
When your pages are competing against each other two things happen, and both are bad for your traffic:
Web crawlers can't figure out how to index and rank your site pages in search results; and
Actual users either can't decide which search results are most important for them or feel like they didn't find anything useful.
Ideally you should target every page of your website with just one message and call-to-action. This kind of focus can get lost in the shuffle, though, especially over time as you add new content and forget about what's already there.
Conduct an audit of your landing pages so you know when pages are fighting amongst themselves for the attention of your visitors (More on the audit below.) Work to minimise these conflicts so every page works for its distinct goal without insider confusion.
Remember, the best websites are organised by sitemaps that show an understanding of keywords. Each page focuses on one specific topic that is expressed by a particular combination of words and one keyword phrase. Your site then relies on an intuitive internal linking structure to guide users from place to place.
Targeting only general keywords or more than one keyword phrase per page weakens your message. Aim to rank highest for one keyword phrase per page, not more than one. The focus of each page should also be very narrow and specific; that's how you make room for all of your other pages.
You may be thinking: if I get great traffic by using one strong keyword phrase, I'll get even more if I use multiple keyword phrases on every page, or if I create more than one page with that same keyword.
Here's why that's wrong…
Unless Google recognises your website as being very authoritative, you will almost certainly not get more than one page ranked for the same keyword. All you're doing is forcing the crawlers to decide which of your pages matters most. Don't leave that up to them!
Keyword cannibalization in focus
Now let's look at each kind of keyword cannibalization that might be hurting your site so we can talk about fixes.
Internal cannibalization
Problem: Internal cannibalization happens when you have more than one website page with the same keyword. Google can't tell which matters most and the pages are in effect vying for the same position.
Solution: Audit your website to be sure that there are no duplicate keyword pages. Don't create any more and fix those that are already there. You can do this by using a different, but related, keyword on pages with duplicate keywords, or by choosing the best page and directing visitors to that one. Also, always use long-tail keywords to lessen your chances of duplication and expand your reach.
Sub-domain conflict cannibalization
Problem: If you create a new sub-domain on your site, say for your blog, you are actually also duplicating each of the pages. The result is that mybusiness.com and blog.mybusiness.com are now competing.
Solution: Decide which page should come out on top for each keyword. You can direct all searches to the primary website or to the blog; just make your choice a sensible one that meets your goals.
International cannibalization
Problem: If you have an international focus, you may have more than one web domain in the same language (like mybusiness.com, mybusiness.co.uk, and mybusiness.com.au). There is virtually no chance these sites won't be competing for the same keywords.
Solution: Just like you did with your cannibal sub-domains, choose which of your domains should win out here. Google Analytics (GA) can show you which countries have the most traffic for your keywords, so this is a good way to decide.
Semantic cannibalization
Problem: If your business has more than one website for your different customer or product niches, the sites might be hurting each other. If you offer the same products on both, they almost certainly are.
Solution: Show Google which page is dominant for each keyword. The best way to ensure this happens is to break down your demographics to see which site should dominate for each offering. You can also link from page to page and designate one as the primary page for that product.
Conducting your cannibalization audit
Obviously you should never be creating more content or new pages without fitting them into the overall strategy. Each new page or piece of content should have a specific, clearly defined goal that you want it to achieve within your bigger business picture. Conduct an audit to make sure you're in good shape now, fix it if you're not, and have a better sense of how to adjust your strategy moving forward.
Let's use a fictional business, Pat's Plumbing Fixtures, as an example. Pat's has three basic markets it covers when it comes to faucets:
Home market users who are remodeling or repairing their residence; these shoppers browse Page One which features lower end fixtures.
Smaller professional users like apartment complexes or small businesses who are remodeling, repairing, or building their place of business; these shoppers browse Page Two which features higher-end and some industrial quality products and smaller bulk offerings.
Large professional users like franchises, chains, and large companies. These buyers may be doing new construction, large overhauls, or other projects, and they browse Page Three which features relevant, high-end products in larger quantities.
Each page offers lots of faucets. None of them should simply be optimised for "faucets," though, and each should be optimised for different kinds of faucets. If we don't use more specific keyword phrases Pat's has no hope of beating out bigger companies in the search. And if we optimize each of Pat's pages for the same products, Google will choose the one that wins. This hurts the business as home users find only Page C and mass quantities, or as business buyers find only the home-focused Page A.
Here you can see an example issue from my company website that we need to fix. What page is Google supposed to rank for Panda update? We either need an index page or one long page.
Pat's needs to differentiate its focus keyword phrases for each page, and it needs to base these decisions on its own sales metrics and web traffic analytics. The goal is to optimize based on what your customers are looking for. You can anticipate the needs of people, but it's much harder when you focus on search engines alone.
So Pat's will research its sales metrics and web traffic analytics for each page. It will make sure every page has a slightly different focus, and it will ensure that its different market searchers get where they want to go. This way the pages aren't battling for traffic.
Next, Pat's needs to make sure that its blog posts and other pieces of content are supporting the landing pages. Since Pat's has already chosen the keyword phrases for the landing pages, it now needs to audit content so that content pages use distinct keyword phrases that are related to those on the landing pages.
For example:
Pat's has a landing page where visitors can buy parts for bathroom faucets in bulk. This page is mainly directed toward it's B Market, the smaller businesses and complexes. The keyword phrase on this page is "bathroom faucet parts in bulk," so no other pages should use that exact phrase. However, Pat's has a great "How To" guide for apartment complexes wanting to save money as they remodel and some related pieces of content. That content page can be optimised for "how to find bathroom faucet parts in bulk."
Each blog post, infographic, video, and other content page should ultimately direct traffic toward relevant "money" pages that feature ways to get your products and services. Your content items should each be designed to answer your customers' questions in a way that makes sense within the larger strategy.
As you conduct your audit, use a basic spreadsheet to keep track of all of your keywords, and to mind which keyword phrases answer your audience's top queries and express their commercial intent. Your audit should ultimately tell you which pages are doing the same things so you can change them.
Using vanity URLs, sub-folders, and sub-domains safely
Using vanity URLs is another strong anti-cannibalization strategy. A vanity URL is one that users type into the bar but Google never sees. You can use this kind of URL to capture intent and redirect visitors to the places on your site where you want them to go.
Using Pat's as our example again, let's say the three biggest areas for Pat's are bathroom fixtures, kitchen fixtures, and ventilation grates. While you could technically create three different sites with different focuses, you'd be doing a lot of extra work and you'd still run a high risk of cannibalizing your traffic between the three.
If the main website is PatsPlumbing.com, you can use vanity URLs in the three keyword areas like this. You can also register PatsPlumbingBathrooms.com, PatsPlumbingKitchens.com, and PatsPlumbingVentilation.com. Instead of putting sites at each address, you would choose the most important keyword phrase to link to your homepage. You'd then redirect visitors with the vanity URLs to the right place within the main site.
In the end, PatsPlumbingBathrooms.com will redirect to the home page since Pat's does the most business with its bathroom parts. Then you'd redirect PatsPlumbingKitchens.com to PatsPlumbing.com/kitchens and PatsPlumbingVentilation.com to PatsPlumbing.com/ventilation. You'd then optimise those pages as normal. If you need a separate bathrooms page, don't use keywords to make it fight with the homepage. Instead use the rel=canonical tag for the bathroom page (PatsPlumbing.com/bathrooms) and direct traffic back to the homepage.
Vanity URLs are also a good solution for franchises and businesses with many locations. Instead of doing the same work on each site and cannibalizing traffic in the process, use vanity URLs to redirect traffic to one central page. PatsPlumbingSanDiego.com can redirect to PatsPlumbing.com/SanDiego, for example.
Remember, when distinguishing sub-domains, sub-folders, and vanity URLs here's how it works:
Sub-domains do not have the same authority as domains, so you'll often use a sub-folder instead to avoid cannibalization troubles. You can also use a 301 redirect from a sub-domain or a vanity URL to a sub-folder.
Sub-folders do take on the authority of the domain in question, but you can still redirect to sub-folders from vanity URLs so that the sub-folder path is indexed and the vanity URL is not. However, you want all your external links to go to the direct ranking URL.
Vanity URLs are not indexed by web crawlers but might be used in your materials to draw new or specific customers. These redirect to your main site URL, usually to a sub-folder.
Hide text from Google in images
If you do need to include some text on a page that won't be optimised for those keywords, and you don't want to cause cannibalization issues between pages, you can "hide" text from Google using images. Google and other web crawlers can't see language that's part of your images, but your visitors can. If the language is solely for their use and shouldn't impact searches, place it within images.
Conclusion
Remember, approach web traffic cannibalization from a visitor's perspective so you don't hurt your SEO and maximize user experience.
Your site should be organized so that it can easily be navigated by visitors, and there should be one, single authoritative source for each specific commercial intention.
Even after your cannibalization audit is done, keep tracking your web traffic metrics and maintain your spreadsheet so you know that you're not reinventing the wheel with new content and fighting your own traffic.
What are your best tips for fighting web traffic cannibalization? Did I miss any good strategies? I'd love to hear about them in the comments.
About John
John Lincoln (MBA) is CEO of Ignite Visibility, a digital marketing instructor at UCSD and author of the book "Digital Influencer, A Guide to Achieving Influencer Status Online," Lincoln has worked on over 400 marketing campaigns including clients such as FOX, USA Today and BTO Sports. He has won SEO expert of the year, most influential people in CRO and best social media campaign of the year and is a regular columnist on Search Engine Land, Marketing Land, Entrepreneur and Inc.
Bonus 33 Free Templates
Download the 33 free templates from Toby and Adam's book.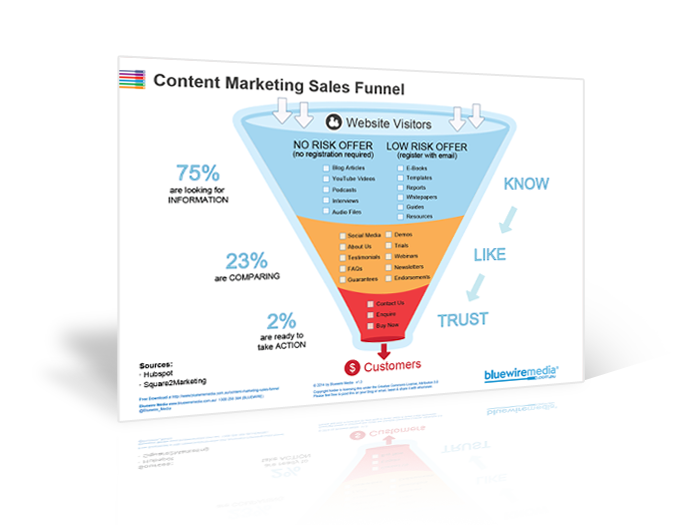 Content Marketing Sales Funnel
Your content marketing sales funnel is all about getting people to know, like and trust you by nurturing them with the right information at the right time.