How to Super-Charge Your Social Media With An Offshore Team
Updated on May 2nd, 2016
This is a guest post  – Aimee Engelmann is the CEO of Beepo, an Australian owned outsourcing company that provides outsourced services to small and medium businesses. You can check her blog at www.aimeeengelmann.com.au.

Welcome Aimee…
In this age of online marketing many businesses are still failing to harness the incredible power of social media. Of these businesses there are some who still have little to no social media presence, and then there are the multitudes who spend their precious time and resources managing their social media presence in house. Many of these businesses, for all their effort, manage social media poorly and still end up falling way too short of the advantage line.
If this rings true for your business or if you believe your social media management still has room for improvement, you owe it to yourself to consider the options that are now available for outsourcing to an offshore team. As we are about to explore, it really does pay for you to entrust your business' social media management to an offshore team of online marketing professionals.
The biggest mistake that many businesses make is not recognising that social media management is something that requires the expertise and experience of a professional team. Without such a team it is likely that your social media strategy will flounder. This is where an outsourcing option can really come to the fore. In a country such as the Philippines there are now high volumes of skilled, tertiary-educated business, marketing and IT professionals working in the offshore industries. In the academic year 2012/13 alone, more than 550,000 students graduated from higher education institutions, and 52.5% of those were in business administration, IT and engineering (source: pg. 10). By outsourcing to these professionals not only does your business gain access to skillsets essential to social media success but you also reclaim time and energy that can be better spent on your core passion – managing your business.
Not only is it wise to delegate to talented offshore 'creatives' because they understand the digital landscape, it is also a far smarter option when it comes to your bottom line. Working with an offshore team is a more cost-effective way to manage social media, and in the long run it will give you a distinct competitive edge.
If you are to heed this advice and choose the offshore team option it is imperative that you first lay the groundwork with some robust planning.
Here are a few essential planning tips to get you started:
1. Build A Detailed Posting Plan
Communicate your social media ideas and objectives with a thorough posting plan. To do this you will need a spreadsheet that contains daily posts and content for specific social media platforms like Facebook, Twitter, Linkedin, and Google Plus.
You need not build your spreadsheet from scratch though, you can do as we did and use the posting plan template from Bluewire Media, available as part of their free 33 Marketing Templates. This is where you will collect your phrases, keywords, photographs, links etc. and store them for later. This is ground zero for ensuring a unified social media narrative for your brand.
Here's an example…
To make frequent posting feasible you should also utilise a scheduling app. At Beepo we choose to use Buffer, a free online tool that allows you to schedule your social media posts at the desired time and date. While Buffer can be used for free we've chosen to pay a yearly plan for more flexibility.
Here's a screenshot of our Buffer content queue…
When you prepare a posting plan, you should be aware of the character policies and limitations of each social media outlet. For example, Twitter can handle a maximum of 140 characters, Facebook, 250, and LinkedIn, 300. Posting plans should contain the following headers: Date, Day, Content, Link, Hashtag, and Status of Post. To ensure your longer links are displayed in each cell (see example highlighted in blue below) you may want to use a URL shortener tool like Bitly.
It is also extremely helpful to create a colour-coded legend to highlight your post status. In the screenshot below the scheduled status is coded yellow, meaning the entry is ready and planned for posting. The scheduling tool will post content at the date and time previously specified. The pending status is coded pink and refers to posts that are yet to be scheduled.
The completed status, coded green, indicates the post has been successfully published.
2. Work on Clear and Common Goals
This point is fundamental and something you might think could go without saying. It is at this first basic step however, that social media strategies often come undone when put under the pressure of a busy working day.
Before you start out you must have a clear sense of what you want to achieve with your social media plan. You must then be able to communicate those goals clearly with your offshore team to ensure everyone is working from a unified vision.
One of the obvious goals that an offshore social media team will work towards is increasing engagement on your social media accounts. On Twitter this can be done by actively acknowledging new followers, retweets, and mentions, as can be seen here.
The social media team can also perform social monitoring and analyse where and how to boost your brand and its advocacy trends using hashtags.
On Facebook and LinkedIn the offshore team can proactively respond to questions and comments, and apply likes and comments to industry relevant posts, such as these here.
The marketing savvy team can really provide a point of difference, utilising their social media nous to communicate with people as a human brand rather than as an impersonal commercial entity. People prefer talking to people wherever they are – that's as true online as it is on the street corner.
Another goal that an offshore team can help you achieve is driving traffic to your company website and building connections to and from social media pages. This can be done by publishing quality content that is relevant to your brand and what it sells or advocates.
It cannot be underestimated the power and importance of quality content, in comparison to average content. You will not build and maintain an audience and a following if your publishing standards are poor. It is more likely that you will lose potential customers and cheapen your brand's image. This is where an offshore social media team can make all the difference, ensuring you have the type of engaging and informative content that builds large audiences and keeps followers hungry for each new post.
Building a strong brand awareness is also among the goals of social media management. It doesn't matter if your brand is a startup or a Fortune 500 – creating a strong brand recall among your target market is a necessity to keep your business alive. Social media platforms such as Facebook, Twitter, and LinkedIn also feature paid advertisements which may help you reach a bigger market on the internet. An offshore team can make sure your advertisements are well targeted and get you the most bang for your buck.
3. Learn From Each Other
Quite often SME's that seek out an offshore social media team come to the partnership with some knowledge in more traditional forms of marketing yet do not have a thorough understanding of the brave new world of social media. Hiring a quality offshore team means you will actually be working with professionals who can offer you new strategies, give you insights and explain what works and what doesn't work with social media.
Likewise, you will be working with a team that is eager to learn everything it can from you about your business so talents can be directed in the right areas. It's therefore important for the relationship to adopt an open, learning approach so a shared understanding of your business can be established, strategic blind spots and weaknesses can be identified, and the offshore team's talents can yield maximum results.
Conclusion
As you can see, managing your social media requires time, energy and expertise, and if you don't get it right it can be a real drain on resources that could otherwise be used elsewhere. If you are someone who is burdened by managing your social media marketing in-house, or you believe your team isn't getting the results that are really possible, then perhaps it is worth considering working with an offshore team.
Likewise, if you are looking for a cost-effective solution to managing your social media you really should investigate what an outsourcing company such as Beepo can offer you. It could be the smartest move your business ever makes.
About Aimee
Aimee Engelmann is the CEO of Beepo, an Australian owned outsourcing company that provides outsourced services to small and medium businesses. You can check her blog at www.aimeeengelmann.com.au.
Bonus 33 Free Templates
Download the 33 free templates from Toby and Adam's book.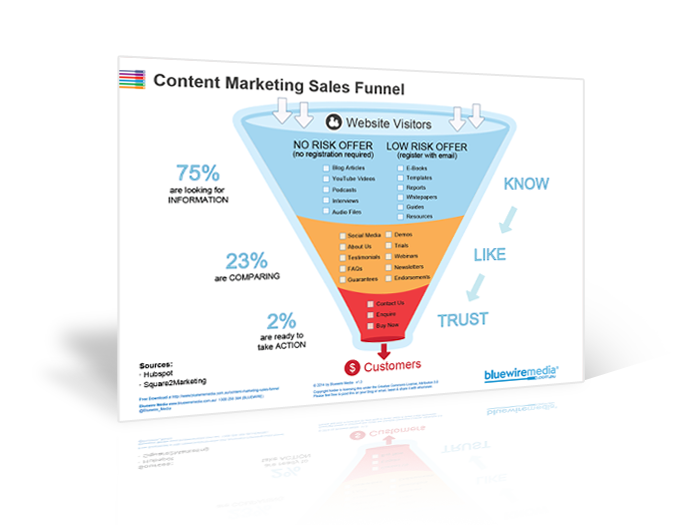 Content Marketing Sales Funnel
Your content marketing sales funnel is all about getting people to know, like and trust you by nurturing them with the right information at the right time.