How to Update Your Logo and Branding for Small Businesses
Whether your business has finally decided to upgrade its logo, or there's simply more room in the budget for a facelift, you're likely to find yourself with the somewhat challenging task of re-working and establishing the all-mighty 'Re-brand'.
In order to avoid some slippery slopes other companies have fallen down, we've put together our top tips along with our own story for how to successfully update your business' logo without losing sight of the brand's image along the way.
Establish Who You Are and What You Want
First things first, you must ask yourself some core questions to establish the correct direction to head in. Start by questioning why you want to change your original logo in the first place. It might be that the demographic for your brand has evolved and therefore your image must too. Or maybe it's because your product or service has altered and changed directions.
Along with this, re-evaluate your business' core values too. For us, it was remembering that we strive to inspire happiness and creativity whilst supporting artists and illustrators and aim to supply the marketplace with unique, beautiful gifts.
Our logo was almost five years old so we thought a face-lift was due. Make note of these values and thoughts and keep them close to refer to as your branding journey may need a little reminder along the way as to why you're here in the first place!
Generate Visual Inspiration and Find A Good Team
When gathering visual inspiration, it is important to consider a wide range of subjects like typography, colour, shape, texture and establish what vibe you want your brand to give.
If you have an in-house creative such as an illustrator or designer, let them assist you with helping generate some sketches when brainstorming. Occasionally the first ideas end up being the backbone of the final design. After gathering as much visual inspiration as possible, and establishing what you like or dislike about other logos that may be out there, reach out and find yourself a creative design team that you work and communicate well with.
This is crucial! There is nothing worse than delivering your dream concept to a designer and they end up missing the mark big time. In saying that, you can't expect the designers who assist you to read your mind either. We found the best way to share ideas was by sharing images of what we liked, writing down our favourite elements, and meeting with the team face-to-face several times, to ensure our vision and concepts were not lost in translation
Revise, Refine and Rejoice
By this stage, you might have some idea of how you want the end product to look. Most graphic designers will provide two to three stages of rough designs to help narrow down the final idea. Your early ideas will help inspire these designs, however, it is important to keep developing these concepts through the three rounds of design changes to fine tune the concept.
For us, we knew we wanted to incorporate triangles, our four branding colors and a relatively organic, handwritten logo. However, it wasn't until we looked back at our initial sketches and ideas that we found the imagery for stars and triangles made from constellations which to us, represent our artists and illustrators we publish.
Upon rediscovering this concept, we decided to finalise the designs and lock in the new imagery. The branding firm who assisted in the process then helped create a formal style guide to help apply the new imagery to all aspects of the business.
Obey the Branding Bible
A style guide is like a branding bible to help keep your rebranding intact across all platforms of your business. It is made up of different elements such as; fonts for body copy and headers, branding colours and other imagery and textures, your logo, and the different formats for how it can be used i.e. black/white/overlayed. It will essentially contain all the branding rules to apply to whatever your business needs such as newsletters, website design, annual reports, and invoices.
Apply the Goods
Once we finalised the logo and the branding elements, we meticulously went through our own documents, letterheads, business cards, email headers and so on and found the best ways to communicate our new branding. Make sure you replace any older imagery from your previous logo. You don't want any clients of customers looking at the two different brands at the same time, as it will only leave them feeling confused and thinking you're disorganised.
This was a slightly longer process for us as we were in the late stages of developing a brand new website to simultaneously launch with the new logo. Most people recommend waiting for an annual event such as the new year or end of financial year to launch a rebrand. As our website had some glitches and set-backs along the way, we found the best thing to do was slowly integrate the branding into our everyday business collateral such as email footers, newsletter headings and slowly share the imagery with our viewers. Then when our website was ready, we sent out newsletters to both retail and wholesale customers communicating the brand update.
Build Hype By Creating A Positive Launch
It's crucial that you share the rebrand with your clients, as many people automatically assume the worst when they see change. It's up to you to communicate to them that this sort of change is a positive thing and to share with them what else is new with you.
A good place to start is on social media, building up some hype and promoting that something big is coming! What also might help is sending out newsletters to your clients demonstrating the new branding as well as sharing some positive news that benefits them, allowing them to mentally link the new visual changes with something good.
This could be something like a 20% off discount for your products to celebrate the launch of your new branding, or a simultaneous launch of a new product to the public so they have something exciting to look forward to. You want the public to associate this new 'you' as a good thing and remove any doubt they may automatically have.
In short, a re-brand can be an excellent marketing exercise for your business where you can remind your clients and customers of your brand's values, re-assess and organise all areas of your business that might have been due for a review, and over-all create a new and improved image that truly represents your work.
About Lilly
Lilly Perrott is an illustrator and designer currently employed as the in-house illustrator for greeting card and gift company, La La Land. You can view her work at lillymiranda.com
Bonus 33 Free Templates
Download the 33 free templates from Toby and Adam's book.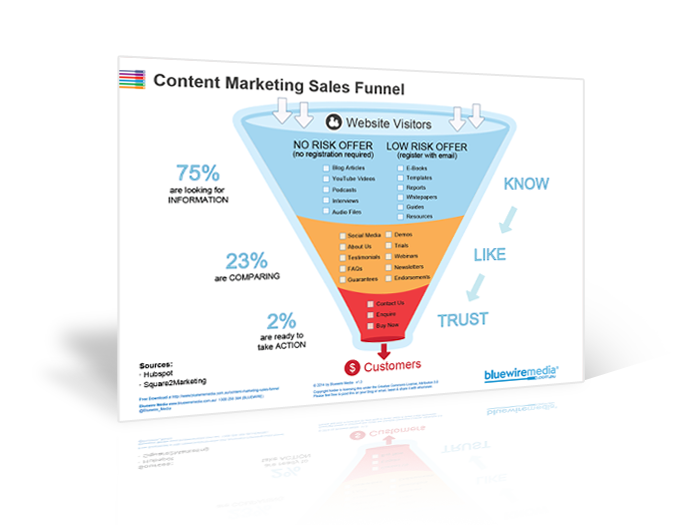 Content Marketing Sales Funnel
Your content marketing sales funnel is all about getting people to know, like and trust you by nurturing them with the right information at the right time.